* Links to all of these avocado recipes are below *
The California avocado season for this year is March to September.  So there's no better time to be eating avocados than right this minute!
On Tuesday I shared my recipe for Lemon Chipotle Guacamole, and told you about the California Avocado Commission Blogger Luncheon I went to over the weekend.  Today I hope to tell you a few things I learned about this delicious fruit, that you might not know.  (And if you do, well then head straight to the recipe links below!)
A few cool facts about California Avocados . . .
Fact: 90% of the nation's avocados are grown in California.
Fact: 80% of all avocados eaten all over the world are the Hass variety.
Fact: The most nutritious part of an avocado is the darkest green of the flesh, just inside the skin.
Fact:  As a little kid, I hated avocados.
Fact:  Avocados are now one of my favorite foods on the planet.
Of course these are my best avocado recipes — I hope some of them will become yours, too!
And now, the moment you've been waiting for . . . from left to right in the image above, here are the links to each recipe.
1.  How to Cut and Peel an Avocado: A Photographic Guide
3.  Avocado Fries with Chipotle-Agave Yogurt Dip
4.  Citrus Avocado Salsa with Cilantro Sautéed Whitefish
5.  Avocado Zucchini Bread with Olive Oil
7.  Double Chocolate Avocado Cookies
10. Avocado Gazpacho
11. Avocado Butter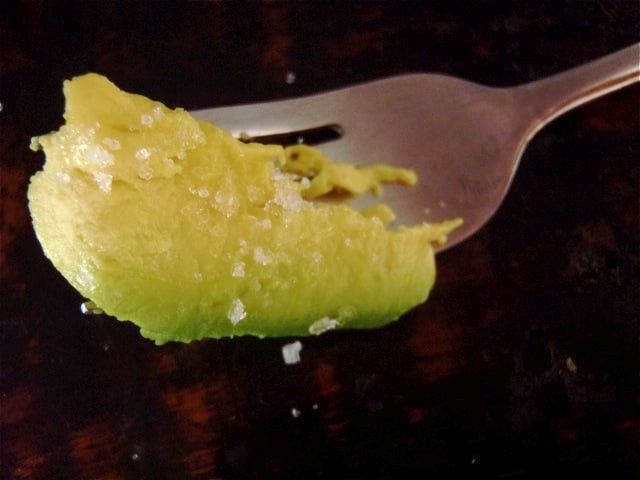 14. Key Lime Grilled Corn Guacamole
15. Zucchini Peach and Avocado Salad
But wait . . . . there's more!
From some of my foodie friends:
Avocado Crab Salad with Seville Oranges from Family Spice
Avocado Lemon Grass Ice Cream from Shockingly Delicious
Avocado Poke Salad from Foodness Gracious
Avocado Soup with Bacon and Chile Rubbed Croutons from Jeez Louise
Black Bean Sliders with Creamy California Avocado Sauce from Cookin' Canuck
Pickled Avocados from La Fuji Mama
Enjoy!
photo credit: CA Avocado Commission
Save
Save