Who doesn't want a bit of good fortune!?  Maybe some will be delivered to you via this delicious Black-Eyed Pea Spinach and Mushroom Gratin.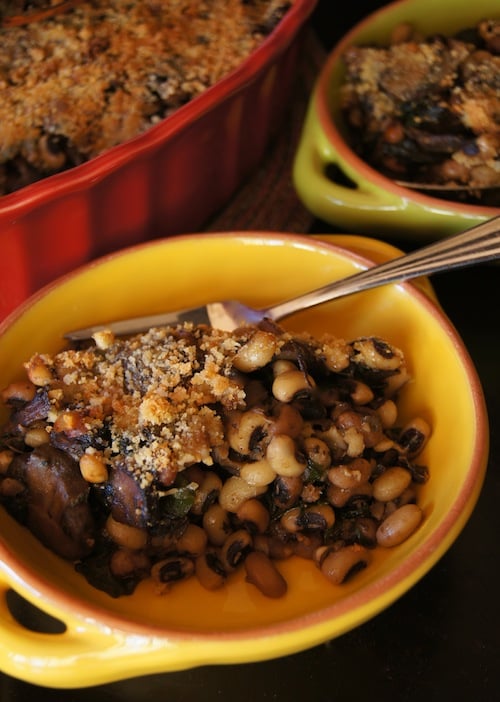 It might be a big stretch for me to call this a form of a New Year's Hoppin' John dish, but I'm going to anyway.
In the South, folks believe that eating black-eyed peas on New Year's day will bring good luck and prosperity in the new year.  Hoppin' John is the name of a traditional Southern dish that includes black-eyed peas, rice, bacon or a ham hock to add flavor.
The black-eyed peas are symbols of coins, and usually collard greens are served on the side to symbolize green money.  Sometimes people will hide a dime somewhere inside the dish, and it's believed that the person who finds it in their serving will be brought even more wealth in the new year.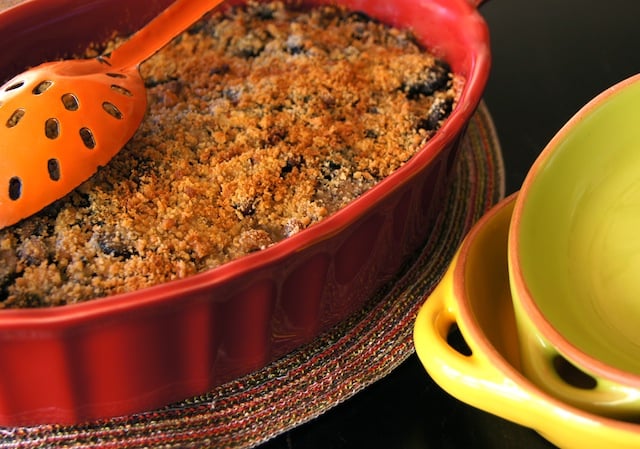 My version?  I skipped adding bacon or a ham hock, since I figure we all want to start the new year on a lighter note.  I also skipped the rice — just because.  I added onions, garlic and sherried mushrooms for a ton of delicious flavor.
And rather than serve a side of greens, I added spinach inside the dish, because why not have all of the money in the same bite!?  And I didn't hide dimes anywhere because my two young boys will be having this for dinner, and well, that would likely not end well.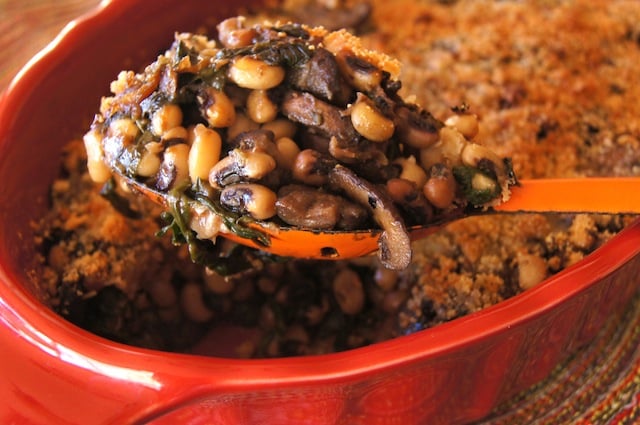 So this is what I'm serving on January 1, 2014.
I know for sure it will be a hearty, comforting, super tasty meal — but will it bring me good luck and prosperity in the new year?  Here's hoping!
Melissa's Produce offers these awesome packages of ready-to-use black-eyed peas.  They're delicious and will save you a ton of time.  (You will also be able to find them canned in most markets.)  And of course you can also by them dried and cook them, like this.
Want more black-eyed peas?  Here are five more delicious recipes for New Year's Day from Kalyn's Kitchen.
This is not a sponsored post — Melissa's Produce sent me black-eyed peas for recipe testing, and as always, all opinions are my own. 
Enjoy and Happy New Year!
P.S. Black-eyed peas are not peas, they're beans.
Black-Eyed Pea Spinach and Mushroom Gratin Recipe
Ingredients
Olive oil

1¼

cup

thinly sliced brown onion

1

teaspoon

minced garlic

1

tablespoon

finely chopped fresh thyme

6

cups

thinly sliced Crimini mushrooms

½

cup

dry sherry

3

cups

cooked black eyed peas

about 1½ pounds

4

cups

packed fresh spinach leaves

½

cup

finely grated Parmesan cheese

divided

½

cup

breadcrumbs

Sea salt and freshly ground black pepper
Instructions
Adjust a rack to the top third of the oven and preheat the oven to 375 degrees.

Coat the bottom of a large sauté pan with olive oil and place it over medium-high heat.

Add the onions and cook, stirring frequently until they are soft and beginning to brown, about 10 minutes. Then stir in the garlic and thyme, and cook for another minute or so.

Add the mushrooms, and stirring every minute or so, sauté until they are golden brown, about 15 minutes. (This will happen in a few stages -- first the mushrooms will soften, then they will loose some liquid, and once all of the liquid has reduced, they will begin to brown.)

Pour in the sherry, turn the heat to high and use a wooden spatula to scrape any bits of mushroom and onion that are stuck to the bottom of the pan. Reduce the sherry completely. Season to taste with salt and pepper.

Turn the heat to low, add the black-eyed peas and spinach, and stir to blend. Once the spinach has wilted, mix in ¼ cup of the Parmesan and season again with salt and pepper to taste.

Pour the entire mixture into an (approximately 9 X 13 X 2-inch) baking pan. (You can use a deeper, smaller pan, too.)

Sprinkle the remaining ¼ cup of Parmesan and the bread crumbs evenly over the top surface.

Bake in the preheated 375 degree F oven until the top becomes golden brown and it's sizzling a bit along the edges, about 25 minutes. If it's not golden brown after 25 minutes, place it under the broiler for about 30 seconds. And if it seems like it's becoming too dark before the cooking time has finished, loosely lay a piece foil over the top.
Recipe Notes
You can use gluten-free breadcrumbs for a gluten-free version of this dish.
Save