This Brown Butter Pumpkin Risotto is made with fresh sage, smoky peppers and earthy Porcini mushrooms. Full of incredibly delicious flavor, this pumpkin risotto is undeniably rich, comforting and perfect for the fall season!
This fall risotto recipe is hands down one of my favorites for the season.
My Brown Butter Pumpkin Risotto is vegetarian and made in a broth of Porcini mushrooms and chipotle chile peppers, and I think you're going to flip over it. (As with most rice dishes, it's also gluten-free.)
It does take some time, but part of the beauty of making risotto is the process. In this post, I'll teach you how to make risotto (if you don't already know), and how to mix it up so you ultimately can make it with any added ingredients you love.
What is Risotto?
Risotto is not a variety of rice. It's a northern Italian rice dish, that simply refers to a method of cooking

Arborio rice

.
The rice, typically first coated with butter, is cooked with a chicken, meat, fish or vegetable stock or broth to a creamy consistency.
Risotto almost always contains butter, onion and Parmesan cheese.
I've made risotto dozens upon dozens of times, and even taught it in cooking classes — however, I'm not an authority on Italian cooking, so for a truly authentic risotto, check out this post on Christina's Cucina.
One thing that's not authentic about my recipe, it that it doesn't contain Parmesan cheese. It's just so rich and creamy without it.
What is Arborio rice?
Arborio rice is an Italian, very starchy, short grain rice that is most commonly used to make risotto.
The name comes from the town of Arborio, in the Po Valley in Italy.

Arborio rice is opaque white, with an even whiter dot in the center of each grain — these are called "pearls."

The kernels, despite absorbing a lot of liquid, still maintain a bit of firmness.

Fall Flavors
I call this a fall risotto recipe, not only because of the pumpkin and sage, but because the overall vibe. It's rich and creamy with earthy, nutty, smoky and subtly sweet flavors. Which in a nutshell is a very warming and comforting dish!
Pumpkin – The pumpkin purée offers a subtle sweet flavor that makes its way into every bite.
Sage – Just like in my Pumpkin Sausage Pasta with Sage, the earthy, pine-like sage flavor with the sweetness from the pumpkin is incredible.
Porcini mushrooms – Porcini mushrooms are a bit "meaty" adding heartiness to the risotto. They have an earthy-nutty flavor which is very warming, and compliments the flavor of the brown butter, which is also nut-like.
Chipotles – These peppers are fully ripened, red jalapeños that are smoked and dried. The smoky flavor of the chipotles adds to the warmth of the risotto and the touch of heat brings everything together.
In this recipe the dried chipotles and porcini mushrooms are hydrated in water to make the dark, rich broth you see in the above photo.
How to Make Risotto
This applies to not only this recipe for Fall Brown Butter Pumpkin Risotto, but almost any other risotto recipe.
(My recipe instructions below are very detailed, this is just a quick overview.)

To make risotto, grains of Arborio rice are lightly sautéed in butter and then a liquid is very gradually added; the mixture is simmered with almost constant stirring until the grains merge with the cooking liquid.
About one cup of the stock or broth is added at a time, and then almost completely absorbed by the rice before adding more.
You'll know the liquid had been absorbed by the rice when you can make a "path" down the pan with a spatula, and no liquid seeps into it.
Now that you've learned this technique for how to make risotto, the flavor possibilities are endless! You can use almost any stock or broth, add any vegetables, meats, etc.
Sure this recipe takes time and attention, but if you love food and cooking, you'll find it to be an easy, truly beautiful cooking process.
Watching the ingredients blend and transform into this wonderfully delicious dish is so awesome.
Recipe Tips and Substitutions

Part of the wonderful flavor of this dish comes from cooking the rice in

brown butter

.

It's adds a delicious nutty, warm flavor. If you're pressed for time however, you can just use unsalted butter. (It will still be quite flavorful!)
You can either make the brown butter ahead, as instructed

here

, or as instructed in the recipe below (which is quicker).
The heat from chipotles and their broth is mild. If you'd like to kick it up, do not discard the seeds. (See above photo.)
Since this is a time consuming recipe, you can do the first step the day before –> hydrate the procini mushrooms and chipotle peppers. You can keep them in the pot with the water overnight.
The recipe calls for "about" 4 cups stock or broth. This will always vary, depending on the heat used, the amount of stirring, the pan, etc. So have more at the ready.
The final product should be loose — in other words, with enough liquid not absorbed, so that it isn't sticking together. It should fall slightly when you spoon it onto a plate.
Risotto is always at its best when it's served immediately after cooking. That said, if you need a head start, you can cook it halfway a few hours ahead by adding half of the liquid, and then closer to serving, you can finish the process with the remaining liquid.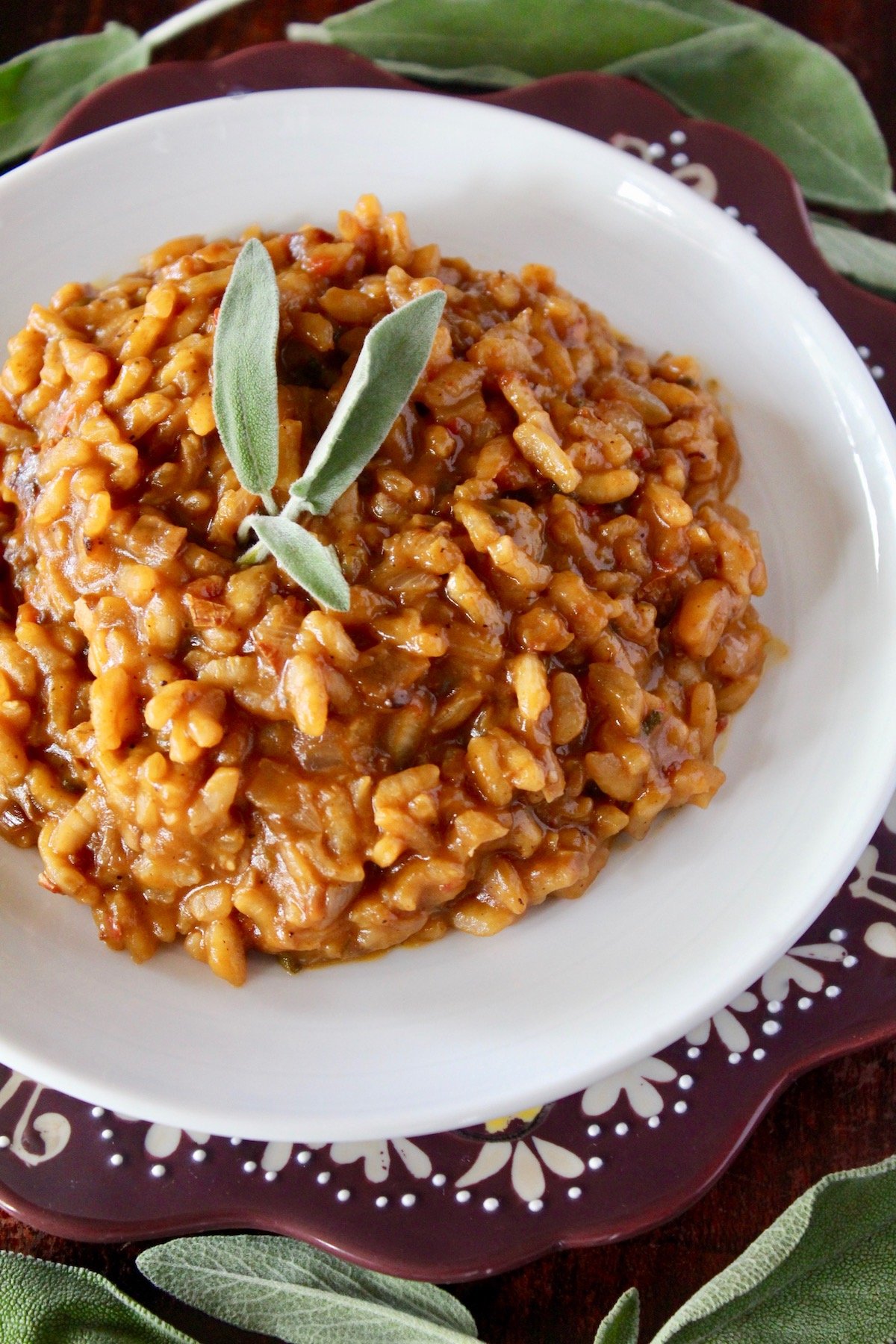 I hope you enjoy every last bite of this Fall Brown Butter Pumpkin Risotto.
Brown Butter Pumpkin Risotto
This Brown Butter Pumpkin Risotto is made with fresh sage, smoky peppers and earthy Porcini mushrooms. Full of incredibly delicious flavor, this pumpkin risotto is undeniably rich and comforting -- perfect for the fall season!This recipe easily serves six as a first course OR four generous entrée portions.
Instructions
Hydrate the mushrooms and peppers. Pour the water into a small sauce pot and bring it to a boil. Add the dried chipotle chile peppers and dried Porcini mushrooms, turn the heat to low, cover and simmer for about 45 minutes. Turn off the heat, keep the pot covered and let the peppers steep for about 1 hour.

Chop the mushrooms and peppers. SAVE the liquid in the pot, and use a slotted spoon to remove the peppers and mushrooms. Take off the stems of the peppers and then slice them in half lengthwise. Use the back of a small knife or a teaspoon to gently scrape out seeds and membranes. Now chop the peppers and mushrooms as finely as possible -- you should have about ½ cup. Set aside.

Heat the stock (or broth) with the pepper-mushroom liquid. Pour the cooking liquid from the peppers and the stock (or broth) into a large pot and turn the heat to low. Once it's warm, turn off the heat and keep it on the stove.

Brown the butter. Add the butter to a large sauté pan (about 12 to 14 inches). Turn the heat to low-medium and melt it. Once it's melted it will begin to foam and sizzle around the edges. Stir every so often, and within about 4 minutes or so, the butter will become toasty brown color and smell nutty. Remove about half of it with a tablespoon and add it to a small bowl -- this portion will be added later.

Sauté the onions, cloves and sage. Still over low-medium heat, add the onions to the browned butter and cook until soft, about 5 minutes. Then add the sage and cloves and cook until it's very aromatic, about 30 seconds.

Add the rice. Pour in the rice and stir. Cook for about 1 minute, being sure that all of the grains are well coated with the butter and onion mixture.

Add the other ingredients and cook. Mix in the finely chopped peppers and mushrooms, followed by about 1½ cups of the warmed stock mixture and the pumpkin purée. Keeping the heat at medium-low, gently simmer the rice. With near-constant stirring, continue to add about 1 cup of the liquid as each previous cup is absorbed. You know you're ready to add the next cup as soon as you use a spatula to make an open area in the pan, and no liquid seeps into it.As the rice absorbs more and more of the liquid, it will gradually become creamy. Keep adding the liquid until the rice is al dente. (This means "to the tooth." While the rice will be tender, there will still a bite to it.) When it's at this point, most, if not all, of the liquid will have been used.

Add remaining brown butter, season, and serve. Add the remaining half of the brown butter and mix just to combine. Season to taste with salt and pepper and serve immediately.
Notes
Calorie count is only an estimate.
Have you tried this recipe?
I'd love to see it on Instagram! Tag me at @cookingontheweekends or leave a comment & rating below.
Cooking On The Weekends is a participant in the Amazon Services LLC Associates Program, an affiliate advertising program designed to provide a means for sites to earn advertising fees by advertising and linking to Amazon.com.