The inspiration for this delicious and refreshing Watermelon-Lime Mimosa Smoothie recipe came from a watermelon photo contest at a weekend with food bloggers at Camp Blogaway. With a handful of sweet and fresh ingredients, this is lovely for brunch of a hot summer day by the pool.
Spending a weekend in the mountains with fellow food bloggers at Camp Blogaway has been a real highlight of my year!  It's also part of what led me to this blog, so I don't want to go another day without writing about it!
One day in April, I read a great article in the LA Times about Sarah Gim of  TasteSpotting, an exquisite food photography site whose images link to amazing recipes.  In the article, I read that Sarah would be speaking at Camp Blogaway, the original bootcamp for food and recipe bloggers. The camp was taking place in the beautiful San Bernardino Mountains, only about two hours from my home. The next morning, I tweeted: "Anyone been to Camp Blogaway? I'd love to go, but don't want to leave my kids."  Pattie Londre, the oh-so-delightful and enthusiastic founder of the camp, was the first to respond. She said, "I've had a lot of mommies say that, and when they do join us, they always come home happier and smarter."  That was the push I needed.  Oh, and my husband agreeing to be "on" that weekend with our two energetic boys. So off I went!
Well, Patti was right, I came home happier and smarter about food blogging.  I met tons of amazing people, learned more than I thought possible, made wonderful connections, cooked s'mores over the fire and had so much fun!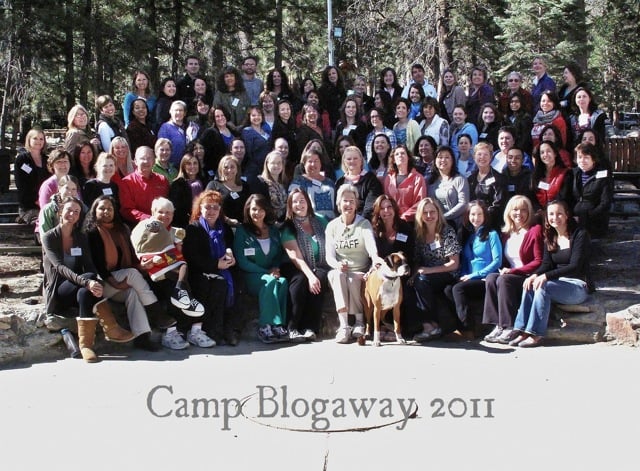 I will try to nutshell a few highlights of the weekend and send some love to my new friends at the same time. . .
Sara of Average Betty was one of the first people I met, and I'm so happy I did! She's quite the vlogger and blogger!  Bree of Baked Bree and Nancy of Taste and Savor were two of my very kind bunk-mates, both with beautiful blogs.  (Oh, did I mention, this was a real camp — with bunk beds?)  I was so thrilled to get a few minutes with Danny of Food Bloggers Unite — he's the unbelievably talented photographer who taught me how to maximize the potential of my little point-and-shoot camera.
I was truly inspired by all of the speakers!  Since my life is such a balancing act (often a very unbalanced balancing act), I really appreciated "Balancing the Pressures of Blogging" from Recipe Girl, Savoring The Thyme and Sippity Sup.  I felt like they were speaking to me.  Kids, schedules, making it all work.  These folks are all so nice, too!  I learned so much about avocados and potatoes from the California Avocado Commission and the Idaho Potato Commission. I also adored Bibberche, Shef's Kitchen, Rabbit Food Rocks, The Jolly Tomato, 5 Second Rule, and Joy The Baker, and of course Sarah of TasteSpotting!  And the weekend would not have been complete without Andrew from Wente Vineyards, who joyfully poured out wine and shared a wealth of knowledge about blogging, too!  And a huge shout out to Patti Londre, of  Worth the Whisk "our fearless leader." I truly enjoyed meeting everyone!
Did I just accept an Academy Award?  Has the "get off the stage" music started yet?
One of the food highlights from the weekend was the watermelon!  You see, at the last moment, the sponsor, Stephanie Simek, from the Watermelon Promotion Board couldn't attend.  Since Stephanie couldn't go to camp, Patti announced a watermelon photo contest to bring camp to Stephanie.  Andrew, who I so enjoyed meeting, of Eating Rules took home the grand prize.
Being around all of the watermelon inspired this Watermelon-Lime Mimosa Smoothie recipe, which I hope you like as much as I do.
Can't get enough watermelon? Here are a few more recipes for you:
I think this Watermelon-Lime Mimosa Smoothie is a perfect, fun drink to serve your guests when they arrive to brunch in the spring or summer — or how about this weekend!?
Watermelon-Lime Mimosa Smoothie
With a handful of sweet and fresh ingredients, this is lovely for brunch of a hot summer day by the pool.
Keyword:
good for summer bbq, summer drinks
Ingredients
zest of 1 lime

1

tablespoon

granulated sugar

3/4

cup

vanilla bean ice cream

1

cup

orange juice

juice of 1 lime

1 1/2

cups

watermelon,

seeded, roughly chopped

2

teaspoons

Cointreau liquor

1/2

cup

champagne
Instructions
In a tiny bowl, mix the lime zest with the sugar. Add half of the lime-sugar mixture to the ice-cream, orange juice, lime juice, watermelon, vanilla and Cointreau in the blender. Pureé until you have a smooth, thick mixture.


Put the remaining lime-sugar mixture in a bowl just a bit wider than your serving glasses. Rub the rim of two large glasses with lime and dip them into the lime-sugar to get a nice, even coating.


Pour the smoothie into the glasses and add about 1/4 cup of champagne to each. Garnish the glass with slices of watermelon, lime and orange. Yum!