Exploring and learning at the Bootsma California Dairy Farm was an experience I won't soon forget. Some cows are eating, some are being milked, some are giving birth, and some are just wandering about.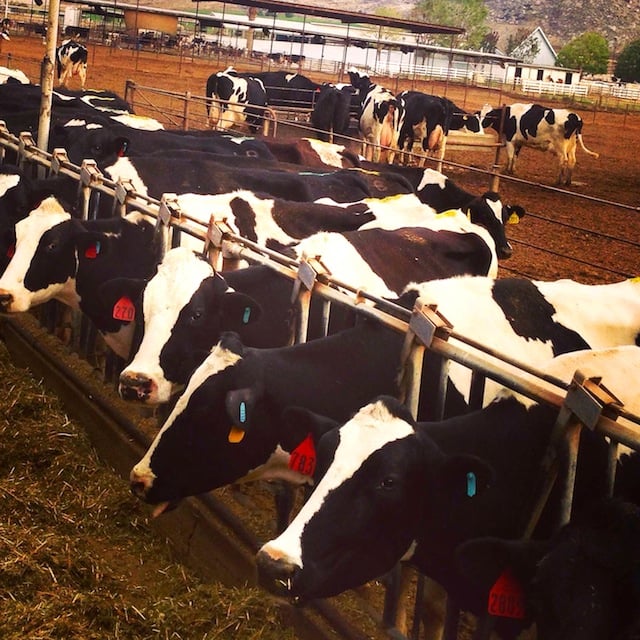 This post is sponsored by the California Milk Advisory Board, written by me and as always, all opinions are 100% my own.
Imagine you're standing in the middle of a dairy farm, a California dairy farm, that is. You're surrounded by approximately 1,800 cows — some are eating, some are being milked, some are giving birth, and some are just wandering about.
And . . . it's totally silent. You can't hear a thing except the breeze and your own breathing.
Bootsma Dairy Farm in California
Did you know that quiet cows are happy cows? I didn't, but it is true, and that was probably my favorite discovery on my tour with the California Milk Advisory Board.
I feel grateful to have been asked to be a brand ambassador for the California Milk Advisory Board — and was thrilled that our partnership began with a tour to learn more about California dairy.
99% of the dairy farms in California are family owned, and the Bootsma's farm is just one them.
The Owners of the Bootsma Dairy Farm
Essie and John Bootsma opened their farm in Lakeview, CA in 1981. They have a big, beautiful house there — and it's where they work and clearly live and breathe California dairy.
Essie Bootsma led us around the farm, which she referred to as "the dairy," explaining everything from the cows' diet, their daily behavior, the milking process, and more.
California is the number one dairy state in the United States.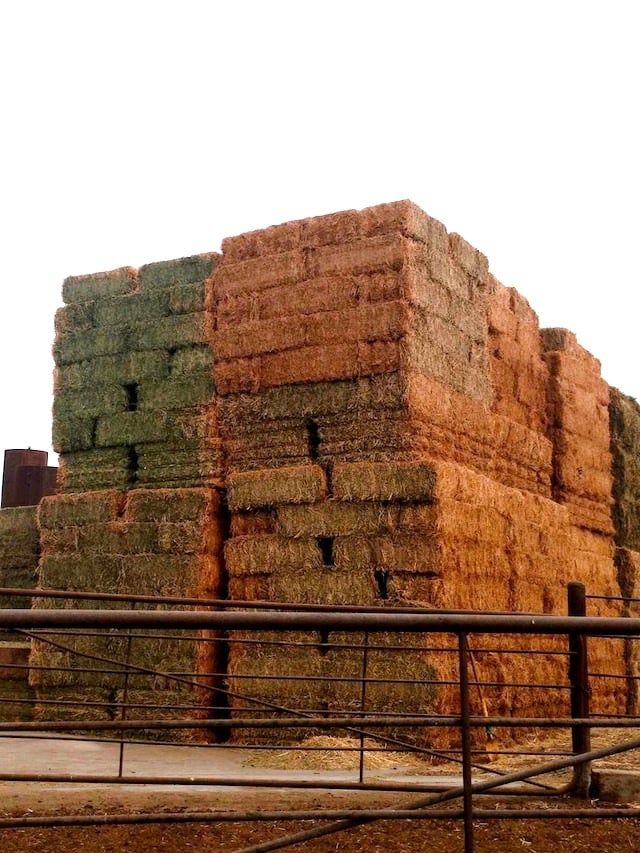 What Happens on the Farm
The Bootsma's cows are milked twice a day, always at the same times, and for about just 10 minutes — each animal producing about 8.5 gallons per day.
The entire milking process, from bringing the cows into the milking area to escorting them out, takes only about 15 minutes. Other than those approximately 30 "working" minutes, the cows spend the rest of their day roaming freely, with food available to them at all times. (In the top image above, the cows are not locked in — these metal dividers are simply where they go when they want to eat.)
I saw so many pipes and tanks that the milk traveled through after leaving the cows — all clean and shiny — and all kept at specific temperatures. From the time the milk leaves the cow to the time it leaves the farm, it is checked at dozens of points along the way for safety purposes. With the amount of precautions taken, I can't imagine a drop of milk leaving the farm without being perfectly up to snuff. If ever a cow is sick and taking antibiotics, it is held in a separate area until completely better — and its milk is never used.
Among the many other things that impressed me at Bootsma dairy was learning that each and every cow — remember there are about 1,800! — are looked at every single day individually.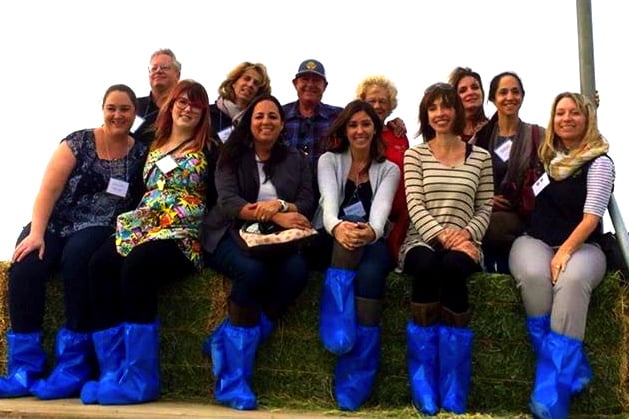 Back row, from left to right: Dr. Mike Payne (Veterinarian, Professor at UC Davis, Director of the California Dairy Quality Assurance Program), Denise Mullinax, (Assistant Director of the California Dairy Quality Assurance Program), John and Essie Bootsma, Diane of Created by Diane, and me :-). Front row, from left to right: Glory of Glorious Treats, Hayley of The Domestic Rebel, Mique of Thirty Handmade Days, Jen of Yummy Healthy Easy, Trina Robertson (Dairy Council of California, Project Manager), and Jennifer Giambroni (CMAB, Director of Communications).
One thing I love about trips like this is getting to spend time with some of my fellow food bloggers, as well as experts of all sorts in the food industry. Above, we are "cruising" around the farm on a giant hay stack.
Earlier in the day we were invited to go behind the scenes at the Thrifty Ice Cream plant in El Monte, CA.
Thrifty Ice Cream
To be totally honest, before this trip, I'd only had Thrifty ice cream once, and I was a kid. And — dare I say it — I'm a bit of an ice cream snob. So I didn't know what to expect as we entered the facility.
Well, I'm happy to say that I was impressed right off the bat when the lovely Silvia Geiger greeted us at the door. Silvia is the Manager of Safety Training and Environmental Compliance — a much more impressive title, I admit, than "food blogger." She led us into the plant where we were met by Scott Bescsi, the General Manager who shared some interesting Thrifty Ice Cream facts with us.
Thrifty ice cream began in Hollywood, CA in 1940. Yep, this year marks 75 years!
In their first year, Thrifty sold about 1 million ice cream cones. Now they sell about 1 million cones every week!
200 gallons of ice cream are made an hour in this very compact plant. It's shockingly small for the amount of production — and extremely efficient as every bit of space is maximized. (It takes only a couple of minutes to circle the plant.)
In 1997, Rite Aid bought Thrifty Ice Cream, and it's still sold in approximately 600 Rite Aid stores on the West Coast.
At the end of the plant tour, we were treated to an awesome ice cream tasting. Guess what? Thrifty ice cream is super creamy, rich and delicious! This "ice cream snob" approves! My favorite? Hands down: the Chocolate Malted Crunch.
Who knew parts of an ice cream plant could resemble the inside of an airplane cockpit?
Oh, and I mustn't forget to tell you about the two amazing meals the folks at the California Milk Advisory Board planned for us. First up, Claud & Co Eatery in Pasadena.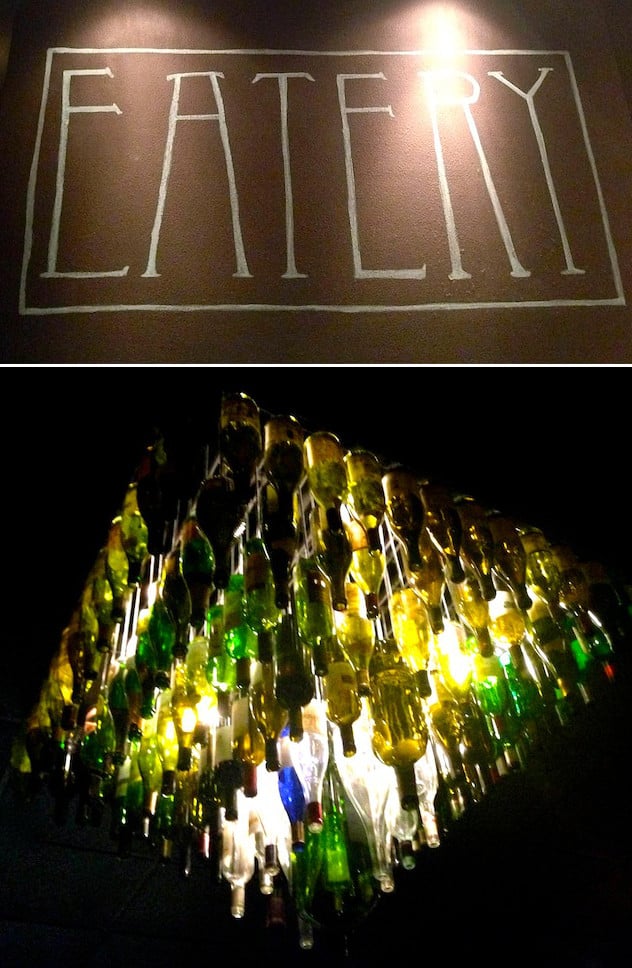 Chef Claud Beltran's not kidding around. We were served a delicious six course meal — each course featured a different cheese made with California milk. From the Pan Seared California Haloumi to the California Dry Jack with Poached Dry Figs, it was all scrumptious. Not only did Chef Claud make the delicious meal, he also made that gorgeous chandelier pictured above.
Next up, The Salted Pig in Riverside.
Chef Larry Thai also put on quite a show for us — starting with this beautiful table. It was another outstanding multiple course meal. For me, the star dish was California Burrata, Acacia Honey Comb with Malted Milk Toast.
Exploring the Bootsma Dairy Farm was quite an adventure!
So I'll leave you with this . . .
L o o k f o r t h e S e a l s!
A huge thank you to everyone from the California Milk Advisory Board and to Ketchum for putting this fantastic tour together.
I made this Vanilla-Meyer Lemon Hot Milk Cake Recipe after this trip. I hope you love it.
Save