Today I'm sharing a list of the best restaurants in Seattle. This is not a sponsored post. I am writing about these restaurants because I loved them.
I usually post new, original recipes here, but today we're taking a little eating trip through Seattle instead.
Inspiration
I visited Seattle recently, and the restaurants we visited were simply too good to go without mentioning. So good that I'm calling them "The Best Restaurants in Seattle."
From whale watching and visiting the San Juan Islands, to the Space Needle, EMP Music Museum and Hiram M. Chittenden Locks, there was so much cool stuff for my kids to see and do. And before, after, and in between all of it, I was able to seek out and find some amazing restaurants!
What I Thought Were the Best Restaurants in Seattle . . .
I'm going to share the highlights, starting with The London Plane, where we had brunch for my birthday. 🙂
---
THE LONDON PLANE
300 & 322 Occidental Ave. S | (206) 624-1374
This is my sweet 11-year-old, Mason, in front of the small flower workshop within The London Plane.
This restaurant has a fun and cheerful vibe — there's a grocery that has everything from delicious spices and decorative candles, to great cookbooks and pretty note cards.
There's a great loft with additional seating — and from there, through a window, is a fabulous view of one of the baking stations.
And in another direction is a perfect view of the large, open kitchen, which was bustling when we were there.

Part of my motivation to go to The London Plane was that something jumped off the menu when I read it — it was the Spicy Kimchi Rice with Fried Eggs, Bacon & Chili Oil. I just had to have it!
This Kimchi dish did not disappoint, and in fact I still think about it — that's how delicious it was. (I often say that good food is like a good movie — you keep thinking about it, reminiscing about it, dreaming about it — if it's good. Otherwise, it's forgotten as soon as it's over.) We also tried the Lamb Meatballs with Tzatziki, the Lentils with Roasted Pork Shoulder, and a handful of the pastries. All were wonderful and memorable. The whole brunch was a delightful experience.
To further celebrate my birthday with fine foods, we went to Matt's in the Market for dinner that night.
---
MATT'S IN THE MARKET
94 Pike Street, Suite 32 – top floor | (206) 467-7909

Matt's was incredible! First of all, the setting, on the top floor of a building directly across from the Public Market, is lovely. You step out of the chaotic market area to this very charming, peaceful warm restaurant. With an open kitchen in the center of the space, the room was somehow still on the quiet side, as the chefs worked in a perfect rhythm together. There was nothing we ordered that wasn't delectable. Nothing! We started with a compressed watermelon salad — one that I later tried to emulate here. It was stunning, refreshing and packed with flavor. The "slab" of watermelon looked like an ahi tuna steak placed upon a very creamy, rich avocado purée, and was strewn with tomato, mint and basil. This dish made me want to sing! (To everyone's great relief, I managed to restrain myself.)
The perfectly seared scallops were served with the most interesting and delicious farro I'd ever tasted. It was made almost like risotto, and had a touch of honey. We also devoured a super succulent pork tenderloin that was served with plum compote, nectarines, peaches and baby pesto potatoes.
And the Kobe steak — oh my!
The ice creams and sorbets change almost daily, but they must have known it was my birthday, because they were offering Grilled Corn flavor that night. I was ecstatic about it, and it totally met my high expectations — it was delicious beyond belief. (I later tried to emulate this dish, too — it's here.) It's tricky to describe, but imagine, if you will, kettle corn that's in the form of ice cream.
Definitely make a reservation here many days in advance — it's not a huge space and and fills up quickly.
---
THE WANDERING GOOSE
403 15th Ave. E | 206.323.9938
The Wandering Goose is a Southern-influenced café in the heart the North Capitol Hill neighborhood. I'd heard this place gets absolutely packed and doesn't have great service. I also knew they didn't take reservations.
I almost let all of that stop me, but I'm so glad I didn't. We went for brunch expecting a big crowd, underwhelming service, and great food…and that's more or less what we got. The food was actually way beyond great and well worth the wait. And really, would you mind waiting with a perfectly frothed, strong latte?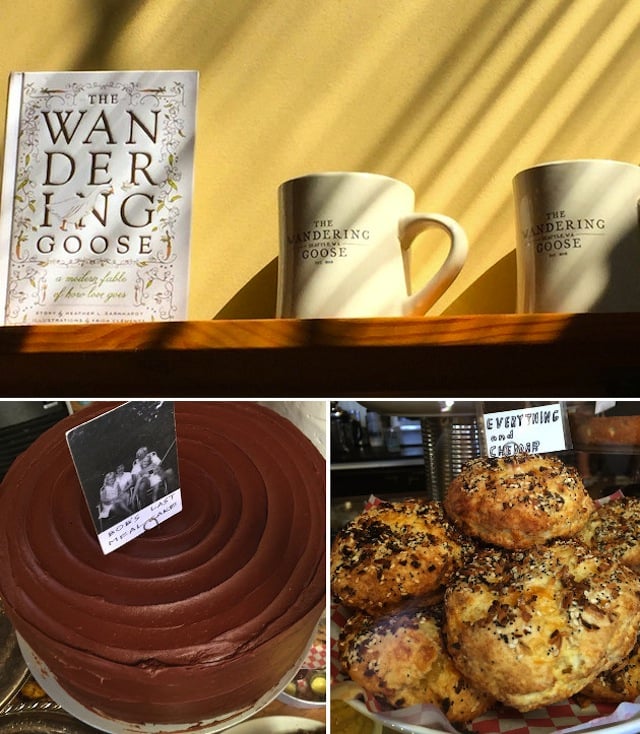 I had the Biscuit & Sausage Gravy with Poached Eggs and it was out of this world. Deep flavors, super flaky, buttery biscuits, and perfectly poached eggs oozing over everything. My boys had peanut butter, banana, honey biscuits (sans the biscuit for my gluten-free Mason).
The honey was especially good. My husband ordered the Veggie Hash with Poached Eggs — also as tasty as could be. And the service . . . I thought it was okay, just not delightful. Know what I mean?
Next up is Sitka & Spruce, another scrumptious brunch.
---
SITKA & SPRUCE
1531 Melrose Ave. | (206) 324-0662
Sitka & Spruce and The London Plane are part of the same restaurant group, and it's no wonder, because S&S is also fantastic. This restaurant sits against the back wall of beautiful windows, in what feels like a rustic loft — along with a florist, a cheese shop, a butcher's counter, and a couple of small charming boutiques.
I loved the eggplant fritatta, cured King salmon and the soft scrambled eggs — but my absolute favorite dish was the cured lamb. The level of flavor and the tender texture were spot on.
Since both of our boys are big sushi lovers, we always try to find a great Japanese restaurant when we travel. My husband found this one, and we hit it up twice on the trip.
---
WANN-JAPANESE IZAKAYA
2020 2nd Avenue | (206) 441-5637
The vibe was super pleasant and comfortable, and while the sushi was quite good, a couple of other items on the menu would motivate me to go back here in a heartbeat. I'm thinking about you, Yakisoba Omelet and Buta Kimchi!
The omelet, a comfort food through and through, was a soba noodle cake held together by egg. What made it so irresistible was the spicy mayo okonomi sauce. The kimchi offered the same level of comfort and perhaps even more flavor. Its tofu was soft and soaked up every spice in the kimchi, making it almost impossible to stop eating. Divine!
And then there was chocolate. Fran's Chocolates, that is…
---
FRAN'S CHOCOLATES
(All of Fran's Seattle locations are here.)
When I was a kid, my cousin Adrienne lived in Seattle and worked with Fran — yes, of Fran's Chocolates! I remember being in Adrienne's kitchen while she was making chocolate truffles — I'd never seen anything like it before and was completely enthralled. Many years later, Adrienne gave me one of my all time favorite dessert books, Fran's Pure Chocolate: Divine Desserts and Sweets. So seeking out Fran's was a no brainer!
All of the locations offer the same mouth-watering, perfect chocolates, but if you have your choice, you should definitely go to the Georgetown space. It's truly gorgeous — and if you're there on a weekday, you can see directly into the pristine factory where the chocolates are being crafted. The chocolate displays are set up as diamonds would be in a jewelry store (And as they should be!)
The chocolates are as precious as can be. Order you favorite chocolate blend, and you'll be over the moon. The Milk Chocolate Espresso Truffles and the Classic Dark Caramels are my choice. These are luxurious! All of them! And get a cappuccino at the coffee bar . . . and you'll be in heaven.
So . . . should you find yourself in Seattle, I hope you'll wander over to some of what I think are the best restaurants in Seattle.
Here I am with my boys — happy, well fed, and full of love!
Save
Save
Save