This Gift Guide for Cooks and Foodies has been carefully curated with unique, beautiful and fun items. Things on this list will likely be new for those who you think have everything.
Gifts for cooking lovers are sometimes hard to find when you're shopping for someone who you think has everything.
Every year I update and edit my gift guide with new unique and fun items that I think our cooking and foodie friends will absolutely love.
**The photo credits for all of the below images goes to the sites they're linked to.**
Gifts For Cooks and Foodies Who You Think Have Everything . . .
Island Bamboo 2-Piece Pakka Wood Spurtle Set — $26
A Spurtle is a Scottish wooden kitchen tool that's a blend of a spoon and a spatula. It dates back to the fifteenth century, and is used to stir porridge, soups, stews and broths. It can stir, scoop, smash, and serve.
Comal— $43
A comal is a smooth, griddle-like pan that's typically used in Mexico, Central and parts of South America to cook tortilla and arepas. It can also be used to toast spices and nuts.
Instant Accu Slim Sous Vide, Immersion Circulator–– $79
This will turn out perfectly cooked food every single time you use it. (And this is one of my favorite sous vide recipes.)
Japanese Seasoning Container — $38
The lid on this awesome container is made from Japanese Cypress (Hinoki), which allows salt to "breathe." It's super easy to refill and access, and the lid protects the salt from kitchen splatters.
Long Handle Wooden Tasting Spoons (Set of 4) — $68
These tasting spoons are beautifully crafted and come in an assortment of woods. They are made with ethically sourced, sustainable, and all-natural materials.
Countries Monthly Gift Box from Try The World — $39/month
A curated selection of ingredients, drinks, and snacks—from a new country every month.
BeldiNest Hand Carved 6 Piece Olive Wood Nesting Bowls Set — $68
For prep in the kitchen or serving at the table, these gorgeous bowls are handmade in Tunisia. Check them out holding a beautiful salad.
Cavarola Pasta Board from Artisanal Pasta Tools — $75
A gorgeous heirloom piece, hand carved, with 600 individual hand cuts, these boards are made for creating rectangular pasta shapes imprinted with elaborate crosshatching. They're available in three finishes and come with the rolling pin.
Stoneware Fermenting Crock from UncommonGoods– $96
Fermenting foods is all the rage these days, so why not do it in style?
Giving Hope Produce Wine Basket from Melissa's Produce – $80
When you buy this beautiful basket of exotic and tropical fruits with Pinot Noir, you'll also be donating to a wonderful cause. One Hope Wines will donate half of their profits to aid in pet adoption.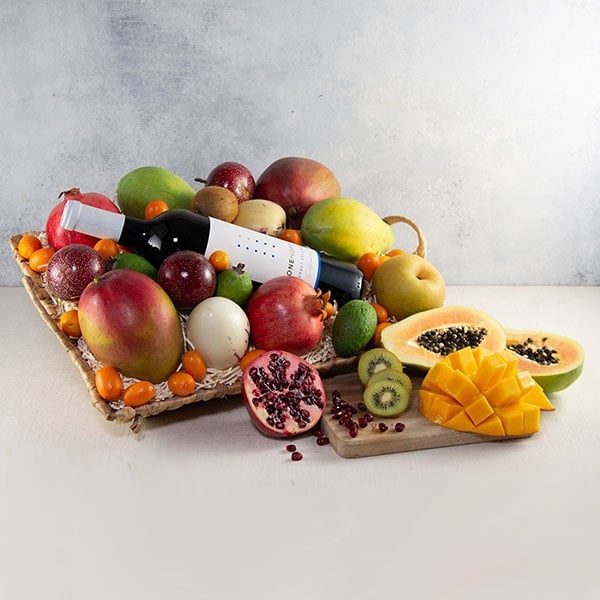 A combination of the next two items makes for one amazing cooking gift!
Moroccan Tagine — $79
A tagine is a casserole dish used in North African cooking, most commonly in Morocco. Tagines are great for slow-cooking stews, and other "one-pot" comfort foods! ("Tagine" refers to the dish prepared in this vessel, as well.)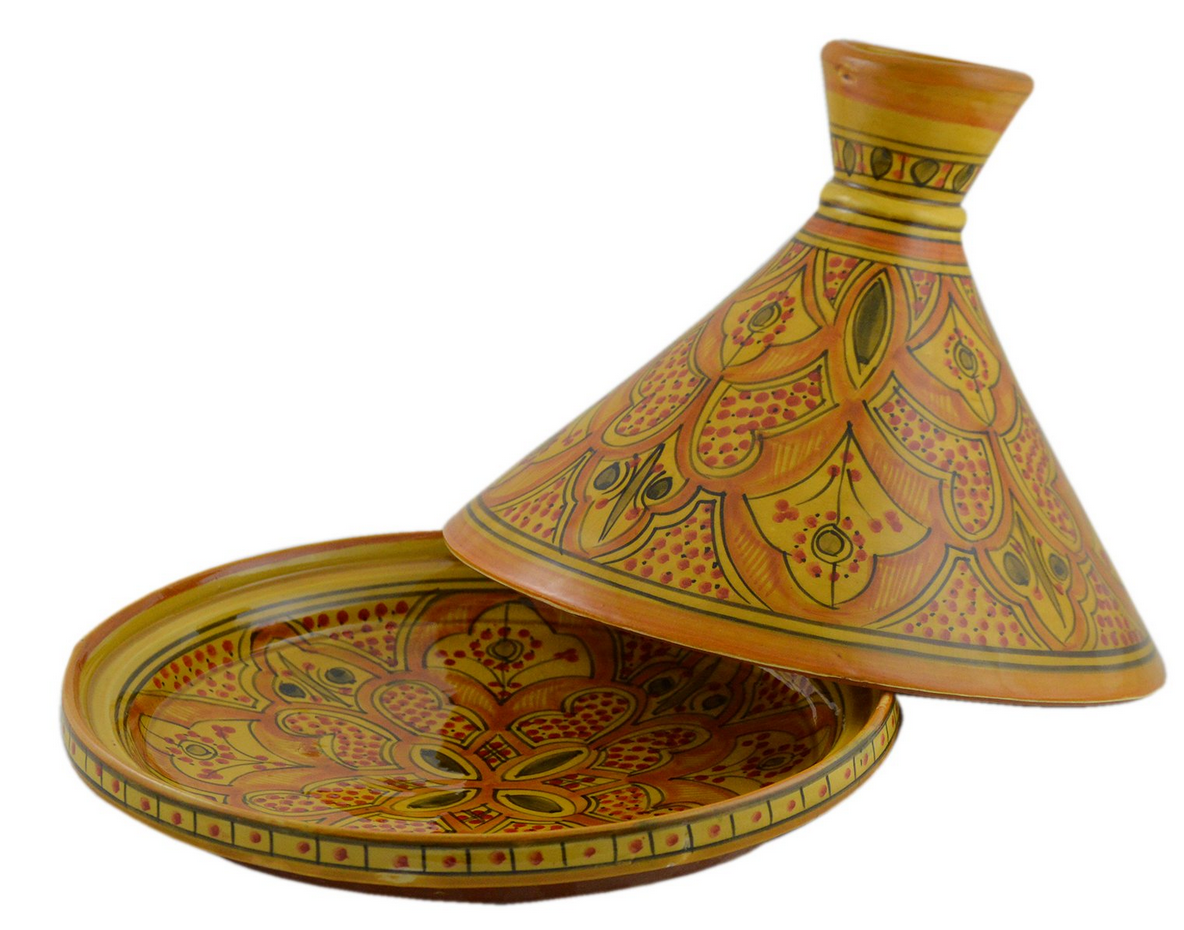 Cooking at the Kasbah by Kitty Morse — $20
This book is the perfect counterpart to the Moroccan Tagine!
Thai Sticky Rice Steamer Set — $18
This super cool rice steamer from Thailand makes perfect, aromatic Thai sticky rice.
Black Garlic Fermenter — $109
Black garlic is rich and creamy, and the flavor is reminiscent of balsamic vinegar. You can make it yourself in this awesome machine. (For a bonus, print this popular recipe to go along with the gift.)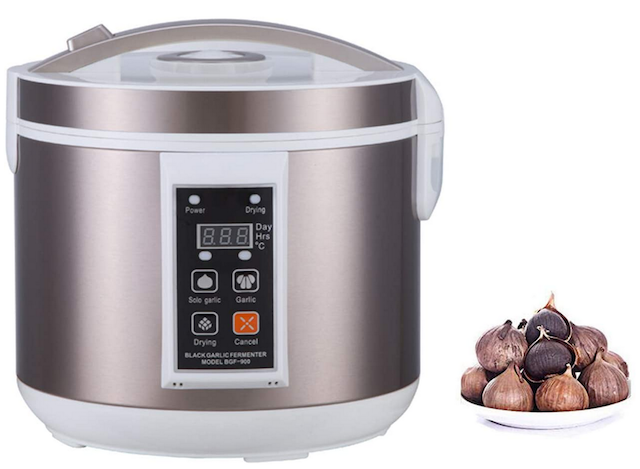 Black Garlic — $17
And if you don't want to make your own black garlic . . .
Himalayan Salt Mortar and Pestle — $25
This is unlike most mortar and pestles — a hint of the flavor of Himalayan Pink Salt will be imparted to the spices and herbs you're grinding. I love using a mortar and pestle for salsas like this one.
Swissmar Girolle Cheese Scraper — $110
It looks like a sculpture, and produces luscious, aromatic shavings of cheese. Though you can use a variety of cheeses, this scraper is designed specifically for slicing & serving Swiss cheese – Tête de Moine Swiss, to be exact. Oh, and you can also shave chocolate with it!
Reversible Kneading and Cutting Board — $98
This is one of the best purchases I've ever made! This board doesn't move because its lip "locks" it in place. And flour and bits of dough don't escape at the back because of the "back board." You can keep one side for bread making and the other for chopping.
Flour Shaker Rolling Pin — $19.99
The hollow ceramic design incorporates a flour shaker and ruler to make rolling out dough quick and simple.
And for a few more ideas, here are some things I can't live without in my kitchen.
Cooking On The Weekends is a participant in the Amazon Services LLC Associates Program, an affiliate advertising program designed to provide a means for sites to earn advertising fees by advertising and linking to Amazon.com.
Save
Save
Save
Save