This pretty, bright Gai Lan recipe features a generous amount of garlic and lemongrass — and both bring it to another level with their beautiful flavor and wonderful scent. Sautéed Gai Lan is super easy and quick to prepare, and a nice switch from kale or spinach.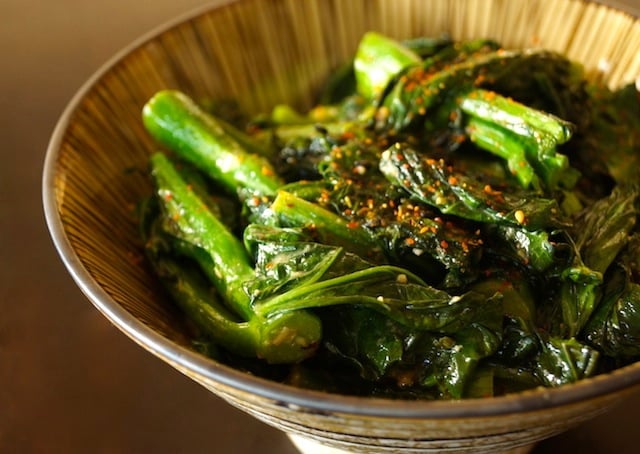 Amazon affiliate links are for your convenience. As an Amazon Associate I earn from qualifying purchases at no additional cost to you.
What is Gai Lan?
Gai Lan is Chinese Kale that is in the cabbage family — and it's commonly called Chinese Broccoli.
The flavor reflects those names perfectly — slightly bitter like kale and slightly sweet like broccoli.
Gai Lan is most commonly eaten raw, steamed or sautéed.
At the Katie Chin book signing at Melissa's produce, I was given a beautiful bundle of Gai Lan and immediately pictured it in a sauté pan, sizzling with a lot of garlic.
I served this healthy, green leafy, delicious side dish with my Thai Inspired Mahi Mahi, and it was amazing.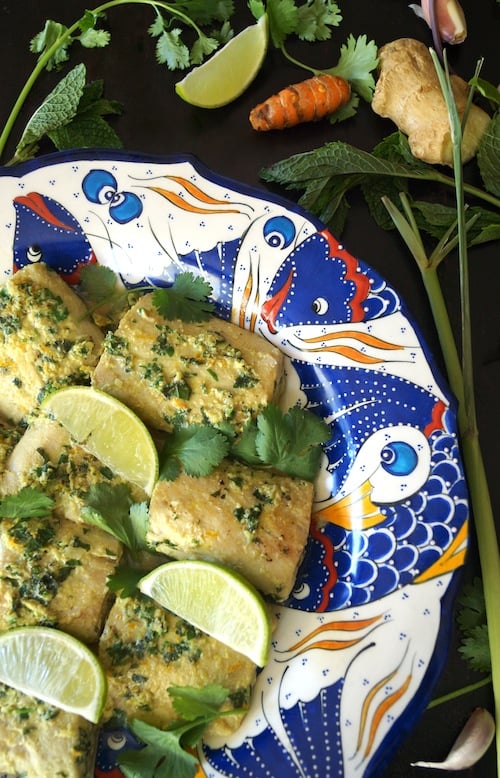 I'm calling Gai Lan "the new kale" — or kale variety, if you will.  Not as trendy, but very hip. 😉  You can call it that, too.
It's cooks and quickly and as easily as spinach — almost as soon as it hits the sauté pan, it begins to wilt.
If you think this sautéed Gai Lan recipe sounds delicious, and I hope you do — you will also love these:
What to served with Garlicky Coconut Satuéed Gai Lan recipe:
Enjoy every last bite!
This is not a sponsored post, and as always I only write about things I love.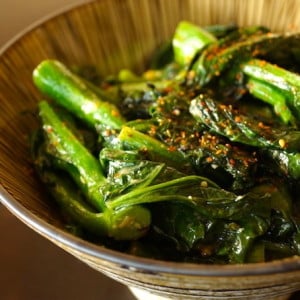 Garlicky Coconut Gai Lan Recipe
Sautéed Gai Lan is super easy and quick to prepare, and a nice switch from kale or spinach. And the Asian flavors in this recipe will win you over!

Ingredients
1

tablespoon

fresh garlic,

minced

1 1/2

teaspoons

finely chopped lemongrass

5

cups

gently packed Gai Lan (including stems),

washed and dried

⅓

cup

light coconut milk

salt and freshly ground black pepper
Instructions
Coat the bottom of a medium-sized sauté pan with grape seed oil and place it over medium-low heat.

Add the garlic and lemongrass and sauté until it's very aromatic and has softened a bit, about 2 minutes.

Turn the heat to medium-high and add the Gai Lan. Cook, stirring from time to time, until it's completely wilted and the bottom of the pan is becoming dry, about 10 minutes.

Pour in the coconut milk, stir, and gently cook until it has almost completely absorbed into the Gai Lan, about 2 minutes.

Sprinkle with Togarashi if desired.
Recipe Notes
Togarashi is the Japanese word for red chili peppers. It'll add some great heat.
Cooking On The Weekends is a participant in the Amazon Services LLC Associates Program, an affiliate advertising program designed to provide a means for sites to earn advertising fees by advertising and linking to Amazon.com.