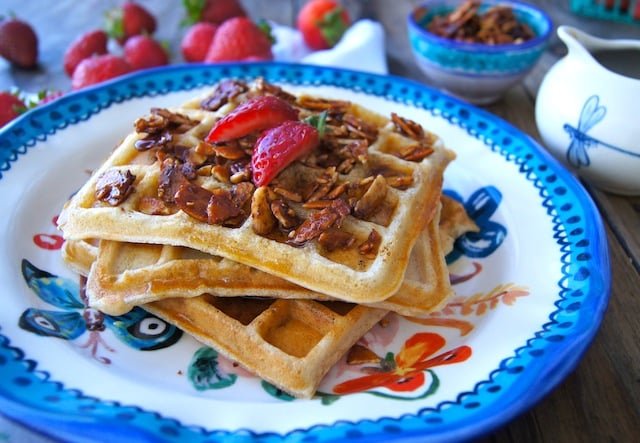 I hadn't made waffles for a couple of years.
You see, our waffle maker creates an impression of Winnie the Pooh or Tigger.  Take your pick.  My boys thought this was pretty cool until they were about five and seven-years-old.   They declared it "for babies."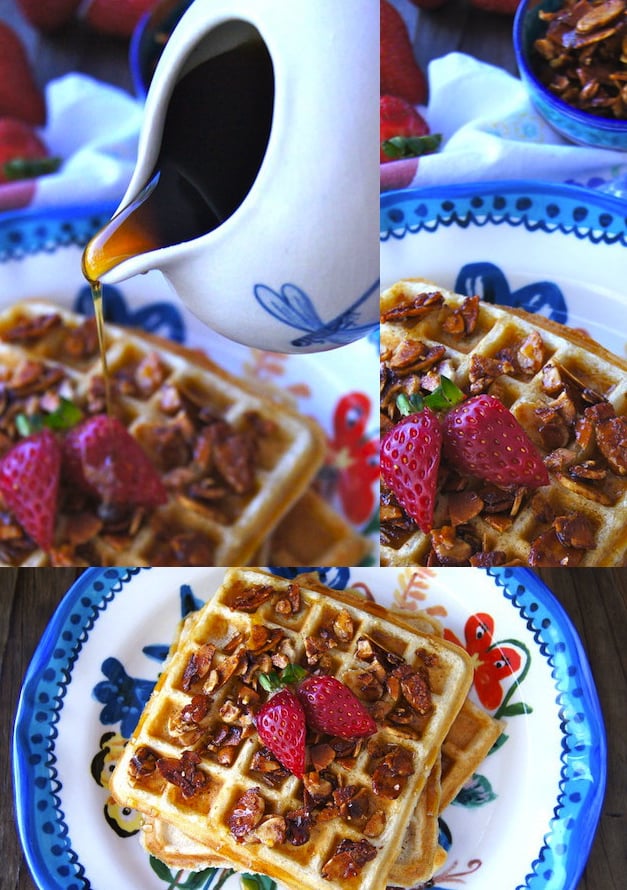 They're now seven and nine-years-old, and recently requested waffles again — more sophisticated waffles, that is.
I love any excuse to  roam around a cooking store, so off I went for a new "grown-up" waffle maker.
They grow up so fast.
And don't forget . . . there are only 4 more days to enter my "Share The Love" Cooking Giveaway.  I have 10 super awesome foodie prizes to give you — including a Le Creuset grill, Whole Foods an Bob's Red Mill gift cards, Kerrygold cheeses and butters, and more!  Enter HERE.
Gluten-Free Buttermilk-Banana Waffle Recipe and Cinnamon-Honey Almonds
Makes about a dozen standard-sized waffles
Ingredients
For the waffles:
1-1/2

cups

mashed

overripe bananas (about 2 small bananas)

1

cup

buttermilk

1/3

cup

grape seed oil

3

tablespoons

granulated sugar

1

tablespoon

vanilla extract

1-1/2

teaspoons

ground cinnamon

1/4

teaspoon

sea salt

3

large eggs

1-1/3

cup

all-purpose gluten-free flour

I like Bob's Red Mill and Trader Joe's also a great one.

1

tablespoon

plus 1/4 teaspoon baking powder

1/2

teaspoon

xanthan gum
For the almonds:
1

tablespoon

unsalted butter

melted

1

tablespoon

honey

1/2

teaspoon

ground cinnamon

Pinch

of sea salt

1/3

cup

sliced almonds
Instructions
For the waffles:
Preheat your waffle iron.

In a medium-large mixing bowl, blend the banana with the oil, sugar, vanilla, cinnamon, and salt.

Mix in the eggs and use a fork to be sure they are completely blended into the batter.

Add the flour, baking powder and xanthan gum and mix only until everything is fully incorporated.

Use your waffle iron according to the manufacturers instructions. (For mine, I used about 1/3 cup of batter per waffle.)
For the almonds:
Preheat the oven to 375 degrees F, and adjust a rack to the center.

In a small bowl, mix the melted butter with the honey, cinnamon and salt.

Add the almonds and stir to be sure they are all well coated.

Spread the coated almonds out in a single layer on a baking sheet -- they will be sticky.

Place them in the preheated 375 degree F oven, just until they are golden brown and bubbling a bit, about 4 minutes.

Let them cool on the baking sheet and then break them apart with your hands. (You might need a metal spatula to get some of them off the baking sheet.)

Top your waffles with the almonds and a touch of syrup.

Serve!
Save
Save