Grilled Chile-Lime Corn on the Cob is one of the most delicious recipes for a Memorial Day BBQ! The fresh lime and corn is a combination of sweet and tangy, and add a little chile spice and it's over-the-top!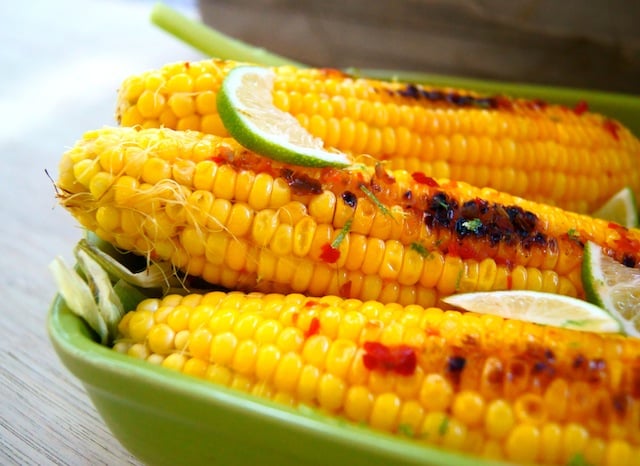 It's the little things.
Sometimes it's the most simple, littliest things that can make me happy.
Last week we walked out our front door, just like we had a million times before — only this time we noticed that we had house guests.   The best, sweetest, most delightful house guests possible — and they can stay as long as they'd like.  In fact, I'll be sad when it's time for them to go.
Almost too little to notice, there was a hummingbird nest on the tree below the steps.  A small collection of twigs held an even smaller hummingbird.  With us only about three feet away, this sweet bird didn't move for a good thirty seconds.  And that's when we saw the most precious, most beautiful site — her two, lima-bean-sized baby birds. With beaks the size of a grain of rice, these teeny-tiny birds very slowly moved up and down with strong beating hearts.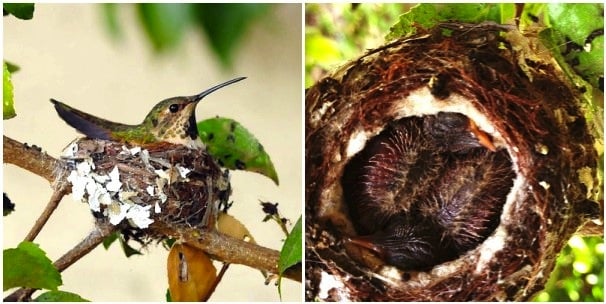 Every day since our discovery, I check on our guests — sometimes the mom is perched there keeping her babies warm, and other times I have an opportunity to see this new life blossoming.
Like I said, it's the little things. (No pun intended.)
Oh, and by the way, with only four ingredients, this quick and easy corn recipe is unbelievably delicious.
As summer approaches, it's simple, fresh, flavor-packed side dishes like this, that I love with my grilled meat at a BBQ.  This sweet and spicy corn is especially divine when served along side Grilled Rib-Eye Steak Marinated in Asian Spices!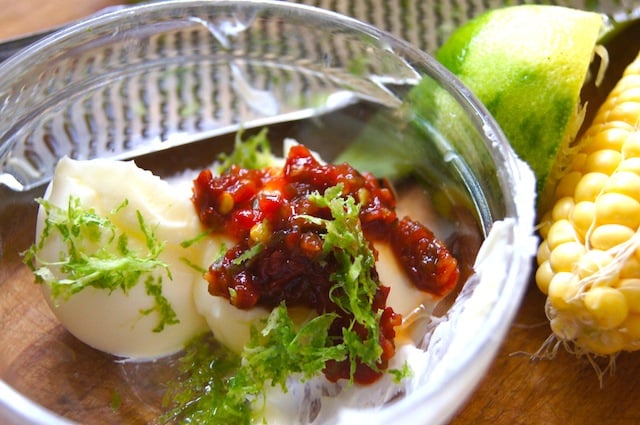 Memorial Day BBQ next weekend, anyone?
Enjoy!
Grilled Chile-Lime Corn on the Cob Recipe
Ingredients
4

ears fresh corn

2

tablespoons

unsalted butter

softened

1-1/2

teaspoons

chile paste

I like Sambal Oelek

Zest of 1 lime

1

teaspoon

lime juice

1/4

teaspoon

sea salt
Instructions
Get two large pieces of aluminum foil ready - big enough to loosely wrap around two ears of corn each.

Remove the husks from the corn, and any bits of remaining silk. (I like to save the husks to use on a a platter for presentation.) Place two ears on each piece of foil. set aside.

In a very small bowl, mix the butter with the chile paste, lime zest, lime juice and salt.

Then evenly spread about 1-1/2 teaspoons of the butter mixture, evenly on each ear of corn.

Place the two ears of buttered corn in the center of each piece of foil. Seal the foil loosely, with an inch or two of room above the corn.

Preheat your stove-top or outdoor grill. Once it's very hot, place the two packages of foil on the grill, and cook until the corn is tender. (You can peek int he foil and use a fork to test -- I like them on the crunchy side.) This should take about 6 minutes. They will char through the foil, so if you want the char on all sides, use kitchen tongs to turn them during the cooking process.

Open the foil and let the corn cool a bit before serving.
Recipe Notes
For this recipe I like using the foil because I like grilling with the butter, so i the flavors really seep into the corn -- the butter would burn if it touched the grill directly. That said, you can also cook the corn without the butter, directly on the grill and spread the butter on afterwards. Up to you.
Save
Save