Delicious, spicy tangerine marinade can turn most foods into something very special — especially grilled tofu recipes. The combination of the sweetness of the citrus with the heat of the chiles creates a most delicious Grilled Spicy Tangerine Tofu recipe.
Amazon affiliate links are for your convenience. As an Amazon Associate I earn from qualifying purchases at no additional cost to you.
Shortly after I got married, I awoke one morning to the wonderful aroma of what I thought might be bacon.  Since my husband's a vegetarian, I thought it couldn't be.
And I was right.
When I went to the kitchen I found him eating what looked like long, rectangular, pinkish crackers.  Um . . . fake bacon?  I should have said, "I caught him!"
If you try to cook Tofurky or any sort of "fake" bacon in my house I might step out onto the patio.  I mean, eat what you'd like, but not that stuff, please!
I have an aversion to representing foods as things they're not.  If you like tofu – and I like it a lot — just eat tofu!  It doesn't have to be shaped into a chicken or any other bird, for goodness sake!
One thing I love about tofu is that it's quite porous and therefore able to easily absorb any flavors added to it.  The spicy tangerine marinade I'm sharing in this recipe today, is ideal to flavor tofu.
And I love grilled tofu recipes because the char flavor from the grill adds a smokiness that's fabulous.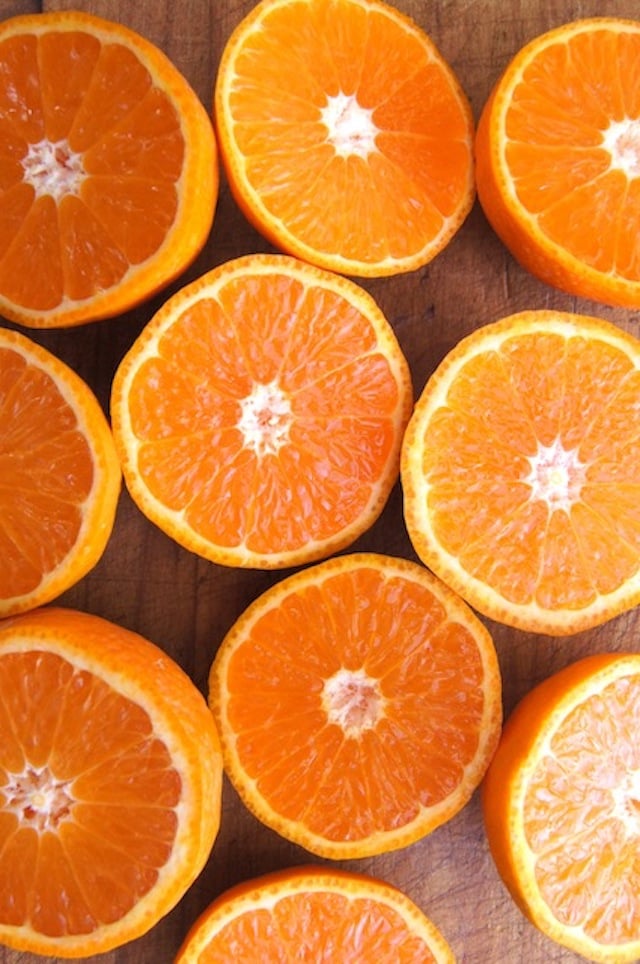 When I got a bag of  Melissa's spectacular Ojai Pixie tangerines, I knew exactly how I wanted to use them!
These tangerines are seedless, incredibly juicy, super delicious, and simply stunning to look at!  (Their season is March through late May.)
Tofu should not be thought of as a food just for vegetarians — everyone can enjoy it!
I love Grilled Tofu with Spicy Tangerine Marinade on its own as an appetizer or side dish, but tomorrow I'm making a yummy Asian dish that you can also toss it into.  So stay tuned and you'll have a great meal for the weekend!
P.S. If you love "Morning Strips," please don't break up with me!  My aversion to Tofurky and similar products is just one of my (many) food quirks! 😉
If you try this tangerine tofu, or any of my other recipes, I'd love to hear what you think in the comments. You can also follow me on Instagram, Pinterest and Facebook to keep up with my mouth-watering recipes!
Timeline:
1 hour and 10 minutes ahead: Make the marinade and add the tofu to it.
About 5 minutes ahead: Grill or sauté the tofu and heat the sauce.
Spiced Tangerine Grilled Tofu Recipe
My delicious, spicy tangerine marinade can turn most foods into something very special -- especially grilled tofu recipes. The combination of the sweetness of the citrus with the heat of the chiles in marinade, is absolutely delicious.
Course:
Appetizer, Side Dish
Keyword:
grilled tofu ideas, marinades for tofu
Ingredients
1/2

cup

tangerine juice

1

tablespoon

Mirin

(sweet rice wine)

1

tablespoon

tamari

1

teaspoon

chili paste

(I like Sambal Oelek)

12

ounces

extra firm tofu
Instructions
In a shallow baking dish (8 X 8-inch is perfect), combine the tangerine juice, Mirin, Tamari and chili paste. Set aside.

Drain the tofu and cut in into 2-inch squares, about 1/2-inch thick. Place them in the marinade, turning them to quickly coat both sides. Cover with plastic and marinate for 30 minutes at room temperature. Then flip each tofu square over and marinate for another 30 minutes.

Preheat a stove-top grill, remove the tofu from the marinade, place it on a large plate and drizzle or brush it lightly with grape seed oil. (Save the marinade!)

Once the grill is hot, put the tofu squares on, at least an inch apart. If you don't hear the sizzling sound, wait until you do, or your tofu will not brown and caramelize. Cook each side until nicely marked, about 2 minutes each.

In a small sauté pan, bring the marinade to a boil and then reduce it to a simmer for about 5 minutes. Pour this over the tofu when it's done.
Recipe Notes
If you don't have a stove-top grill, you can sauté the marinated tofu.
Tamari is a type of Japanese soy sauce. It's a slightly deeper brown and thicker than regular soy sauce.
This is not a sponsored post -- I just love Ojai Pixie tangerines!
Cooking On The Weekends is a participant in the Amazon Services LLC Associates Program, an affiliate advertising program designed to provide a means for sites to earn advertising fees by advertising and linking to Amazon.com.