'Tis the season.  You know how it goes, "winter, spring, summer, hatch, and fall."
I've been celebrating this joyous culinary season for the past four years, and I'm happy to have created about a dozen Hatch Chile recipes to show for it.  Here's one of my favorites — Roasted Hatch Chile & White Peach Salsa.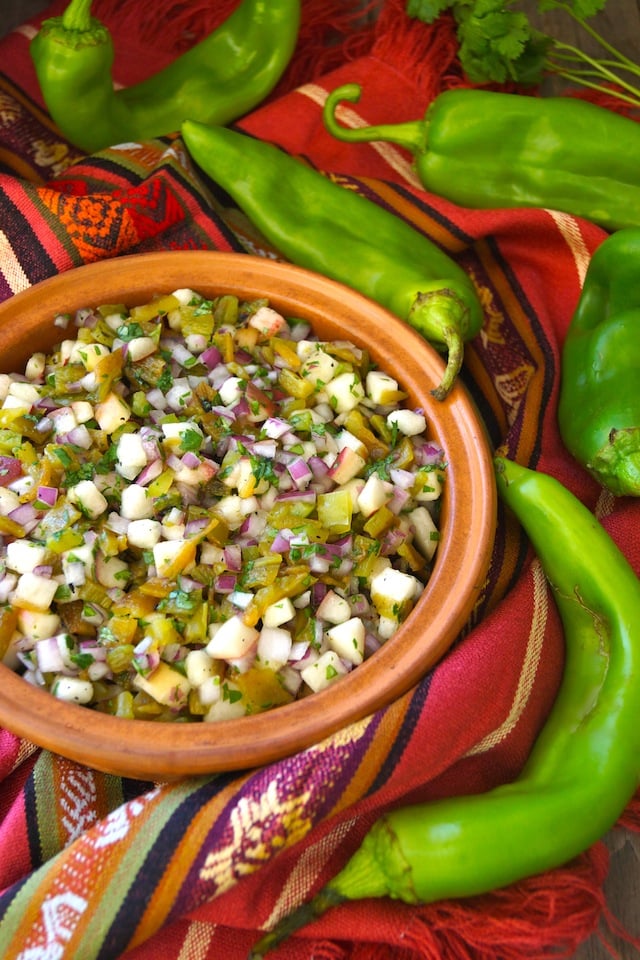 These gorgeous peppers are just now hitting the markets, so when you spot them, I suggest taking advantage of it, because their season is only about 6 weeks long.  You won't want to miss your chance to partake in the deliciousness!
And if you really want to be a part of it, you can go to the renown Hatch Chile Festival in New Mexico!  Check it out here.
Here's another favorite — Hatch Chile Potato Hash and Eggs with Chipolte Roasted Tomatoes.  (They're all favorites, really.)
Hatch Chiles are a prized New Mexican chile and are available in August and September. These favorite Southwestern chiles are grown in the Mesilla Valley, just north of Las Cruces, where the sunlight is intense and and the nights are cool.
This climate combination results in a chile that has a wonderful earthy flavor, with a subtle sweetness and kick to it.  And what I love about these peppers, is that they are grown in both hot and mild varieties — and labeled that way in the markets!  So you know exactly what you're getting.
And the rest of my favorites!  Click the image (or here) for all 9 recipes . . .
From left to right, starting on the top row: Hatch Pepper Jack Bacon & Eggs, Roasted Hatch Seared Scallops, Smoky Hatch Cornbread, Hatch Tequila Chicken Tostada, Hatch-Agave Compound Butter, Hatch Shrimp Sauté with Coconut Rice, Hatch Cornbread Casserole, Fire Roasted Corn and Hatch Stuffed-Bacon Wrapped Sole, Hatch Zucchini Bread
And just to add to the Hatch awesomeness, via Melissa's Produce, there are locations throughout the U.S., where Hatch Chiles are roasted on the spot for you.
You can get the perfect amount for your cooking that day, or a supply large enough so you can freeze some and have them all year long.  (When roasted, they freeze beautifully.)
Find a Hatch Chile Roasting near you.
Save