There's some exciting, good news in the culinary world today.
Korean Pear season has begun!
The season for these incredible delicious pears has just started, will peak in December, and go through March.
Melissa's Produce is the largest distributor of Korean Pears in the United States, and I was fortunate enough to receive a few samples just as they're hitting the stores.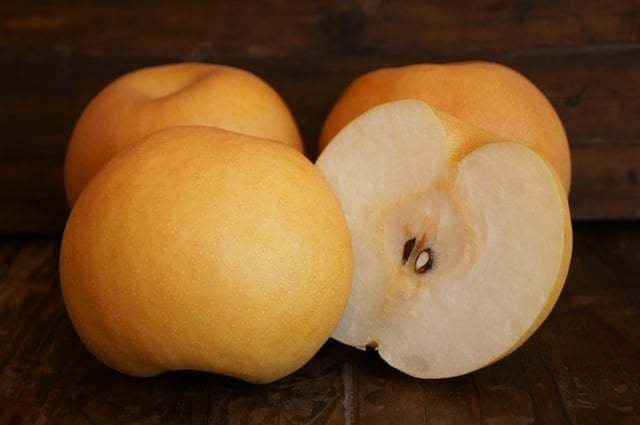 Juicy, sweet, and super crisp, these pears are like no other.
I can't get enough of them during their season.  Such a treat!
The skin is very thin and almost never has even a tiny blemish.
These large, apple-shaped pears are treated with a whole lot of love during their growing process.
Here's a very cute, short video that will take you through their pampered life, and show you just how they become so gorgeous and delicious.
As with most superb fruits, they're divine simply out of hand — however, I will be cooking up tasty creations with Korean pears all week.
I'm going to show you just how versatile they can be to impart their wonderful flavor and aroma into anything they're paired with in the kitchen.
We'll be making a salad with them, marinating steak in them, and baking a sweet dessert with them, too!
This is not a sponsored post.  All opinions are my own. 🙂
Save
Save