Coconut Flour Muffins with Lemon are a full of fresh, sweet flavors. They're a perfect gluten-free afternoon snack with tea, a delicious breakfast with coffee — or simply as a delightful treat any time!
Why do we call muffins "muffins?" They're pretty much all cupcakes without the frosting, right?
Right!
I personally like to call cupcakes "muffins" simply to justify having them for breakfast.
I'm calling these guys "muffins" so you feel good about serving them at your weekend brunch. For even more sweetness, you can serve my Vanilla Fig Preserves with them.
And they'll be perfect after some savory Smoky Chipotle Breakfast Nachos for your main course!
These gluten-free Lemon Coconut Muffins are bright, sweet and delicious. I love baking gluten-free when it doesn't feel as though I'm losing anything in taste or quality.
What's in Coconut Flour Muffins with Lemon?
coconut
sugar
salt
butter
coconut milk
vanilla
lemon juice
coconut flour
eggs
baking soda
Coconut and lemon make a superb flavor combination — especially in a dessert.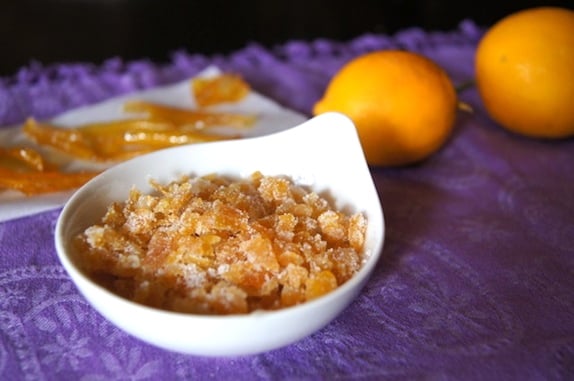 Why bring a Gluten-Free Treat to the Party?
When I have to bring a treat to a gathering, more often than not, I choose to bring one that's gluten-free.
It seems whether it's Celiac Disease, an allergy, an intolerance, or just to be part of the growing trend, a lot of folks appreciate it.
And my Coconut Flour Muffins are always a hit when I bring them.
I hope you enjoy every last, delectable crumb of these lovely gluten-free Coconut Muffins with Lemon!
What to serve with Coconut Flour Muffins:
More Gluten-Free Recipes with Coconut Flour:
Coconut Flour Muffins with Lemon
*Makes approximately 40 mini muffins
Instructions
Preheat the oven to 350°F and prepare 2 to 4 mini-muffin pans by lining them with paper muffin/cupcake papers.
To make the topping
In a small bowl, combine the shredded coconut, candied lemon peels and the sugar. Set aside.
To make the batter
In a medium-sized mixing bowl, combine the sugar, salt, melted butter, coconut milk, vanilla and lemon juice. Use a whisk to blend it until smooth. Then gradually whisk in the eggs until they are fully incorporated.

Fold in the coconut flour and baking soda and mix just until blended. Finally, fold in the candied lemon peels and the shredded, toasted coconut.

Fill each muffin cup about ¾ the way up. Then evenly distribute the topping, making sure to coat each muffin.

Place the muffins in the oven for 20 to 25 minutes. The tops should be golden brown and they should no longer jiggle.

Let them cool in the muffin pans for at least 10 minutes.
Have you tried this recipe?
I'd love to see it on Instagram! Tag me at @cookingontheweekends or leave a comment & rating below.
Cooking On The Weekends is a participant in the Amazon Services LLC Associates Program, an affiliate advertising program designed to provide a means for sites to earn advertising fees by advertising and linking to Amazon.com.