Roasted Purple Artichoke Salad is beautiful and delicious. Made with baby purple artichokes, lemon and a tangy sherry dressing, it's a spring crowd pleaser.
Purple artichokes are beautiful!
Using them in a spring salad is a beautiful way to celebrate them.
What's in this recipe?
baby purple artichokes
lemon juice
extra virgin olive oil
arugula
avocado
Parmesan
onion
salt, pepper
Imagine all of these bright, fresh ingredients drizzled with a lovely Sherry Vinaigrette.
What's in the dressing?
sherry vinegar
agave nectar
extra virgin olive oil
salt, pepper
That's it!
Many thanks to my friends at Frieda's Specialty Produce, who shared these artichokes with me.
Called Fiesole Baby Purple Artichokes, they are so stunning you could put them on a shelf and display them as art!
I might have done so if they weren't perishable and if I didn't know how delicious they were going to be.
Where to get Baby Purple Artichokes?
In the spring, when they're in season, you might see them in the specialty section of the produce department in your market. You can also order them here.
What do they taste like?
They're incredibly flavorful with an earthy, nutty taste.
Can you substitute with other artichokes?
While they are the star of this Roasted Purple Artichoke Salad, you absolutely can, and it will still be delicious.
I would suggest jarred, marinated baby artichokes or artichoke hearts. The small size is easiest to handle for the bite-sized pieces in the salad.
And I always love adding new salads to my weekend recipes!
Roasted Purple Artichoke Salad is a great appetizer, side, and can definitely stand on its own as an entrée salad.
Enjoy!
More artichoke recipes . . .
Ultimate Stuffed Artichoke Recipe – Serve it for a scrumptious vegetarian first or main course. It's great for sharing too!
Grilled Artichokes – These are a fantastic spring or summer side dish. The smoky flavor from the grill puts them over the top.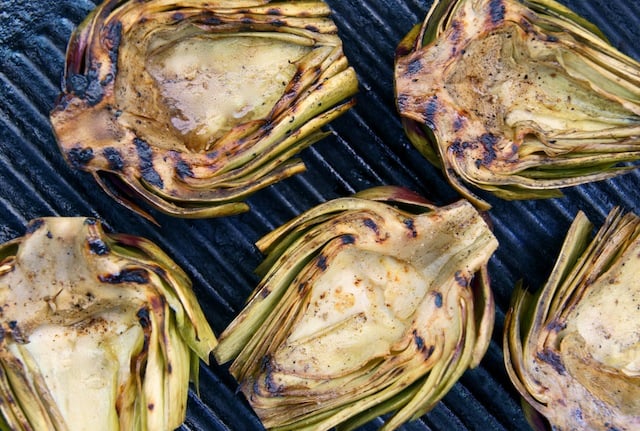 On to the salad recipe . . . .
Roasted Purple Artichoke Salad
Roasted Purple Artichoke Salad is beautiful and delicious. Made with baby purple artichokes, lemon and a tangy sherry dressing, it's a spring crowd pleaser.
Keyword:
recipes with artichokes, pretty salads
Ingredients
For the salad
5

purple baby artichokes,

washed and dried

2

tablespoons

lemon juice

1½

tablespoons

olive oil

¼

teaspoon

salt

a few turns black pepper

4

cups

loosely packed arugula,

washed and dried

½

cup

avocado,

thinly sliced, horizontally

⅓

cup

Parmesan cheese,

shaved

⅓

cup

yellow onion,

thinly sliced
Instructions
Preheat the oven to 425°F.
For the dressing
In a very small bowl, combine the vinegar, agave, salt and pepper. Then gradually whisk in the oil. Set aside.
For the salad
Trim any sharp tips off of the artichoke leaves. (Kitchen sears are perfect for this.) Then cut each artichoke in fourths, lengthwise. (These beauties don't have a choke to remove!)

Bring a few inches of water to boil in a pot and place a steamer insert over the water. Place the artichokes into the steamer basket. Cover tightly, and steam for about 5 minutes. They will not be tender yet -- they will finish cooking in the oven.

Toss the artichokes in a medium-sized mixing bowl with the lemon juice, olive oil, salt and pepper. Once they are well coated, place them in a single layer on a baking sheet. (Don't wash the bowl!)

Roast the artichokes in the 425°F oven until they are beginning to brown and are tender, about 8 to 10 minutes. Remove them from the oven and let them cool completely.

In the same medium-sized mixing bowl, combine the arugula with the avocado, Parmesan, and onion.

Once the artichokes have cooled, add them, along with the dressing. Toss gently to coat all of the ingredients.
Cooking On The Weekends is a participant in the Amazon Services LLC Associates Program, an affiliate advertising program designed to provide a means for sites to earn advertising fees by advertising and linking to Amazon.com.