Matzo Brei à la Florentine is essentially a Matzo Brei recipe with spinach. Since it's unleavened bread, recipes using Matzo crackers are very popular for Passover. This is a delicious, hearty, vegetarian dish to add to your feast for Passover, or to have absolutely anytime!
I really love Matzo Brei, and wanted to make it for Passover, but I wanted to make it a very unique Matzo Brei recipe -- hence the "à la Florentine."
This version is over-the-top delicious.
Whether you celebrate Passover or not, I think you will love it!
What is Matzo?
Made from flour and water,

Matzo

(or Matzah, or Matza) is cracker-like, unleavened bread.
Matzo is part of Jewish cuisine and is important for Passover, when only unleavened bread is allowed.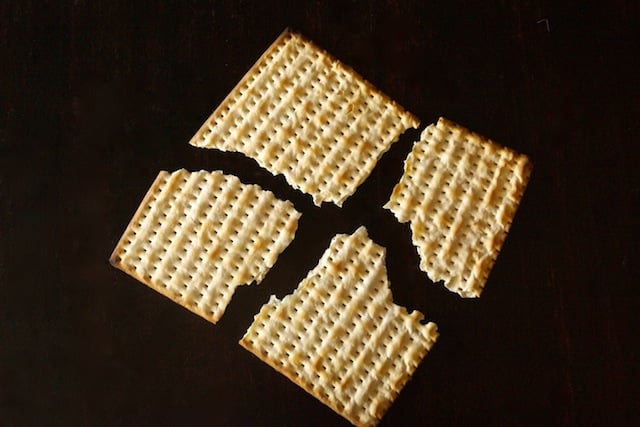 What is Matzo Brei?
Matzo Brei is a dish with

Ashkenazi Jewish

origins that's traditionally made with fried matzo and eggs. (Think scrambled eggs meet crispy French toast.)
It's commonly eaten during Passover, as a breakfast food, when only unleavened bread is permitted.
Typically, broken pieces of matzo are dipped into lightly beaten eggs, and then fried.
There are numerous ways to prepare the dish, as well as flexibility in ingredients. Though they may turn out quite similar, every family seems to have their own special method of making Matzo Brei.
And the "à la Florentine," well that's pretty much an Italian way of saying it's Matzo Brei recipe with spinach.
I wanted this Matzo Brei to be extra special . . .
Enter fresh spinach, sweet caramelized onions, and an awesome crispy stacked matzo presentation.
This recipe is unique and beautiful!
Enjoy this Matzo Brei recipe with Spinach for Passover -- or, anytime!
I bet it will become one of your favorite recipes using matzo crackers.
(Oh, and gluten-free Matzo is available, too.)
Matzo Brei à la Florentine Recipe
Matzo Brei à la Florentine is essentially a Matzo Brei recipe with spinach. Since it's unleavened bread, recipes using Matzo crackers are very popular for Passover.
Ingredients
olive oil for the pan

1

cup

red onion,

thinly sliced

1

teaspoon

garlic,

minced

4

cups

fresh spinach leaves

4

large

eggs

1

teaspoon

smoked paprika

1

tablespoon

unsalted butter

salt and freshly ground black pepper
Instructions
Coat the bottom of a large sauté pan with olive oil and place it over medium heat. Add the onion and garlic and cook, stirring from time to time, until the onions are nicely browned, about 10 minutes.

Add the spinach and use kitchen tongs to mix it with the onions. Cook until it's completely wilted, about 3 minutes. Season to taste with salt and pepper. (

Here's How to Season to Taste

.) Add this to a bowl and set aside. Do not wash the pan.

Break each matzo cracker into 4 pieces -- as equally sized as possible. (They probably won't break exactly how you want them to -- no biggie.) Set aside.

In a small mixing bowl, whisk the eggs with the paprika and a generous sprinkle of salt and pepper.

Coat the bottom of the same sauté pan you used for the spinach, with a bit more oil and about half of the butter, and place it over high heat.

Once the pan is very hot, 2 at a time, dredge the matzo pieces through the egg mixture, coating them well. Immediately place them in the pan. Repeat this until you've done as many as will fit with at least a an inch or so between them. (This will likely be done in 2 batches -- add the remaining butter in the second batch.) Brown them well, about 30 seconds per side. Remove them from the pan and place them on a plate as you go.

Return the spinach to the pan with any of the remaining egg mixture and cook over medium heat, stirring often, just until the egg is cooked through, about 2 minutes. (This should look like spinach scrambled eggs -- more or less.)

Assemble by stacking 4 of the matzo pieces with the spinach-egg mixture between each one and on top, being sure to divide the ingredients as evenly as possible.

Serve!
NUTRITION
Have you tried this recipe?
I'd love to see it on Instagram! Tag me at @cookingontheweekends or leave a comment & rating below.
Cooking On The Weekends is a participant in the Amazon Services LLC Associates Program, an affiliate advertising program designed to provide a means for sites to earn advertising fees by advertising and linking to Amazon.com.