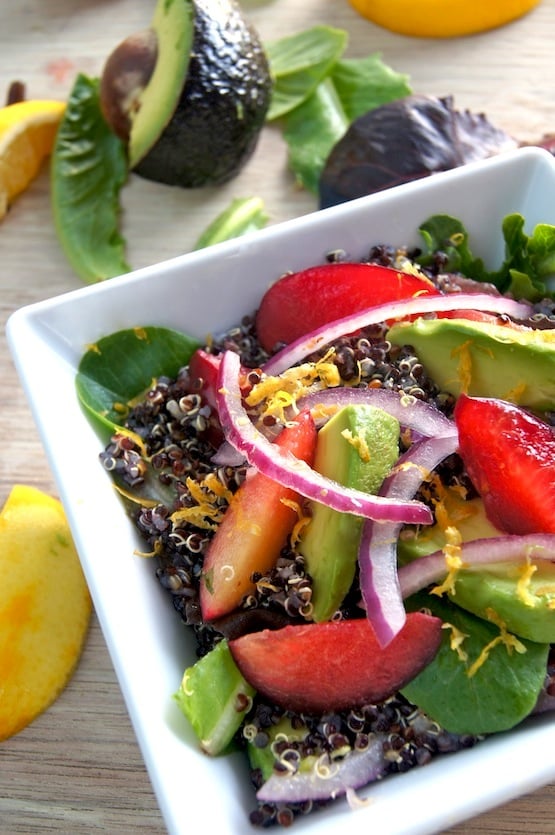 Making this salad felt a bit like painting a picture.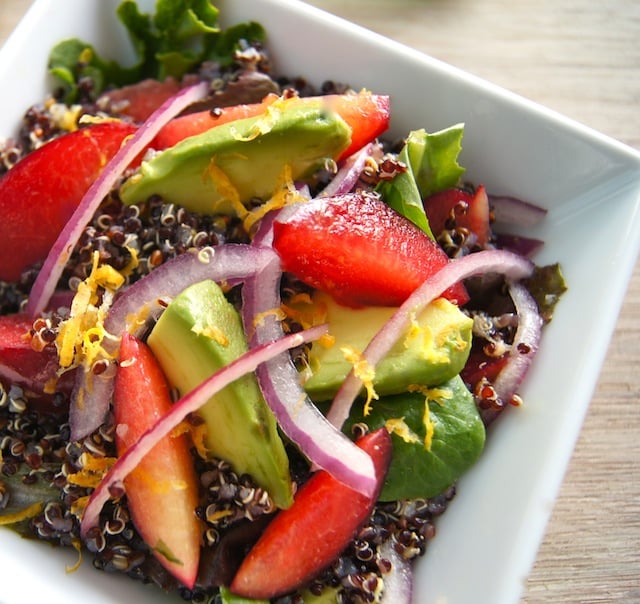 You see, as I was cooking the black quinoa, I spotted my big bowl ripe plums out of the corner of my eye. I thought their bright reddish color would look so pretty against the beautifully textured, black quinoa. Then I imagined how lovely the soft green color of an avocado would would look against the red and black.  And I knew the purple curves of the onion would be dazzling.
A bit of lettuce for depth (and good measure ;-)), plus the flavor and color from Meyer lemons to balance everything, and voilà — a gorgeous (and delicious) painting!
Even just a bowl of whole plums is pretty.
So much beauty!
Enjoy!
Meyer Lemon-Black Quinoa Plum and Avocado Salad Recipe
Ingredients
For the dressing:
Zest of 1 medium to large Meyer Lemon

2

tablespoons

fresh Meyer lemon juice

1-1/2

teaspoons

honey

1

teaspoon

grainy mustard

1/4

teaspoon

sea salt

1-1/2

tablespoons

extra virgin olive oil
For the salad:
1-1/2

cups

cooked black quinoa

4

medium-sized plums

washed, dried, and cut into about 8 wedges each

1

ripe but firm medium-sized avocado

sliced and then cut into bite-sized pieces

1/3

cup

thinly sliced red onion

1

cup

packed mixed baby greens

Freshly ground black pepper
Instructions
For the dressing:
In a small bowl, combine the lemon zest, juice, honey, salt and mustard. Gradually add the oil, whisking all the while. Set aside.
For the salad:
In a large serving bowl, combine the quinoa, plums, avocado, onion and greens.

Drizzle the dressing over the salad, toss to combine and crack pepper on top and serve.
Recipe Notes
The quinoa should be made at least a couple of hours ahead of time so it can cool completely. (I usually make a large amount at once and use it over a period of several days, in a few different recipes.) Cook the quinoa according to the package instructions — typically you mix 1 part quinoa with 2 parts water, bring to a boil, cover, reduce the heat to low and cook for 15 minutes.
I love the look of the black quinoa, but you can use any color. And likewise, Meyer lemons are my preference, but any lemon will still be delicious.
Please note that the prep time does not include cooking the quinoa.
Save