You know what's awesome about risotto?
Among other things, you can flavor it any way you desire to suit whatever food craving you might be having.
Once you learn how to make risotto — a technique for cooking Arborio rice — you can throw in whatever delicious ingredients you want, and the rice will soak up those flavors.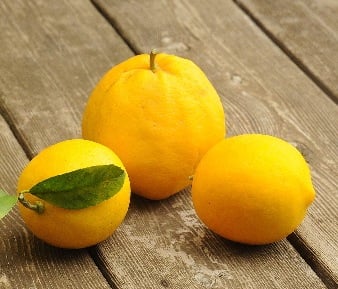 I can't seem to get enough citrus lately, and in the heart of its season all of the citrus trees are full with irresistible, beautiful fruit right now!
Last night when I was in the mood to make a comforting meal of creamy risotto, I set my bowl of Meyer lemons next to the stove.  Adding citrus to an otherwise rich dish, brings a bright freshness to it.
Don't eat meat?  No biggie, just skip the pancetta step and use vegetable stock.
Not into chard?  That's easy, use spinach or kale instead.
Like oranges better than lemons? Great, swap those citruses.
Vegan?  Another easy fix — simply use olive oil instead of butter, and skip the Parmesan.  (The cooking technique can create a creamy texture without it.)
This Red Swiss Chard Pesto (pictured below) is one of the key ingredients of this delicious risotto.
For more risotto tips and images, check out my post on How To Make Risotto.
Meyer Lemon-Red Chard Risotto with Pancetta
Ingredients
Approximately 4-1/2cups vegetable or chicken stock

1/2

cup

dry white wine

4-

ounces

pancetta

cut into a small dice from thickly sliced pancetta (about 3/4 cup)

3

tablespoons

unsalted butter

divided

1/2

cup

finely chopped onion

1

tablespoon

finely chopped

fresh thyme

1 1/2

cups

Arborio rice

3

cups

packed

roughly chopped red chard (any color chard will work)

Zest of 2 Meyer lemons

about 1 tablespoon, plus a bit extra for garnish

3

tablespoons

Meyer lemon juice

from about 2 lemons

1/4

cup

finely grated Parmesan cheese
Instructions
Warm the stock in a saucepan over medium heat. Add the wine to it and set aside.

Add the pancetta to a large sauté pan over low-medium heat. Let it cook for about 5 minutes, stirring occasionally. This will add flavor and grease the pan a bit.

Add 1 tablespoon of the butter and the onion to the pan and stir to combine. Cook the onion until it's soft, about 5 minutes.

Stir in the thyme and rice and mix to coat all of the rice grains with the butter and fat from the pancetta.

Add about 1 cup of the hot stock/wine mixture, just enough to cover the rice.

Letting it simmer, with near-constant stirring, add the stock/wine mixture as needed, about 1 cup at a time to cover the rice. The rice will slowly absorb the liquid, becoming creamy.

After about half of the liquid is added, add the chard and continue stirring and adding the liquid until the rice is al dente (the very center of each grain of rice will still have a bite to it). You should still be able to see some of the liquid as this is a "loose" rice dish -- when you serve it, it will fall a bit.

Add the lemon zest and juice, the remaining 2 tablespoons of butter and the Parmesan. Season generously to taste with salt and pepper.

Serve immediately.
Save