I suggest one of my Top Ten Summer Salsas for your next barbecue. Made with mangoes and tomatoes, to watermelon and strawberries, these salsas are fantastic with chips and all sorts of grilled foods.
Salsa is perfect in the summertime.  Summer is the time when a great variety of fruits are in season and can be used to make delicious, unique, and memorable salsas. Berries, stone fruits, melons — paired with spicy peppers and fresh herbs — oh my — I just love it!
So I've gathered here my top ten salsas!  Some are my original salsa recipes, and some are favorites from foodie friends on the web.
Let's start with those pictured above, shall we?  Starting with number one, on the top left, just click their titles below for the detailed recipes!
1. Roasted Corn Salsa — This salsa is delightfully sweet and spicy with a great kick, featuring lime-pickled shallots and perfectly caramelized corn.  It's delicious on top of quesadillas, and I absolutely love it on Steak and Potato Taquitos!
2. Roasted Tomato Poblano Salsa — Fiery, spicy and charred, this salsa is my favorite just with warm, salted tortilla chips!
Ideveloped this recipe after a salsa I had at an all time favorite restaurant.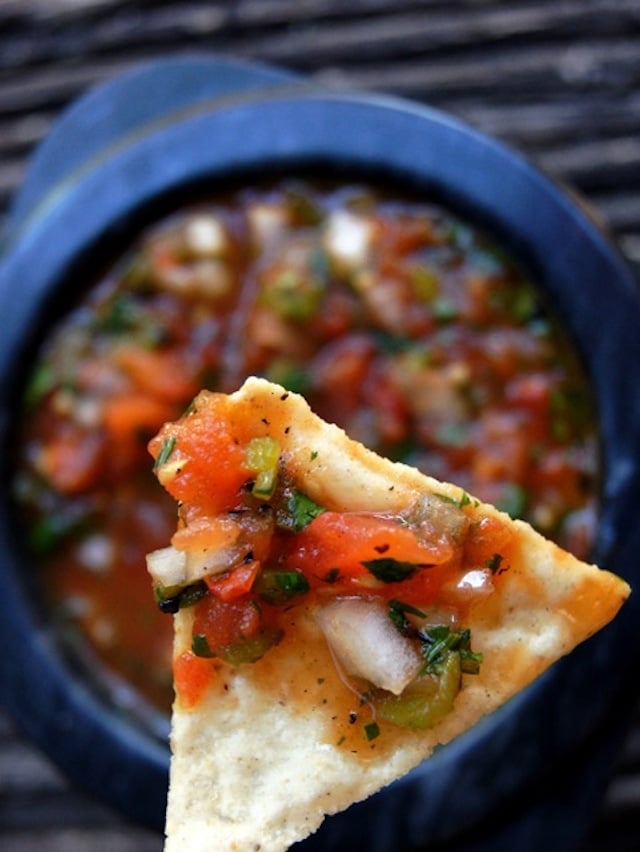 3. Strawberry Avocado Salsa — I love that strawberries and avocados typically are at the peak of their seasons simultaneously  — the two together are an excellent combination. I love this one with grilled chicken!
4. Watermelon Cucumber Salsa —  Simply put, this is summer in a bowl!  Sweet, refreshing and spicy, it's divine over fish, on a chip, or as a side dish!
5. Citrus Avocado Salsa — Creamy, ripe avocados are also a perfect match for sweet and sour citrus fruits.  This salsa is a wonderful sauce over Cilantro Sautéed White Fish!
Moving along . . .

6. Mango Salsa (above) — It doesn't get much better than a perfect summer mango!  This tropical salsa is stellar with Plantain-Picadillo Empenadas, and it's also incredibly tasty with grilled shrimp!
And now a few from my fellow food blogger friends around the web . . .
7. Baked Oaxaca Cheese in Green Salsa from Ericka of Nibbles and Feasts. This is a beautiful salsa of tomatillos and with the cheese, it becomes a meal in and of itself!
8. Mango Banana Salsa from Lynne of Cook & Be Merry. Lynne says, "the bananas give this salsa a distinctive tropical Caribbean twist," and it looks excellent with Tilapia, as she shows.
9. Strawberry-Pineapple Salsa from Barbara of Barbara Cooks. Ever put salsa in a sandwich?  Barbara adds this gorgeous salsa to her Strawberry Glazed Pork Sandwich, which sounds incredible to me!
10. How to Make Fresh Salsa from Diane of Created by Diane — This is a lovely, easy to follow, guide to making a lovely fresh salsa!
Save
Save
Save