Same recipe, different results. Wondering why your recipe didn't turn out how you expected it to? One Recipe, Ten Cooks, Ten Different Results — Why? Let's find out.
When one of my sons complains that the other one is copying him, I always say the same thing: "First of all, it's a compliment. He thinks what you're doing is cool. And second, even if he copies what you're doing, it will turn out differently."
Then I find myself going on to say: "If ten different people make one of my recipes, none of them will turn out exactly the same or exactly like mine."
I've been thinking about writing about this for a long time. And when I read this post on Domestiphobia about my Spicy Kale Soup, I knew I had to get on it.
Why didn't this recipe turn out the way I expected?
There's no question that if ten people follow the same well-written recipe, the results will all be different.
Let's say for example, that the ten of us make Braised Brisket Stew. (A good choice, by the way.) Below are some of the reasons why each of us will have a slightly different result . . .
First, let's look below at the Braised Brisket Stew ingredients . . .

1 (2 ½-pound) brisket
We will all get our meat from different stores. Will yours be organic or not?  How about grass-fed? Will it be slightly over or under the listed weight? Will it have a lot of fat, or has it already been trimmed?
2 tablespoons Worcestershire sauce
Is yours Lea & Perrins brand or something else? Is it gluten-free or not?
olive oil for the pan
Many of us will have different brands. Some of you may use extra virgin, and some of you won't. (For this sort of cooking, it's better not to, FYI. Extra virgin won't diminish the results of the recipe in any way, but it won't help anything either, so it would be a waste here.)
1 cup peeled Pearl onions
Will the onions you use be from your local Farmer's Market or will they have journeyed to you from hundreds of miles away? How precisely will you peel them? Will they fall apart, or stay intact? Or, did you buy frozen pearl onions?
1 cup Peewee potatoes, washed, dried and cut in half
All of the Peewee sizes will vary slightly, and some of us will cut them into very even halves, and some won't. (Even sizes = even cooking, by the way.)
2 large carrots, peeled, and cut into ¼-inch slices
Everyone might have a different idea about what ¼-inch looks like. You're not going to use a ruler!
1 cup frozen peas, thawed
So many brands to choose from. Will you get the petit peas? The organic variety? Will you thaw them thoroughly or get a little impatient and add them frozen?
1 cup beef stock
Some of you will use broth instead, which is already seasoned. Some of us will use homemade stock, and some will use store-bought (and different brands at that.)
½ cup red wine
Some of us will use a dry wine. Some sweet wine. Some will use a wine that you just opened for the recipe, and others will use one that was opened three weeks ago. And then . . . Cabernet? Merlot? Pino? Shiraz?
salt and freshly ground black pepper
Some of us will have a small bowl of high quality, coarse salt at the ready, by the stove, and some will use table salt from a shaker. And where are your peppercorns from? Will you grind them freshly or use a pre-ground?
There are so many variables in the same recipe that can cause different results. And yes, each one of these small differences in the ingredients can make a small difference in the big picture. (A different result, by the way, isn't bad -- it's just different.)
This brings up even more questions.

The oven. We all have different makes and models. Is yours calibrated? Does it have hot spots? Is the rack in the bottom, center, or upper third of the oven? (For this recipe, closer to the center is better.)
Are you going to use a Dutch oven? A large cast iron skillet? A baking dish because you don't have other choices? And say, by chance, we all use a Dutch oven. Are all Dutch ovens the same thickness on the bottom? Are they all smooth on the bottom, or are some charred?
I'm sure we won't all season the meat with exactly the same amount of salt and pepper.
Will you all cut against the grain, and will the thickness of the slices be the same?
Will you all remember to turn the oven up from 250 to 300 degrees F, in the middle of the recipe?
We might all have a different picture in our minds of what "nicely browned" looks like.
Will you stir constantly, periodically, or not at all?
And we will all certainly season to taste differently. After all, it's to your taste.
Again, all of these things can change the outcome of a recipe -- they could be minor differences or major differences, but the good news is that there's really no right or wrong (unless you're baking -- which is a whole other post).
No matter what pan you use, what brand of Worcestershire sauce you have, and whether or not you used grass fed beef, I can almost guarantee this will be a delicious stew!
Variation in recipe results is good!
And just as I tell my sons, variation and variety are good! They make cooking (and life) interesting.
If you could have a special computer that automatically spits out the same, consistent version of recipes each night, would you want that? Or would you prefer a real person in the kitchen? An imperfect person who reads a recipe and then tries to make a great version of it? A person who will execute the instructions in a unique way -- and who may try intentional, creative tweaks, too?
Would the computer have any fun cooking "to the T" reproductions of dinner? The differences that people bring to recipes is part of the fun (and the love!) of cooking. I'm all for them.  What recipe will you put your unique stamp on today?
(This stew is very good, by the way. And it's perfect for cozy fall or winter nights!)
.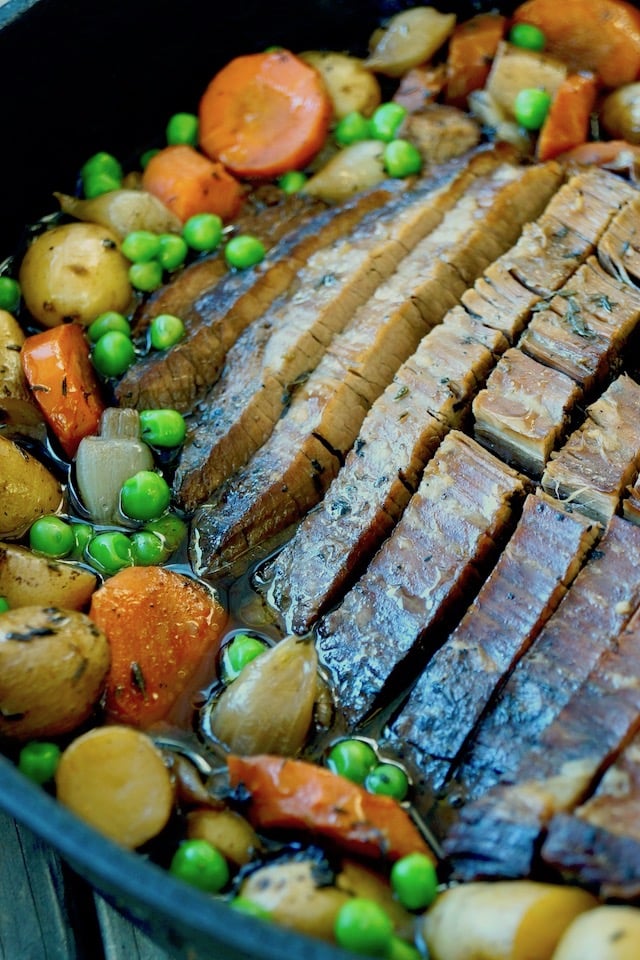 And there you have it, Same Recipe, Different Results.