Gluten-Free Pumpkin Muffins are made with olive oil are reminiscent of pumpkin pie. They're a festival of fall flavors. They're light, fluffy and incredibly tasty. Have one for breakfast with coffee, and one for dessert with frosting!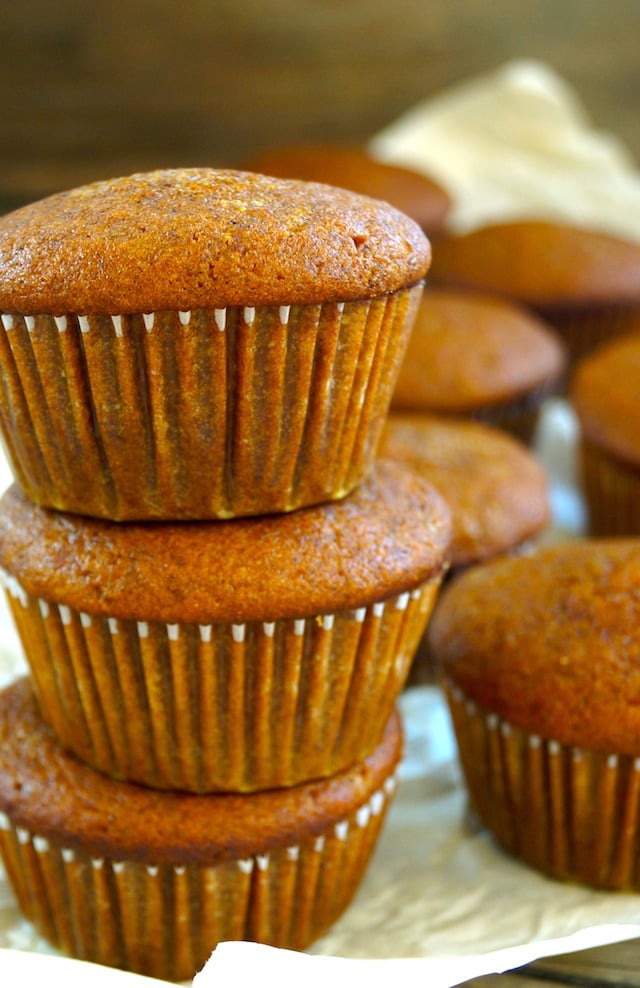 What's the best compliment one can get about the food they cook?
Of course we all find it delightful to hear people say how delicious it is, how beautiful it is, etc.
However, my favorite compliment is when someone tries something they actively don't like, and they love it.
I told my cousin about these gluten-free pumpkin muffins, and she said, "I don't like pumpkin in desserts at all -- pumpkin has no business being in anything sweet. In fact, I think pumpkin pie might as well be called a vegetable side dish." (Hilarious.)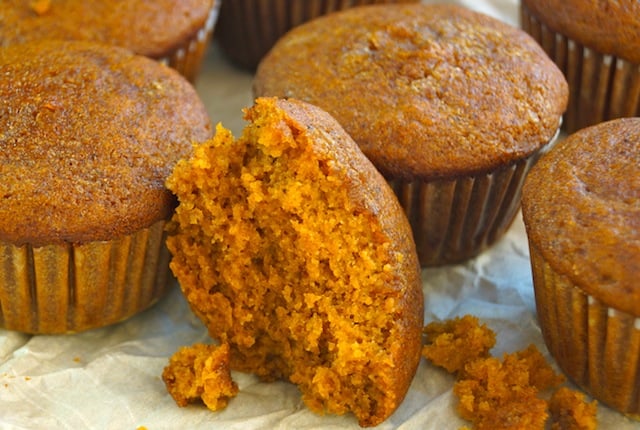 Well, when she tried this recipe, she said she loved that the pumpkin flavor wasn't too strong, the muffins were super moist and just sweet enough to be a scrumptious dessert.
These treats actually changed her mind about pumpkin desserts.
These Gluten-Free Pumpkin Muffins are also light, fluffy and full of comforting, flavorful fall spices, that will keep you coming back for more.
What's in this recipe?
Pumpkin purée
olive oil
apple juice
sugar
eggs
honey
vanilla
cardamom
cinnamon
ginger
cloves
salt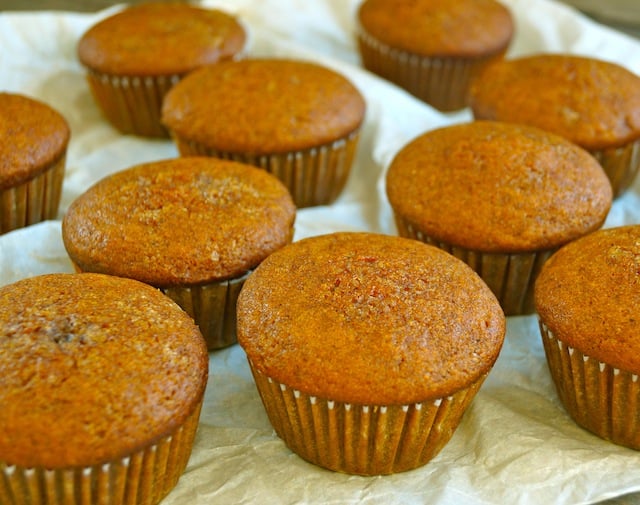 Breakfast or Dessert?
I call these muffins if it's before 11:30 AM, and cupcakes for the rest of the day. 😉
Really, they're quite sweet as they are -- but, if you spread a little frosting on them, they are most definitely a cupcake.
They would be fantastic with Cardamom Cream Cheese Frosting from my gluten-free carrot cake.
I hope you enjoy every last one of these delectable Gluten-Free Pumpkin Pie Muffins or Cupcakes!
How to Store Them
Room temperature. You can keep them at room temperature if you know the muffins are going to be eaten the next day. The best way to preserve their freshness is to let them cool completely, and then put them in an airtight container. They will last longer this way (two to three days) if you place a dry paper towel below and on top of the muffins.
Freezer. The muffins can be frozen for about three months. The easiest method is to place them in Ziploc freezer bags, in a single layer. Let them defrost at room temperature.
Refrigerator. Refrigerating muffins is not ideal, as it can change their texture and dry them out.
More gluten-free pumpkin desserts:
Gluten-Free Caramel Pumpkin Coffee Cake
Healthy Gluten-Free Pumpkin Cookies with Oats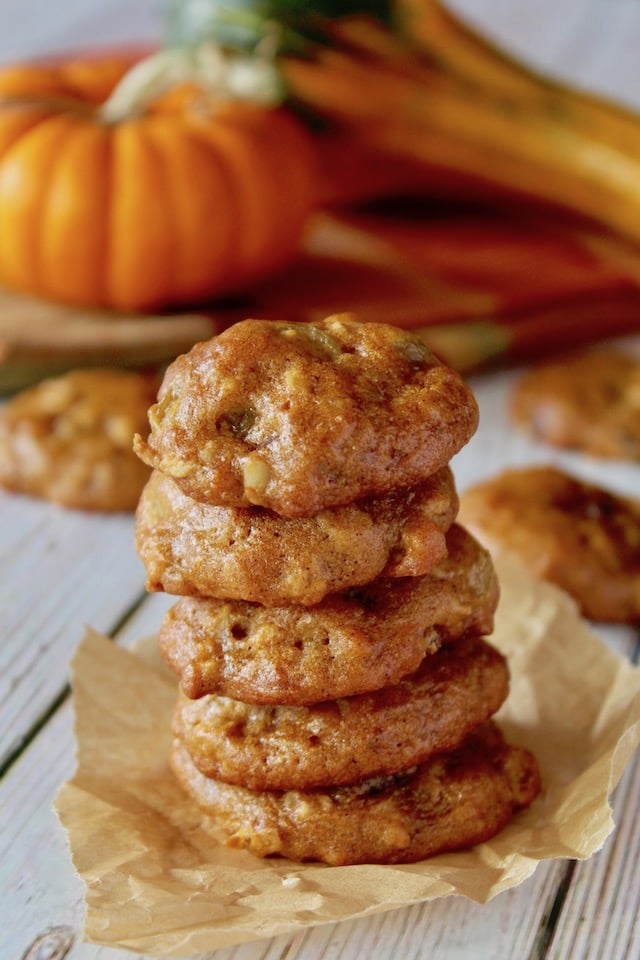 Pecan Crusted Caramel Pumpkin Pie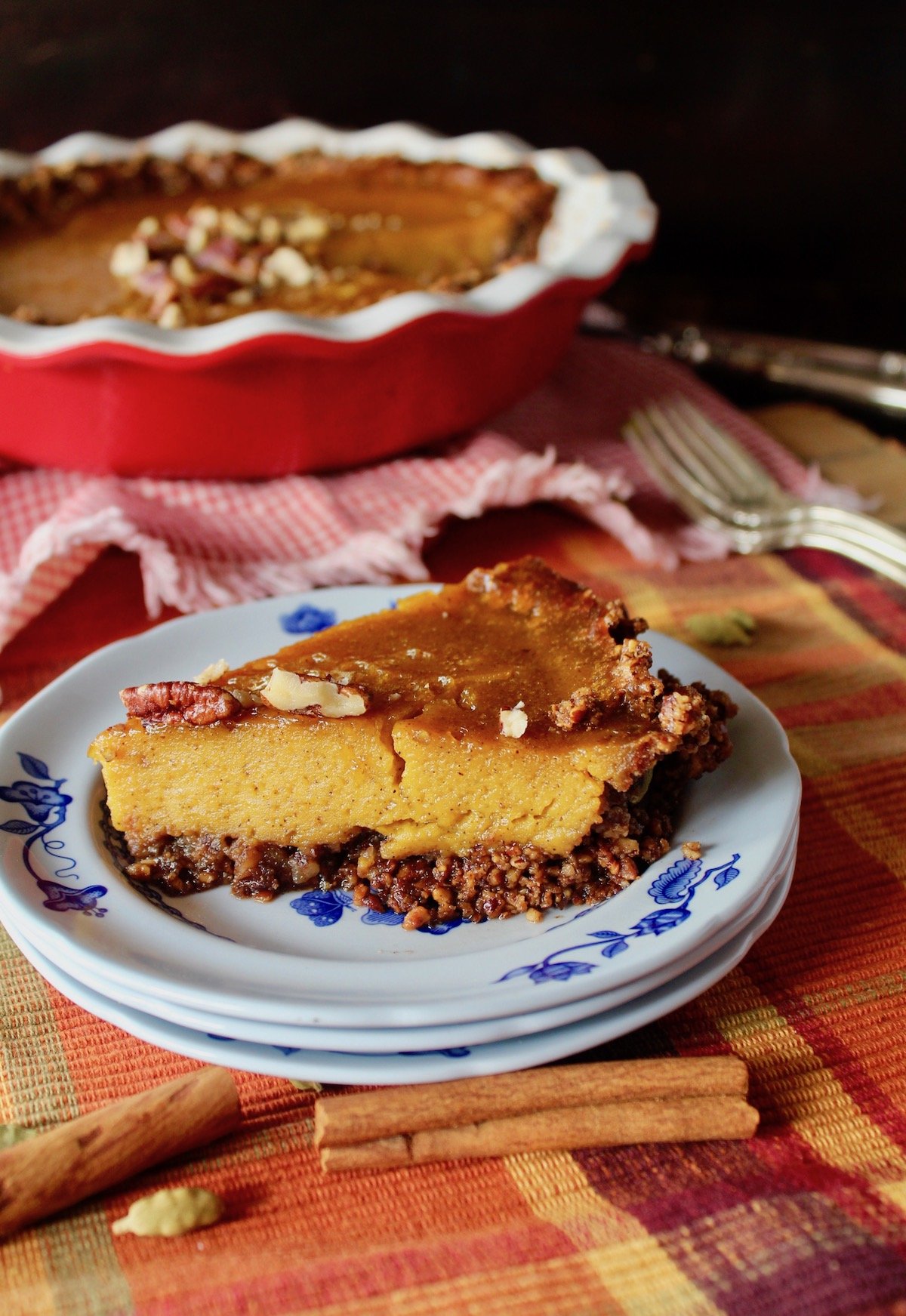 Or, how about Gluten-Free Pumpkin Chocolate Chip Cookies?
Enjoy!
Gluten-Free Pumpkin Muffins
Gluten-Free Pumpkin Pie Muffins are made with olive oil and they're a festival of fall flavors. They're light, fluffy and oh-so-tasty! Have one for breakfast with coffee, and one for dessert with frosting!
Instructions
Make the batter. In a large mixing bowl, whisk the pumpkin with ¾ cup of the sugar, eggs, egg yolk, honey, vanilla, all of the spices and the salt. Once it's smooth, gradually pour in the oil, whisking constantly but gently. Now add the flour with the baking soda and mix. Then pour in the apple juice and mix.

Fill the muffin pan. Fill each cupcake liner almost all the way up, but be sure it's at least ¼ inch from the top. Sprinkle each one with a bit of the remaining tablespoon of sugar.

Bake. Bake in the preheated 325°F oven just until they become solid, about 25minutes.

Cool and serve. Let the muffins cool in the pan on a rack for about 10 minutes. Serve warm or at room temperature.
Notes
Calorie count is only an estimate.
Have you tried this recipe?
I'd love to see it on Instagram! Tag me at @cookingontheweekends or leave a comment & rating below.
Cooking On The Weekends is a participant in the Amazon Services LLC Associates Program, an affiliate advertising program designed to provide a means for sites to earn advertising fees by advertising and linking to Amazon.com.