Bacon or Sweet Potato? You can have your Roasted Corn-Hatch Chile Stuffed Sole wrapped in either one. Both hold all of the sweet, spicy and fresh flavors together perfectly — one adds a smoky deliciousness, and the other, a subtly sweet, tender bite.
Remember when we made Chilled Cucumber-Basil Soup, and I told you about the numerous (often quirky), culinary phases my husband goes through?
Well, there's a whole new (definitely quirky) phase going on now. Without getting into detail, let's just say that in addition to a whole lot of pumpkin purée and agave nectar suddenly appearing in the pantry, the many cans of black beans (last month's not-so-quirky phase), have taken a back seat to fish.
Fine by me — I love fish!
Roasted Corn-Hatch Chile Stuffed Sole recipe was constructed around a few things . . . .
First, though it's quickly coming to an end, it's still Hatch Chile season.

Second, our friend Ed who loves food

, and will happily eat meat with me, was coming over for dinner.
Finally, my husband doesn't eat meat, and of course you've just found out, he's all about fish now. Don't ask him to eat any bottom feeders, though. (And no, he's not Kosher.)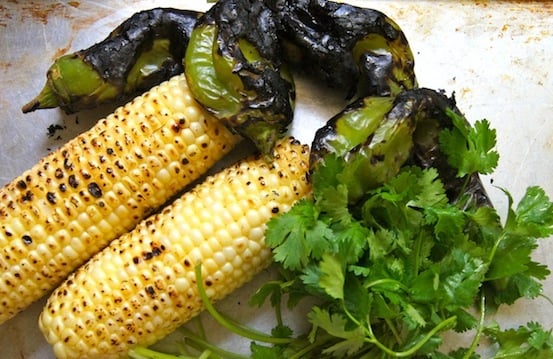 Just look at those ingredients.
So fresh. And so pretty.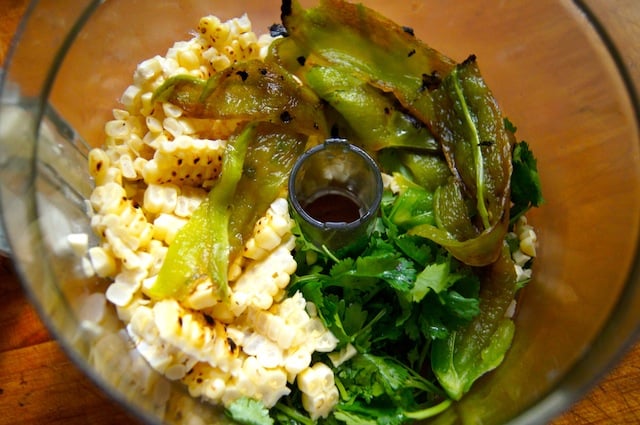 So may all of the Pescatarians, meat lovers, and Hatch chile fans out there enjoy this super flavorful, delicious recipe.
Not only are there a wonderful mix of sweet and spicy flavors here, but this dish also has such a beautiful presentation, which would be lovely for a summer dinner party.
Those who eat meat will absolutely love wrapping their Roasted Corn-Hatch Chile Stuffed Sole with bacon! It adds an incredibly delicious smoky flavor.
And for all of the Pescatarians, well the sweet potato is equally as delicious!
There's no wrong choice. I promise!
More delicious Hatch Chile recipes . . . .
Roasted Corn-Hatch Chile Stuffed Sole: 2 Ways
Bacon or Sweet Potato? You can have your Roasted Corn-Hatch Chile Stuffed Sole wrapped in either one.

Calories with bacon: 376 kcal

Calories with sweet potato: 149 kcal

Keyword:
fish for dinner party, Hatch Chile recipes
Ingredients
2

ears

fresh corn

1 1/2

medium-sized

hot Hatch chiles (click here for how to roast and peel pepeprs)

roasted, peeled and seeded

1

cup

loosely packed cilantro leaves,

washed and dried

1

tablespoon

sour cream

3/4

teaspoon

ground cumin

1/4

teaspoon

salt

8

approximately (4-ounce)

wild-caught Sole fillets

(I used Petrale Sole)

about 2

dozen slices

thin cut bacon -- OR -- 2 approximately 1/2-pound sweet potatoes

olive oil for the pan

salt and freshly ground black pepper
Instructions
Place both ears of corn directly over a high flame on the stove. With metal kitchen tongs, turn them as soon as each side becomes partially charred, about 20 seconds per side. Then use a Chef's knife to cut the kernels from the cob, and then add them to a food processor fitted with the blade attachment, or a powerful blender.

Add the roasted Hatch chiles, cilantro, sour cream, cumin, and the 1/4 teaspoon of salt. Blend until it's a coarse purée.

Lay the Sole fillets, lengthwise, smooth side down, on a clean cutting board.

Spread about 2 tablespoons of the Hatch-corn mixture in a thin layer on each fillet.


Very gently, but tightly, roll each fillet away from you, until it's completely rolled up. Sprinkle each roll with salt and pepper.

If you are choosing to use the sweet potatoes, peel them completely, and then continue to use the peeler to make as many thin, long strips as possible.

On another clean cutting board, with the bacon or the sweet potato, whichever you're using -- lay the strips down, overlapping a bit, in 8 separate groups.

Then place a rolled Sole fillet in the center of each one, and gently wrap them around each one and place them on a large plate with the seam side down. (The bacon is much easier to wrap, but the sweet potato will work.)


Cover the plate with plastic wrap and refrigerate for about 30 minutes.

Preheat the oven to 425 degrees F, and adjust a rack to the center.

Remove the wrapped fillets from the refrigerator, thinly coat the bottom a large oven proof sauté pan with the olive oil, and place it over medium-high heat.

Add the wrapped fillets, seam side down and sauté them on all sides just until the bacon is beginning to brown -- or -- the sweet potato has become brighter. This should take just a few minutes. (Please note that while the bacon wrapped fillets will stay intact nicely, and those with the sweet potato might come unwrapped a bit -- don't worry because they're easily put back together. Just use your hands and carefully re-adhere the sweet potato strips, being careful not to burn yourself, of course.)

To finish the cooking, place the pan in the preheated 425 degree F oven until the bacon becomes crispy -- or -- until the sweet potato is tender, about 3 minutes.

Remove from the oven and let them sit for about 5 minutes. Slice if desired, and serve immediately.
Save
Save
Save
Save
Save