This Sesame Chocolate Chip Cookie Recipe is a delicious blend of the nutty-like flavor of sesame, with sweet and decadent chocolate morsels — all wrapped up in a soft dough with crisp edges.  It's dreamy!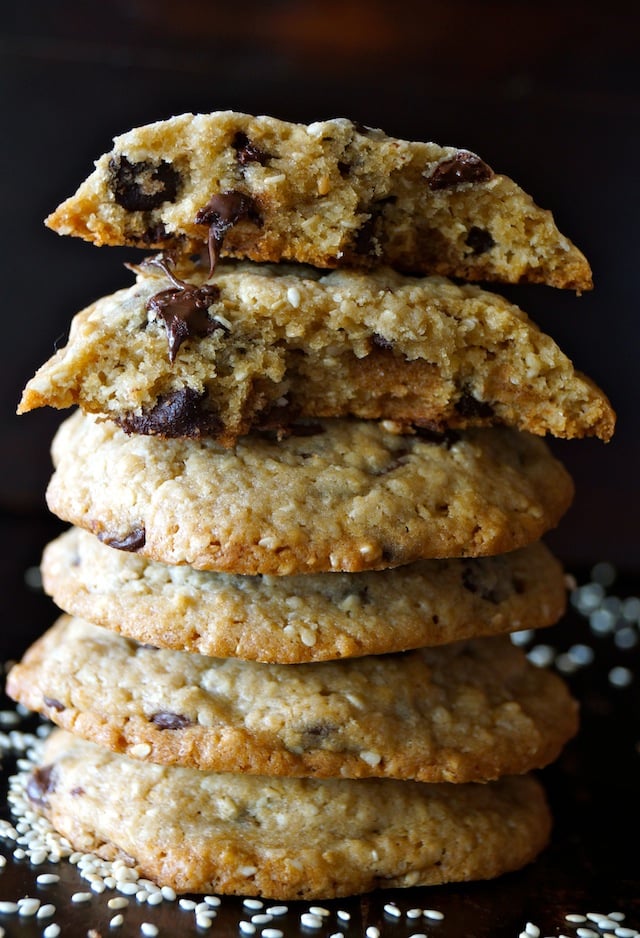 Go to the mall?  Go to the beach? Or make cookies?
My friend Aimée and I would always include these three things on our "possible-things-to-do-today" list, on a typical Saturday or Sunday growing up.
Can you stand how fun we were!?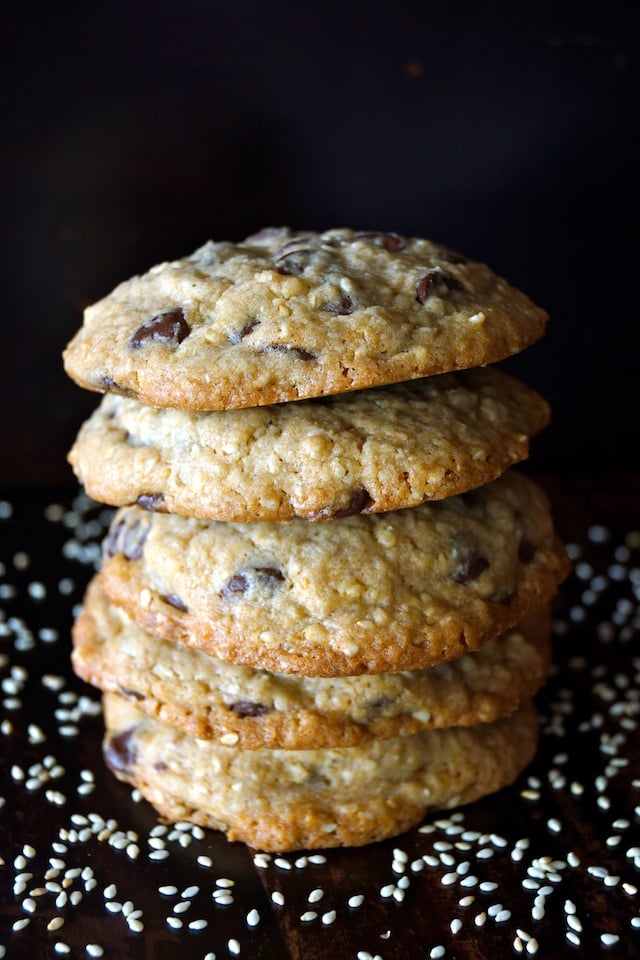 I think the mall often beat out the beach, but making cookies usually won.
One day recently, I woke up and had some free time. I laughed out loud, when I consciously thought to myself, "mall, beach or cookies?"
Cookies won! (Again.)
One of the reasons I was so eager to make cookies was that I'd made my Homemade Tahini the day before. So I had sesame seeds on my mind.
Aah, the mind of a Chef. 😉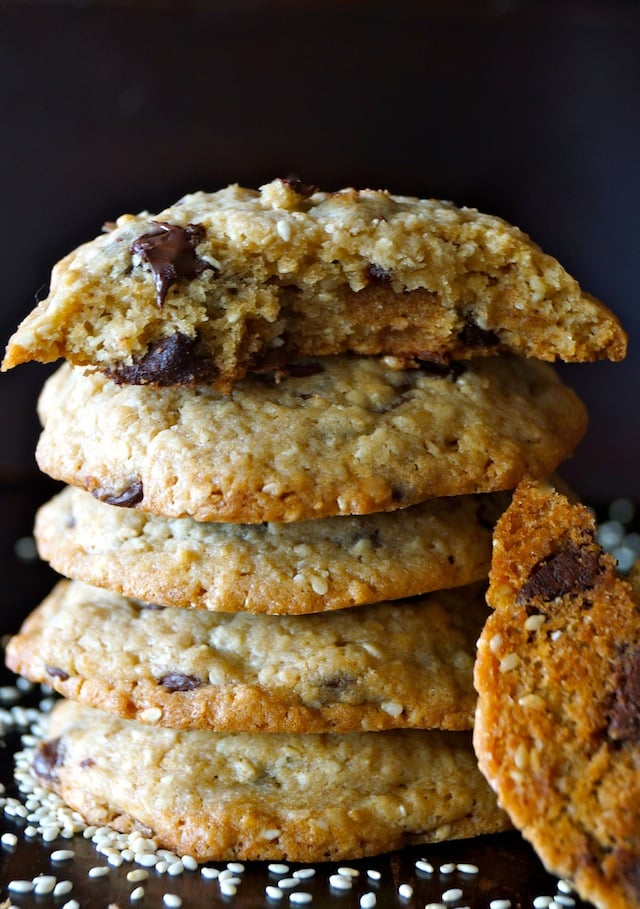 I wanted to taste that same tahini flavor in a cookie.
When Aimée and I were kids, of course by the time the cookies came out of the oven, we were way too full to try them, because really, the entire point of the whole cookie making activity was to eat the batter.  Duh.
Well, at least now I only eat a little of the batter. After all, I need some finished cookies to to photograph. For you.
This Sesame Chocolate Chip Cookie recipe was a success and I got my pictures. (Phew.)
It's the sesame seeds that make these cookies so special.
What are sesame seeds?
The plant that sesame seeds come from is an annual herb. It can grow as high as four feet and has flowers that vary from white to lavender.  Those flowers mature into pods that contain the tiny, flat, oval-shaped sesame seeds.
The color of the sesame seeds depends on the plant variety.  These colors can vary from brown, red, black, yellow and the most common, ivory.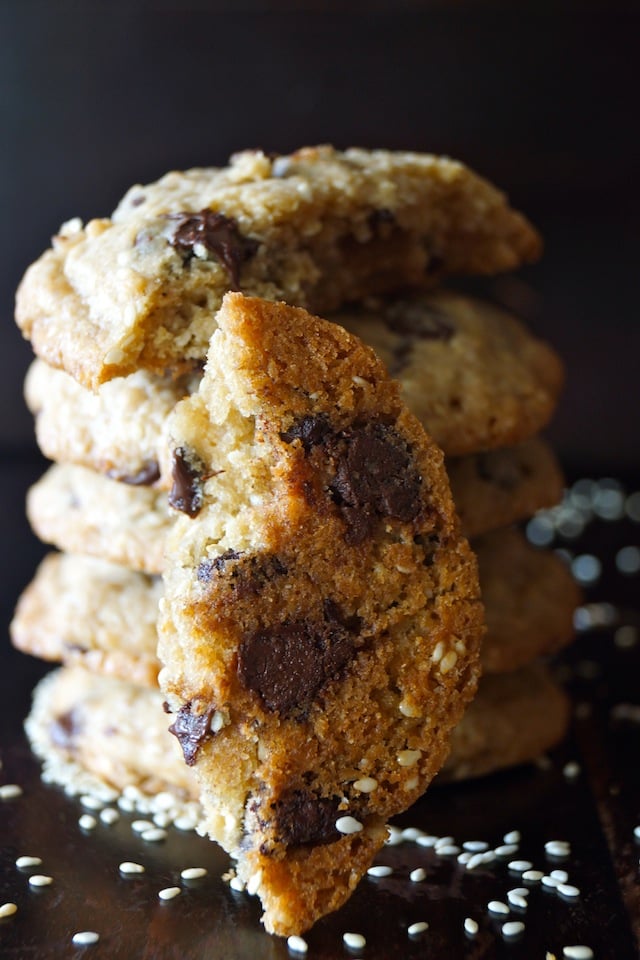 What do sesame seeds taste like?
 Sesame seeds are quite crunch and have a subtly nutty taste.
As with most seeds (and nuts), when they're toasted, the flavor intensifies.
I loved those cookie making days when I was a kid.  I still do.
Enjoy every last crumb of this Sesame Chocolate Chip Cookie recipe.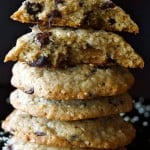 Sesame Chocolate Chip Cookie Recipe
This recipe is a delicious blend of the nutty-like flavor of sesame, with sweet and decadent chocolate morsels -- all wrapped up in a soft dough with crisp edges.

*Please read instruction no. 2 before you begin to be sure you have equipment you might need.
Ingredients
1/2

cup

white sesame seeds

1

cup

unsalted butter,

softened

2

tablespoons

sesame oil

1/2

cup

granulated sugar

1/2

cup

golden brown sugar

1

tablespoon

pure vanilla extract

1

teaspoon

salt

2

large

eggs

2

cups

all-purpose flour

1/2

teaspoon

baking soda

2

cups

semisweet chocolate chips
Instructions
Preheat the oven to 325 degrees F, and line 2 baking sheets with parchment paper.

Add the sesame seeds to a small sauté pan and place it over low-medium heat. They will begin to turn golden within a couple of minutes. Move the pan around often, and once they are all golden, look a bit oily, and are aromatic, immediately remove them from the heat. (Be careful as they can go from golden to black quickly!) Pour the toasted seeds into a mortar. Use the pestle to grind them until it's a course powder. (You can also do this is a spice grinder or mini food processor.) Set aside.

Add the butter, sesame oil, both sugars, vanilla, salt and toasted sesame seed powder to a large mixing bowl. Use a large spoon to blend everything together. Then add the eggs and mix until it's smooth.

In another bowl, combine the flour with the baking soda and then fold it into the wet mixture. Then, fold in the chocolate chips.

Use an approximately 2 1/4-inch cookie scoop to shape the dough into balls, placing them on the parchment-lined baking sheets as you go. They should have at least 2-inches between them.

Bake in the preheated 325 degree F oven until they are slightly golden along the edges and no longer look doughy, about 15 to 17 minutes.

Leave them on the baking sheets to cool to room temperature.
Save