Smoky Three-Pepper Corn Chowder is a super delicious blend of sweet, savory and smoky flavors.  With three different peppers in the mix, each one offers its own distinctive taste to this comforting bowl of deliciousness.
Though I'd love for you to take your time, if  you want to jump to the bottom of the post for the recipe and to enter the giveaway, I won't be offended. 😉
~ ~ ~
Peppers, peppers, peppers!  From mild to wild, get ready for a whole lot of them.  From this crazy good chowder to a fiery pesto and a spicy, hearty egg breakfast, they'll be starring in my next few recipes.  And I'm giving away a fantastic, hot off the press cookbook — The Great Pepper Cookbook: The Ultimate Guide to Choosing and Cooking with Peppers, from Melissa's Produce!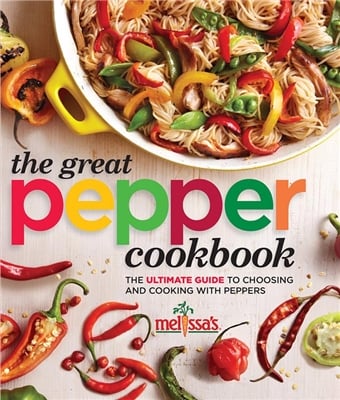 Last week I went to a super fun book launch party at Melissa's for this awesome new book, and I left totally pepper inspired.
We were served a ton of recipes from the book — and all of them were amazing.  The book is a collaborative Melissa's Produce effort, and some of the recipes were written by my foodie friend from Melissa's, Nancy Eisman.  Among them was one of the desserts served at the party and it was my absolute favorite: Chile-Mole Chocolate Truffles (page 237).  Insanely delicious!
All of the recipes in the book are creative, beautiful and have superbly blended flavors.  The book also provides an entire education about peppers.  So cool!  (Or hot, I suppose.)
Jalapeño Pepper –  Yellow Pepper  –  Dried Chipotle Pepper
This chowder recipe is my creation and is not in the book.  After all, I want you to win your own copy of The Great Pepper Cookbook to see those recipes!  If you can't wait, you can purchase the book here — otherwise enter the giveaway below the recipe. 
(The hardcover cookbook and retails for $29.95.)
Smoky Three-Pepper Corn Chowder Recipe
Please note that the prep time does not include roasting and peeling the peppers, which will add about 20 minutes.
Servings
:
4
as a main course and 6 as an appetizer
Ingredients
3

ears of corn

to equal to ¾ cups kernels

4

strips of applewood smoked bacon

1

cup

roughly chopped brown onion

2

roasted

peeled, seeded and roughly chopped yellow peppers (about ¼ cup -- Here's How to Roast and Peel a Pepper)

1

small roasted

peeled, seeded and roughly chopped Jalapeño pepper (about 1 tablespoon -- Here's How to Roast and Peel a Pepper)

2

teaspoons

dried and ground Chipotle pepper

see notes

1

Idaho Russet potato

about ¾ pound, peeled and diced

¾

cup

seeded and roughly chopped tomatoes

2

cups

vegetable broth

1

cup

milk or cream

see notes

Season to taste with sea salt and granulated sugar

Here's How to Season to Taste

Thin avocado slices for garnish

from about ½ of a large avocado
Instructions
On a clean, dry surface, use a Chef's knife to cut the corn kernels from the cobs. Then, using the back of the knife, with a fair amount of pressure, scrape the cobs again to get all of the remaining bits of the kernels and their juices. Add the kernels and their juices to a bowl and set aside.

Place a double layer of paper towels on a plate and add the bacon to a large soup pot. Place the pot over medium-high heat and sauté the bacon until it's crisp, about 7 minutes. Transfer it to the paper towel-lined plate to drain. Crumble the bacon and set aside.

Add the onion to the pan with the bacon fat and cook over medium heat until golden brown, 7 minutes. Add the roasted yellow peppers, roasted jalapeño, ground Chipotle pepper, potatoes, tomatoes and corn kernels (along with their juices). Mix everything together and cook until the potatoes begin to brown, about 10 minutes.

Pour in the broth and bring to a boil. Reduce the heat to low, cover and simmer until the potatoes are tender, about 20 minutes.

Add the milk or cream and let it heat through.

Use an immersion blender to purée about half of the soup -- so it's both chunky and smooth.

Season to taste with salt and sugar.

Ladle the chowder into bowls and garnish with the bacon and avocado slices.
Recipe Notes
You can grind dried peppers in a spice grinder or on a Microplane zester.
You can use any type of milk you'd like to. The lower in fat, the thinner and lighter soup with be -- though it will still be creamy and rich. Use heavy cream for an even richer, thicker soup.
Of course feel free to adjust the amount of peppers you add, depending on the amount of heat you like. (Always taste a bit of the pepper before you add it!)
This Giveaway is now closed — congratulations to Arthur!

a Rafflecopter giveaway
Disclosure:  This is not a sponsored post and as always, all opinions are my own. I was given a copy of The Great Pepper Cookbook to review and the cookbook giveaway is provided by Melissa's Produce.  Oh, and I borrowed the quote, "mild to wild" from Melissa's Produce.  I like it.
Save
Save
Save