Sweet and spicy, the most scrumptious meal, these gluten-free Spiced Pork and Mango Chimichurri Lettuce Wraps are heavenly. They're made with Australian mangoes which are truly a special treat.
I've always put mangoes high up on a pedestal.  From their beautiful orange-red skin and brilliant golden flesh, to their tropical, floral fragrance and super succulent texture, they're nothing short of spectacular.
Until now, I'd never had a truly delicious mango outside of summer, so you can imagine how delighted I was when I bit into one of these Honey Gold Australian Mangoes from Melissa's Produce.
They're absolutely fantastic!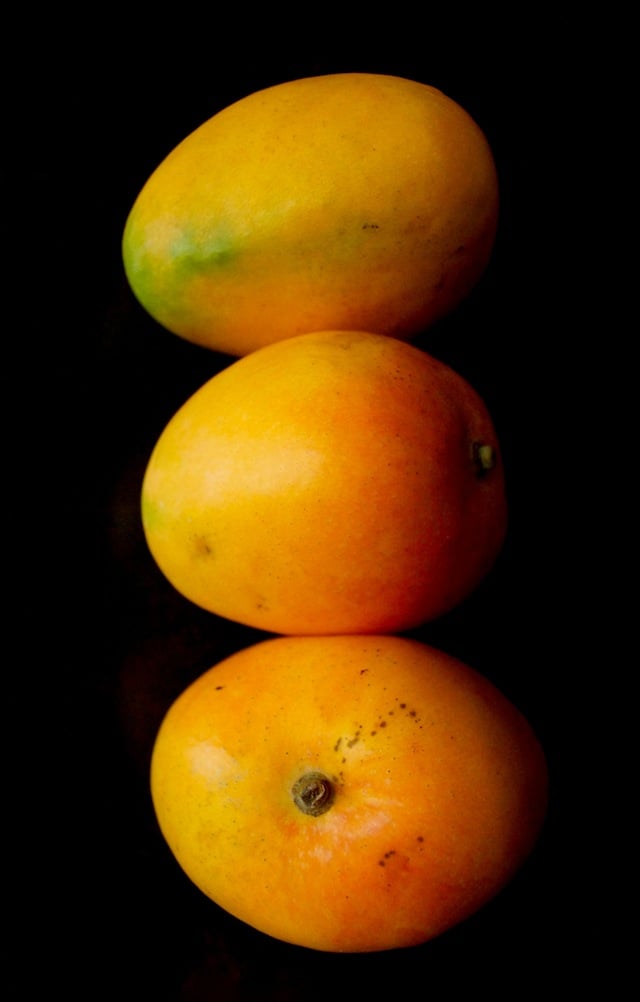 What are Honey Gold Australian Mangoes?
I'm thrilled to introduce these Australian mangoes to you, as they're available for the first time in the United States via Melissa's Produce.
They're in season December through March, you can get them here.
These beauties have golden apricot-yellow skin with golden flesh.

Honey Gold

Australian mangoes are not fibrous, which provides a super smooth texture.

Their flavor is sweet, tangy and rich — all at once!
While this is a perfect summer recipe for my Australian readers, those in the middle of winter will love it too!
The spices on the pork are very warming, and all of the ingredients together, wrap up into a bundle of comfort.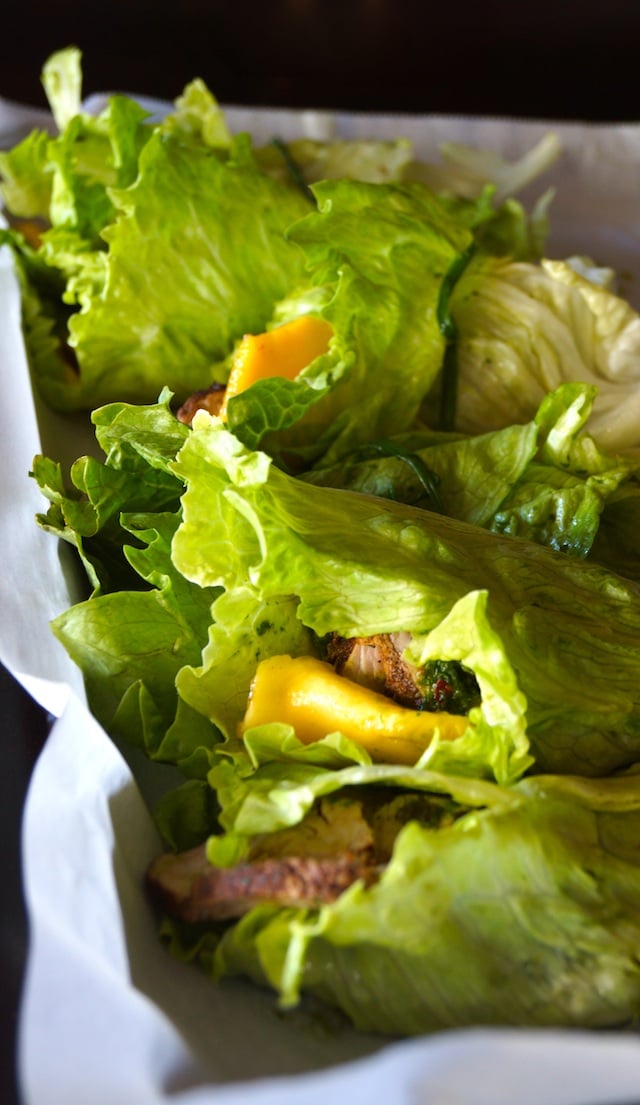 The flavor of the mango shines in these over-the-top delicious lettuce wraps.  You will devour them!  Promise!
Spiced Pork and Mango Chimichurri Lettuce Wraps Recipe
Sweet and spicy, the most scrumptious meal, these gluten-free Spiced Pork and Mango Chimichurri Lettuce Wraps are heavenly.

*Please note that the prep time does not included making the the Cilantro Chimichurri, which takes 15 minutes. The recipe is here. Also, please note that the pork will marinate for 1 hour, but should ideally marinate overnight.
Ingredients
2

tablespoons

olive oil

2

teaspoons

chile paste (I like Sambal Oelek)

1

teaspoon

ground cinnamon

1

teaspoon

ground allspice

1/2

teaspoon

ground cloves

1

approximately (1-pound)

pork tenderloin

salt and freshly ground black pepper

6

large

Butter lettuce leaves,

washed and dried

2

large

mangoes

(I used Honey Gold Australian Mangoes - see notes)
Instructions
Add the olive oil, chile paste, cinnamon, allspice and cloves to a small bowl. Mix to blend, and then rub this over the entire surface of the pork tenderloin. Place it on a large plate and cover with plastic wrap. Set aside in the refrigerator for at least 1 hour, and ideally overnight.

About 15 minutes before the pork is finished marinating, preheat the oven to 400 degrees F and adjust a rack to the center.

Place an oven proof sauté pan over high heat. Sprinkle the entire surface of the pork with salt and pepper, and then once the pan is very hot, add the pork and brown it, about 1 minutes per side. Place the pan in the preheated 400 degree F oven and roast until the pork has an internal temperature of 145 degrees F -- this should take about 15 minutes, but times will vary.

Remove the pan from the oven and use kitchen tongs to place the pork on a cutting board. Let it rest about 10 minutes, and then slice it thinly (about 1/4-inch slices). Set aside.

While the pork is roasting, cut both of the mangoes into round slices (again, about 1/4-inch slices). A mango pit is flat, and runs lengthwise, so the slices should be made on either side of the pit, like this:

Now add about another 1/2 tablespoon of the chimichurri to each one, on top of the pork.

Roll & eat! (You can almost fold the lettuce, like a tortilla, or roll them tightly and use a chive to tie them, for a more refined presentation.)
Recipe Notes
While these are amazing with the mangoes, I realize not everyone will be able to find them right now. If that's you, and if you don't want to wait until summer, these are also super delicious with thinly sliced apple or pear!
I like these wraps served at room temperature, but they're also delicious cold, or if the pork is still slightly warm.
This is not a sponsored post.  Melissa's sent me Australian mangoes for recipe testing and I love them!
Save