This Summer Tomato-Sweet Onion Salad with Blue Cheese is simple, full of seasonal summer flavors, that's as delicious as it is beautiful.  
Please excuse my absence. Hopefully you're very hungry for a new recipe!
And this one just so  happens to be a lovely appetizer to serve at your July 4th barbecue!  And with a sweet onion salad — you'll be a hit for sure!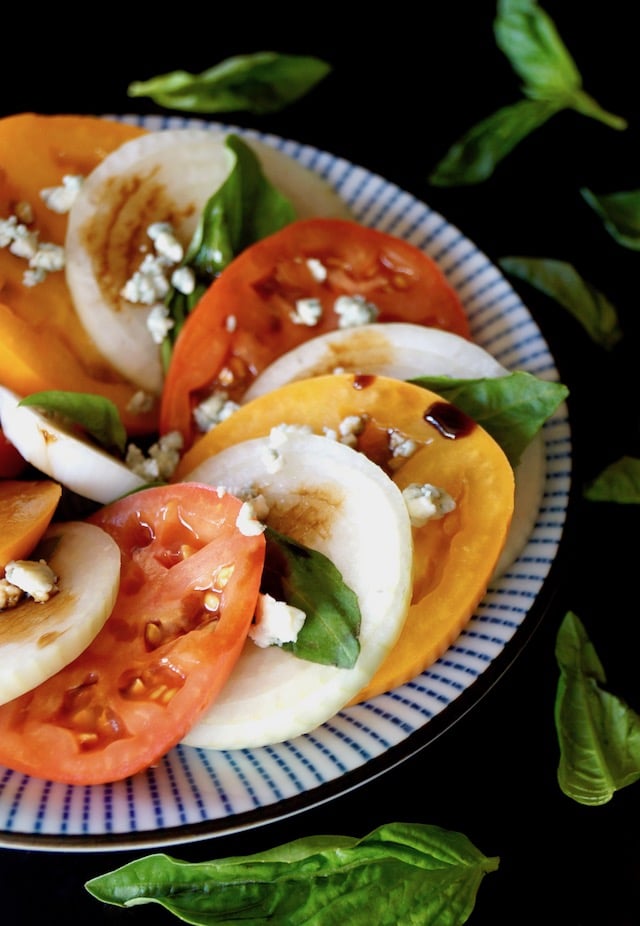 After a very rough few months dealing with my dad's recovery from heart surgery and my mom's ongoing health issues, I was in Hawaii with my husband and boys for a much needed week of pure relaxation and fun!
And really delicious food!
I have a few restaurants I can't wait to tell you about in the next couple of weeks!  First though, I thought I'd share this super quick and easy appetizer that we had one night a the Kona Inn.
Other than the sweet Maui onions, this recipe isn't Hawaiian, but I loved the simplicity and beauty of it. It may resemble the Italian Caprese, but the flavor profile is quite different.
This time of year I'm always super happy to be served almost any variation of a summer tomato salad, and this is definitely my new favorite.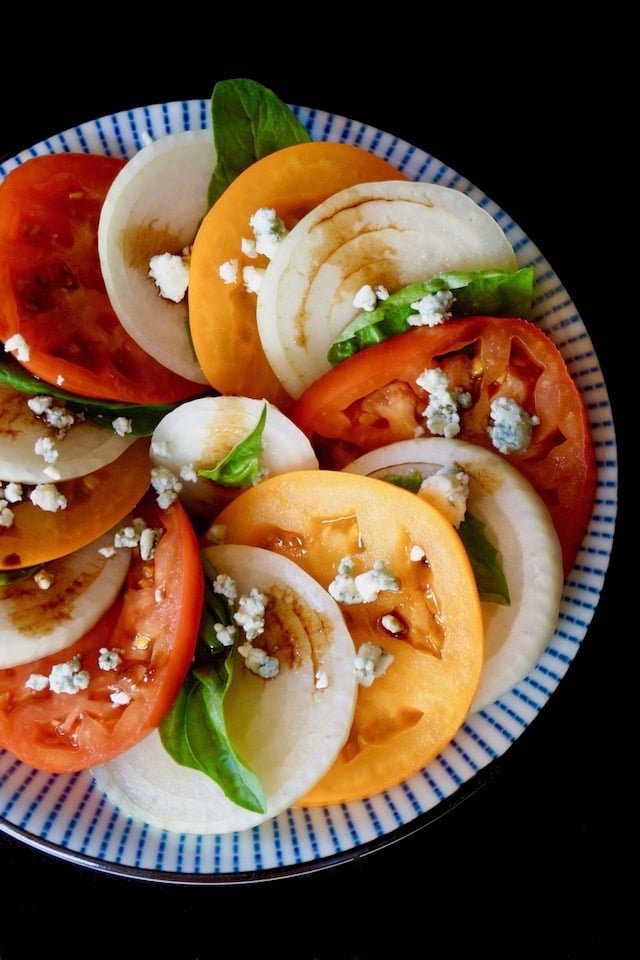 And now a few important thank yous in case they're reading this . . .
To my friend Aimée, for encouraging me to make our Hawaiian vacation happen!
To my aunt Roberta, without your help, I would not have left town.  Simple as that.
To my brother John, for taking Annabelle to the dog park every day, and brightening dad's days by bringing him with you.
To my cousin Beth, for cooking so much delicious food for my parents. (Not just while I was away, but for the last several weeks!)
To my in laws, for taking such good care of our house and dogs!
And to my husband for always being my rock.  And for answering me with "whatever you want" every time I asked about something I wanted to do while in Hawaii. 😉

Stay tuned for more from our Hawaiian adventure on the Big Island! I'll be sharing a couple of do-not-miss restaurants, Poke Nachos and so much more!
Summer Tomato-Sweet Onion and Blue Cheese Salad Recipe
Summer Tomato-Sweet Onion Salad with Blue Cheese is simple, full of seasonal summer flavors, that's as delicious as it is beautiful.
Ingredients
2

tomatoes (about the size of plums)

washed, dried, sliced into thin rounds

1

Maui onion,

peeled and sliced very thinly

10

large

basil leaves,

washed and dried

2

teaspoons

blue cheese,

crumbled

2

tablespoons

balsamic vinegar

freshly ground black pepper
Instructions
Alternating between the tomato and onion slices, arrange them on a round plate. Add a basil leaf after each onion slice, and then sprinkle the blue cheese over the top.

Add the balsamic vinegar to a very small sauté pan and place it over medium-high heat. Cook until it thickens and reduces by about half.

Drizzle the reduced balsamic and grind a bit of pepper over the tomatoes and onions and serve.
Recipe Notes
You can arrange the ingredients up to a couple hours ahead of time. Cover with plastic wrap and refrigerate until you're ready to serve. (The balsamic glaze should not be added until the moment you serve.)
Save
Save
Save
Save
Save
Save
Save
Save
Save