I've been told I have a habit of thanking people too much.  So please bear with me!
Cooking On The Weekends' 1st Annual "Share the Love" Cooking Giveaway, was a big success!  And I have all of you to thank. (See, it's already happening!)
A huge shout out to my amazing prize sponsors — all brands I love!
Thank you . . . .
With nearly 200 participants, many of you told your friends about this event, many of you became my fans, and fans of my prize sponsors, and so many of you cooked!  More than anything, I wanted you to cook, because as I said at the beginning of this giveaway, while it brings me joy to share my recipes and food photos with you — it makes me even happier to know that you're trying some of my recipes and sharing them — and good times — with your friends and family.  That said, I appreciate ALL OF YOU who were a part of this!
CONGRATULATIONS WINNERS!
Daniel, Erin, Francine, Kelly, Lisa,
Margot, Shakeia, Tara, Toni and Marc!
Thank you to those who sent me photographs of the recipes you prepared.  I wish I could display all of them, but here's a great sampling of the many I received, and they include a few from some of you who didn't win — hopefully you feel that even without collecting any swag, cooking and enjoying food with friends and family was a prize, too.
(Links to all of the pictured recipes are at the bottom of this post.)
This event would not have been the same without Tara!  Pictured here are about a dozen of the dozens of recipes Tara cooked, and shared with family and friends.  (And thank you to Mandy of Mandyland, for introducing Tara to my site!)
Toni and Marc made about a dozen recipes, and here are two summer beauties they shared with their darling daughter and friends.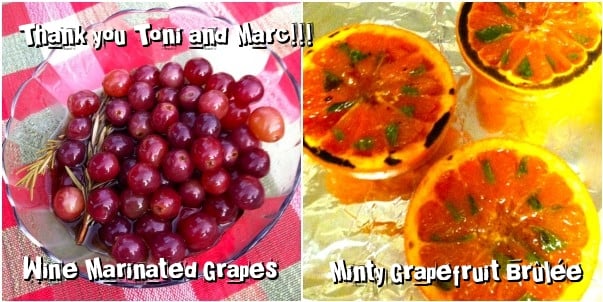 And I love what Ashley did!  She invited a bunch of friends over and had them each choose a recipe from my site to bring to the party.  Here are a few of them.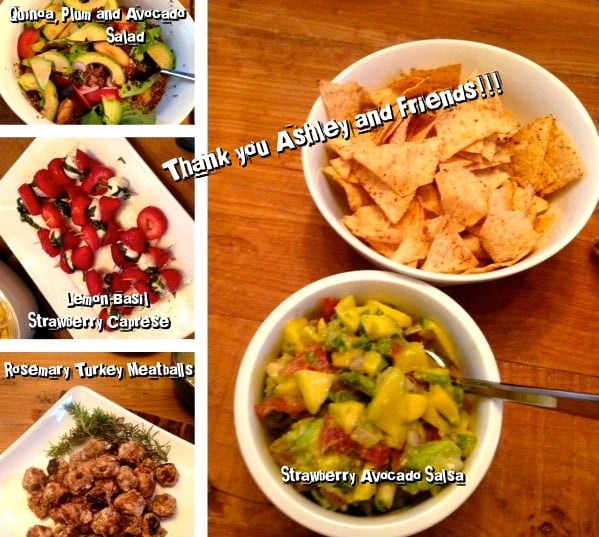 Kelly of Tasting Page made the chimichurri and said she loved it on fish and roasted cauliflower.
I was so happy my new friends from the Pepper Project joined in and took this gorgeous photo!
The oh-so-awesome catering duo, Sandy and Ron (Garrick & Miller Fine Catering), made this tostada and created a perfect little shell for it . . .
Barbara of Barbara Cooks loved this quesadilla and lightened it up with Kerrygold light Dubliner cheese and low carb wheat tortillas.
Coby of Santa Monica Healing Arts made this for her  kids (8 and 11), and husband — they all loved it!  She used red quinoa, which is gorgeous, and basil, cilantro and mint from their bountiful backyard garden.
And check out how tender Ellen's chicken turned out!  Ellen has a food blog, too — it's In My Red Kitchen.
Oh, and Valerie made Chile-Lime Grilled Watermelon and shared the results on her site,  Mama Likes to Cook.
And because you all made this so great, I'm already looking forward to Cooking On The Weekends' 2nd Annual "Share the Love" Cooking Giveaway, which will be in August 2014.
So you see, I wasn't kidding when I said people tell me I tend to say thank you a lot.
Below are links to the recipes pictured above:
Sesame Chicken Shirataki Noodle Stir Fry
Grilled Mediterranean Burgers
Smoky Chipotle Parmesan French Fries
Spicy Cilantro Shrimp
Peanut Butter Chocolate Decadence
Smoky Chipolte Breakfast Nachos
Mushroom and Bacon Savory Pie with Potato Crust
Herbed garlic Bread
Grilled Spicy Sriracha Burger with Crispy Shallots and Ginger Chile Aioli
Brown Butter Broccoli Gratin
Wine Marinated Grapes
Minty Grapefruit Brûlée
Meyer Lemon Black Quinoa Plum and Avocado Salad
Lemon-Basil Strawberry Caprese
Rosemary Honey Turkey Meatballs
Strawberry Avocado Salsa
Cilantro Chimichurri
Oven Roasted Granola
Hatch Chile Tequila Chicken Tostada
Smoky Chipotle Mango Quesadillas
Pineapple Quinoa Berry Salad with Shrimp
Gluten-Free Quinoa Crusted "Fried" Chicken