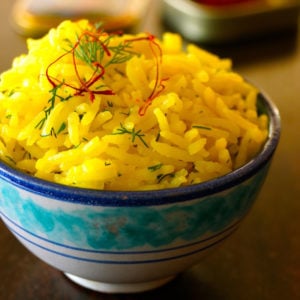 Saffron Basmati Rice Recipe with Fresh Dill
Aromatic, pretty and utterly delicious, this Saffron Basmati Rice Recipe with Fresh Dill is a fantastic compliment to almost anything . . . meats, fish, vegetables, you name it!
Add the pinch of saffron threads to a mortar. Use the pestle to grind the spice until it's a powder. This should only take a few seconds, and will yield less than 1/8 teaspoon, which is all you need.

Add about 2 tablespoons of the water to the mortar and then pour this, along with the remaining water into a medium-sized soup pot. Bring it to a very gentle simmer and then turn off the heat. Let it steep for at least 15 minutes.

Now pour the rice into a fine mesh strainer and rinse it thoroughly, and then add it to the pot, along with the salt and olive oil.

Gently stir and then bring to a boil. Immediately turn the heat to low, cover the pot, and cook just until all of the liquid has been absorbed, about 15 minutes.

Fold in the dill and serve.