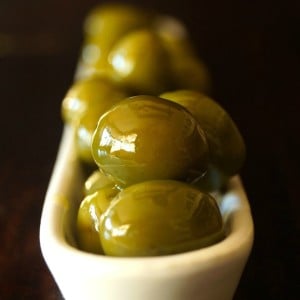 Warm Castelvetrano Olives
There's something magical about serving olives warm!*You'll see there aren't measurements in this recipe -- you'll simply use as many olives as you want, and enough oil to cover them.

Remove the Castelvetrano olives from their brine with a slotted spoon or small strainer, and add them to a small pot.

Pour in a high quality Extra Virgin olive oil, just to cover the olives.

Turn the heat to medium and once you see tiny bubbles, let the olives simmer just until they're hot, about 2 minutes.

Use the slotted spoon or small strainer to remove them from the oil and serve immediately!