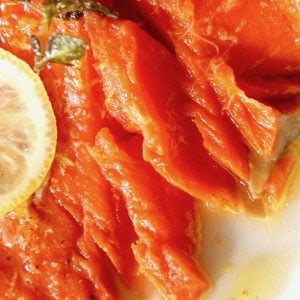 Olive Oil Poached Salmon
Olive Oil Poached Salmon has an incredibly delicious, succulent texture. It's excellent (and beautiful!) alongside salads and green vegetables like asparagus and artichokes.You'll want to make it again and again!
about 2

cups

extra virgin olive oil

a few

sprigs

fresh herbs (thyme, oregano, rosemary)

1¾

pound

salmon fillet

salt and freshly ground black pepper

fresh lemon juice
Preheat the oven. Preheat the oven to 225°F and adjust a rack to the center.

Prepare the salmon for poaching. Place the salmon in a baking dish that's approximately 9 x 13 x 2 inches -- one that will hold the fish in one layer. Pour in the oil, just to cover the fish. This may be a bit more or less than 2 cups. Sprinkle with salt and pepper and add a few sprigs of fresh herbs.

Poach the salmon. Place the pan in the preheated 225°F oven and poach just until it's cooked through, about 16 minutes.

Garnish and adjust the seasonings. Use a slotted spatula to remove the salmon from the oil and place it on a serving platter. Garnish with fresh lemon slices and herbs, and sprinkle with a bit more salt and pepper. Serve warm or cold.