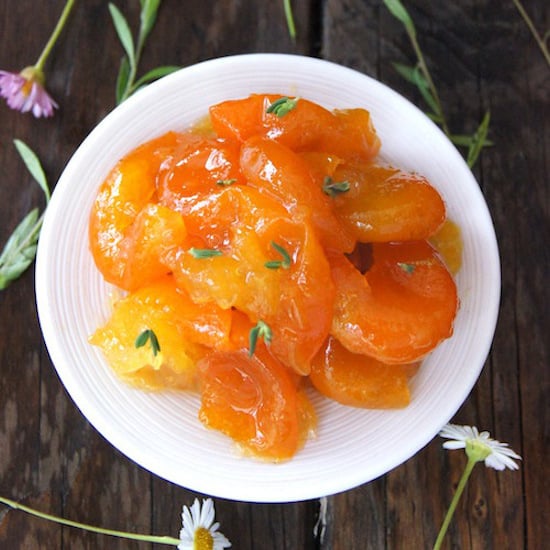 Kumquat Marmalade with Ginger
Kumquat Marmalade with Ginger is a treat during citrus season and beyond. It's lovely on toast, bagels, muffins, and it's also excellent served alongside poultry.*Makes about 2 cups
1¾

pound

fresh kumquats

⅓

cup

water

1¼

cup

granulated sugar

1

tablespoon

fresh ginger pulp

(It's easiest to use a microplane zester to grate the ginger.)

approximately 10

sprigs

fresh thyme,

washed and dried
Prepare the kumquats. Place the kumquats in a large pot and cover them with cold water. Place the pot over high heat and bring to a boil. Drain the kumquats and rinse them with cold water. Remove any remaining bits of stems from the fruit and set aside.

Combine the ingredients and cook. Add the water, sugar and ginger pulp to a medium-sized pot and place it over medium heat. Let this get hot and stir a bit, just to dissolve the sugar. Remove the leaves from the thyme sprigs and add them, along with the the kumquats and and bring to a boil. Then reduce the heat to low and let it simmer until it becomes thick, about 40 minutes.

"Pop" the kumquats and remove the seeds. Gently "pop" each kumquat with the back of a fork. The seeds should easily come out -- as they do, remove and discard them with a small spoon.

Cool and serve or store. Let the preserves cool and store them in a jar or tightly sealed container in the refrigerator for up to about three months.