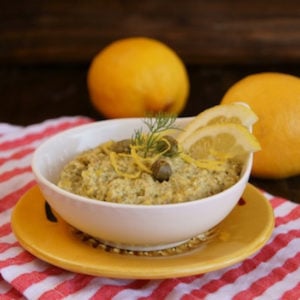 Lemon Caper Pesto
Lemon Caper Pesto is a very unique twist on classic pesto. It's delicious on pasta, with fish and poultry, and served as a dip for an appetizer.*Makes about 1½ cups
1

cup

lemon rind (from about 1¼ pounds lemons)

½

cup

capers,

drained

½

cup

pine nuts,

toasted

1½

tablespoons

garlic,

peeled, roots removed, roughly chopped

½

cup

Parmesan cheese

grated

¼

cup

loosely packed fresh dill

1

teaspoon

fresh lemon juice

½

teaspoon

sea salt

1½

teaspoons

granulated sugar

¾

cup

extra virgin olive oil
Peel the lemons. Remove the rind from approximately 1¼ pounds of lemons using a vegetable peeler. Try not to go too deep — you don't want too much of the white pith, as it's quite bitter.

Prepare the peels. Place the peels in a small saucepan and add enough water to cover the peels by about an inch. Place over high heat and bring to a boil.  Immediately drain the peels and repeat this process one more time. Rinse with cold water and pat dry with paper towels.

Blend all of the ingredients. In a food processor fitted with the blade attachment, blend the lemon peels with the capers, toasted pine nuts, garlic, Parmesan, dill, lemon juice, salt and sugar. Once the mixture is as smooth as you can get it, add oil slowly and blend until it's fully incorporated.