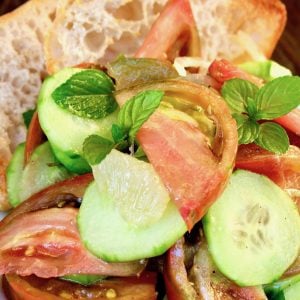 Tomato and Cucumber Salad Recipe with Lemon
Tomato and Cucumber Salad with Lemon is a delicious and refreshing lunch or side salad that's great with almost anything. With the addition of unexpected lemon segments mixed into the salad, it's a very unique crowd pleaser.Serves 4 as an entrée and about 6 as a side.
½

pound

lemons, cut into segments/supremes -- click here for How to Cut Citrus Supremes

(about ¼ cup)

1¼

pounds

tomatoes,

washed and dried, thinly slices (about 3½ cups)

¾

pound

cucumber,

peeled, sliced into rounds (about 2 cups)

⅓

cup

thinly sliced onion (red or yellow)

¼

cup

fresh basil leaves

washed and dried, roughly chopped or left whole if small)

2

tablespoons

white or dark balsamic vinegar

2

tablespoons

extra virgin olive oil
Prepare the lemons. Here's how to cut the lemons into pretty segments. Be sure to save the scraps to use later to drizzle any excess juice over the salad.

Combine the salad ingredients. In a large serving bowl, combine the lemon segments, tomatoes, cucumber, onion and basil.

Add the dressing and serve. Drizzle the salad with any excess lemon juice from the scraps. (Use as much or as little as you'd like.) Then drizzle with the vinegar and extra virgin olive oil. Toss, and season to taste with salt and pepper. (Here's How.) Serve cold.