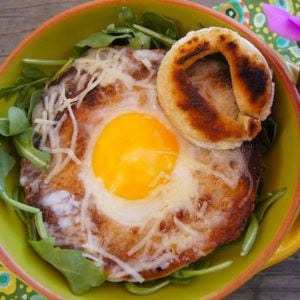 Hollywood Eggs
Made on a butter-crisped onion bagel, this is one Hollywood Egg you won't soon forget!

Prep bagel. Use a small serrated knife or a round cutter to cut at least ½ inch around the center hole of the bagel. You will have two little circles with a hole in the middle -- my mom called these the "bonus pieces." (They're my favorite part.)

Sauté bagel. Over medium-low heat, melt the butter with the garlic in a medium-sized sauté pan. Add the bagel halves and the two "bonus pieces," round side up, to the pan. Let these sauté until they are golden brown, about 2 minutes. Remove the bonus pieces and set them aside.

Add eggs. Flip the bagels over and crack one egg into each hole of the bagel halves. Sprinkle with salt, pepper, and cheese. Let the eggs cook until your desired doneness. I cook mine for about 4 minutes or so -- just until the whites solidify. If you prefer an over easy egg, you can flip them once you're certain the bottom has cooked enough to have formed a seal.