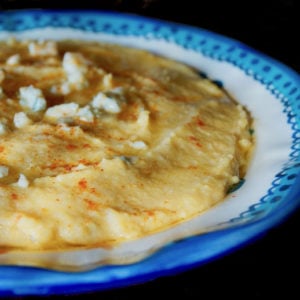 Creamy Gorgonzola Polenta
This Creamy Gorgonzola Polenta Recipe is one of my all time favorite stew side dishes. It's rich, delicious, and is just the right texture to soak up any leftover sauce in the plate!
In a medium-sized saucepan, add the salt to the stock and bring to a boil.

Gradually whisk in the polenta. Reduce the heat to low and cook until the mixture thickens and the cornmeal is tender, stirring often, about 20 minutes.

Turn off the heat and add the half and half, cheese, and butter. Stir to blend and serve immediately!