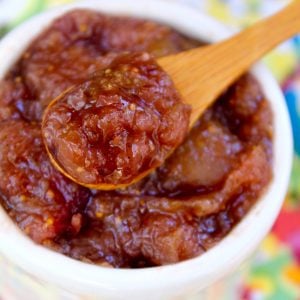 Fig Preserves with Vanilla
Vanilla Fig Preserves recipe is made with whole vanilla beans and fresh figs. It's divine on things like toast and crackers, as well as grilled meats and poultry. Everyone loves it!*Makes about 1¼ cup
1

large (about 7 inch)

vanilla pod

1

pound

figs, ripe but not too soft

(Kadota, Brown Turkey, Mission, or another variety you like )

½

cup

water

2

teaspoons

balsamic vinegar

2

tablespoons

granulated sugar
Add figs, water and vanilla to a pot. Wash the figs and place them in a medium-sized sauce pot. Add the water, balsamic vinegar and sugar.

Add the vanilla. Use a paring knife to vertically slice open the vanilla pod. With the back of the knife, scrape the vanilla beans into the saucepan and add the emptied pod as well.

Cook. Bring to a boil, and then reduce to a simmer. Cook until the mixture becomes very soft and thick, about 45 minutes. (About 30 minutes in, use a wooden spatula or a spoon to gently break the figs into smaller pieces.) Remove the vanilla pods and let it cool to room temperature. Store in an air tight jar or container, where it will keep for a few weeks.