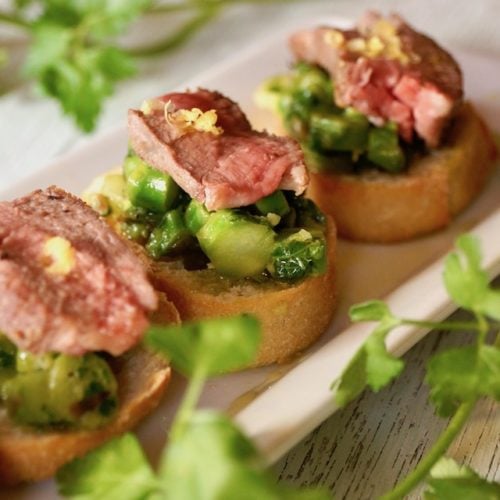 Asparagus Aussie Lamb Crostini
Asparagus Aussie Lamb Crostini is a lovely way to start a spring party. Lemon scented Asparagus Gremolata and thinly sliced Aussie Lamb are simply dreamy together!Recipe makes 20 crostini/ serving size: 2 crostini

1

thin, approximately 12-inch

French baguette,

cut into about 20 thin slices

¾

pound

asparagus,

washed, tough portions of stems snapped off, peeled if thick

½

cup plus 2 tablespoons

extra virgin olive oil,

divided

1

pound

Aussie Lamb loin chops,

excess fat trimmed off (see notes)

1

cup

packed Italian parsley leaves

washed and dried

1

small

garlic clove

(about teaspoon size)

2

teaspoons

lemon zest, plus more for garnish

1½

tablespoons

lemon juice
Cook lamb. Coat the bottom of a large skillet (preferably cast iron), with 2 tablespoons of the olive oil and place it over high heat. Place the loin chops in the skillet and sear undisturbed for about 5 minutes, flip and cook for an additional 5 minutes. (This timing is for medium-rare and will depend on the thickness of the chops.) Let the meat rest for at least 10 minutes before cutting it off the bone into approximately 20 thin slices. Set aside.

Steam asparagus. Place a steamer in a pot with the water level just below it. Over high heat, bring the water to a boil and then add the asparagus to the rack and cover. Reduce the heat to low and steam just until tender but not soft, about 8 minutes. Drain the asparagus and add it to the bowl of ice water immediately. Once it's cool, drain the asparagus spears again, and place them on the towel-lined plate to dry. Set aside.

Toast bread. While the asparagus is steaming, place the bread in the preheated 375°F oven and toast until the edges are golden, about 5 minutes. Set aside.

Mix Gremolata ingredients. Add the parsley, garlic and lemon zest and lemon juice to a food processor fitted with the blade attachment. Blend until the parsley is finely chopped. Then add the oil and blend until it's fairly smooth. Season to taste with salt, pepper and sugar. (Here's How to Season to Taste.) Finely chop the asparagus and add it to the parsley mixture. I call this Asparagus Gremolata, and you can make this portion of the recipe up to two days in advance.
Assembly
Evenly divide the Asparagus Gremolata among the baguette slices, and top each one with a slice of the lamb. Garnish with lemon zest and serve at room temperature. (You can assemble up to 1 hour ahead.)

If you can get boneless Aussie Lamb loin, even better. If you can, sear the meat first in a very hot pan with olive oil, and then roast it in a 375°F oven until the internal temperature is 125°F to 130°F (for medium rare).
Calorie count is only an estimate.