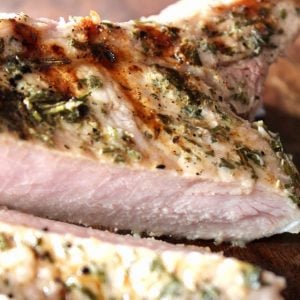 Sous Vide Pork Chops with Herbs
Sous Vide Pork Chops, marinated in fresh herbs with lemon, are super succulent and juicy, and they make for a fabulous main course. They're easy enough for a busy weeknight, and impressive enough for a dinner party.*Please note that 1 hours of the time to make this recipe is inactive.
sous vide immersion circulator

zip lock or vacuum sealer bags
2½

tablespoons

extra virgin olive oil, plus extra for searing

2½

tablespoons

fresh herbs (rosemary, thyme, sage, oregano),

washed and dried, finely chopped

1

tablespoon plus ¾ teaspoon

lemon juice

4

(approximately ½ pound)

bone-in pork chops,

about 1½ inches thick

salt and pepper

olive oil for searing
Set up and preheat the sous vide immersion circulator. Set up the sous vide immersion circulator in a pot or food storage container. The water level should be between the minimum and maximum lines. Preheat the sous vide cooker to the desired temperature: Medium-Rare: 130°F, Medium-Well: 140°F, Well Done: 150°F. (I like it set to 132°F.)

Make the marinade. In a small bowl, mix the olive oil with the herbs and the lemon juice. Set aside.

Prepare the pork. Trim any excess fat off of the pork chops and add some of the marinade to each one. Add them to a large zip-lock bag, or vacuum sealing bag, along with any remaining marinade. Be sure the chops are well coated on both sides. Remove as much air as you possibly can from the bag and seal it.

Sous vide cook. When the sous vide cooker has preheated to the desired temperature, add the pork bag and set its timer for at least 1 hour. Be sure the pork is completely submerged in the water. Remove the bag after the allotted cooking time. Take the pork out of the bag and gently pat it dry with paper towels — trying not to remove any of the herbs. Set aside on a clean dry surface.

Sear the pork. Lightly coat a large sauté pan or stove-top grill with olive oil and place it over a high flame to preheat. Generously sprinkle the pork with salt and pepper on both sides. Once the pan is very hot, add the pork. You should hear a sizzling sound when it hits the pan — if you don't, it's not hot enough yet. Sear the pork only long enough to brown, 30 seconds to 1 minute or so per side.

Serve. Slice the pork if desired, or serve on the bone. Serve!