Print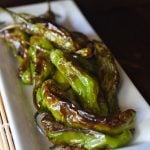 Sautéed Shishito Peppers
This is a very simple sautéing method for the peppers and they're quite tasty seasoned with salt and pepper. However, there are many different seasonings you could add to them for a snack -- sesame oil, soy sauce, black vinegar, Togarashi, bonito flakes, and so on.
Coat the bottom of large sauté pan (preferably cast iron), with grape seed oil and place it over medium-high heat.

Add the peppers. (You should immediately hear them sizzle -- if you don't, the pan isn't hot enough yet. Wait for the sizzle!)

Sauté the peppers until they are nicely charred -- each pepper will be about 50% green and 50% charred. They should be flipped/stirred every so often, and the total cooking time will be about 10 minutes.

Season generously with salt and pepper and serve hot or warm.