I'm Valentina, certified chef, busy mom of two boys and a Los Angeleno. I am the owner, author, recipe developer and photographer here at Cooking On The Weekends. I use seasonal, whole foods to create unique and comforting recipes for casual entertaining.
I grew up in a world of antiques, vegetable gardens, photography, painting, love, and really, really delicious and interesting food. Cooking On The Weekends combines all of those things -- and allows me to share them.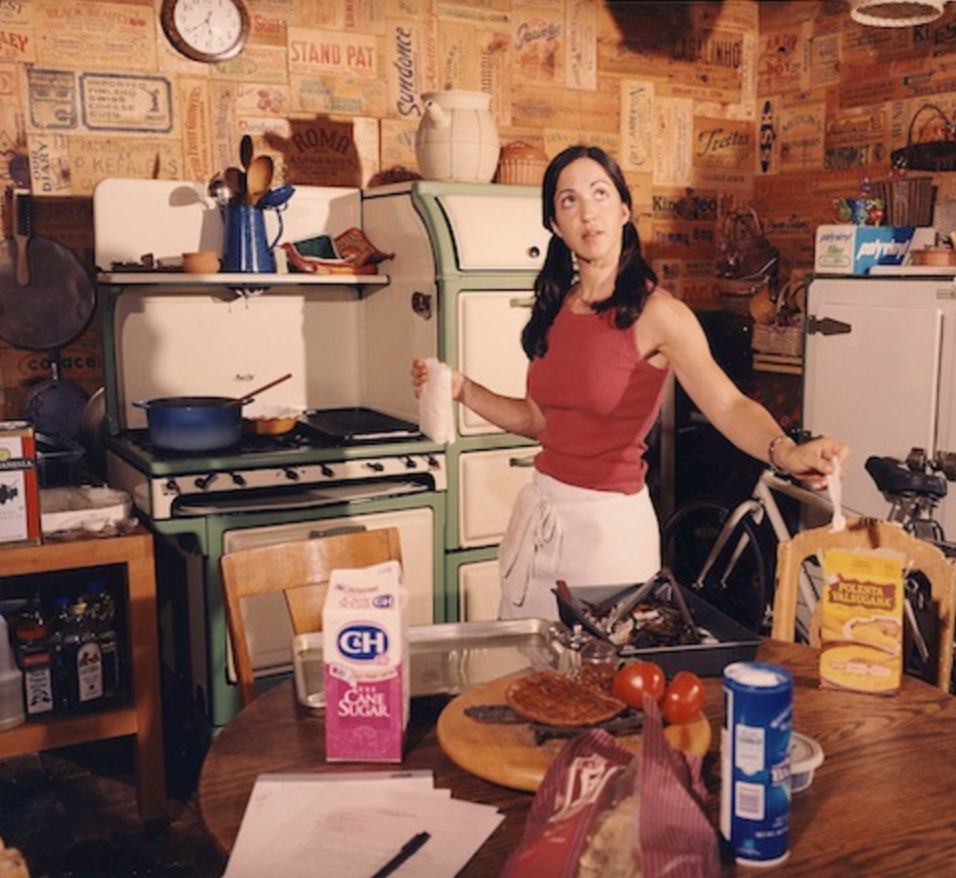 What brought me here?
After getting my bachelors degree in Art History, I worked at the

LA County Museum of Art

for a couple of years. Though it was fabulous to be amidst some of the finest art in the world, at the end of the day, my job was more paperwork than anything else.
Always having loved being in the kitchen, cooking and baking, I left the museum and spent the following couple of years in Culinary school at the Los Angeles Culinary Institute, and interning in restaurants.
While still in Culinary school, a friend asked me to cater his wedding. It was wildly successful and I loved every minute of it. That led me into several years of catering, private chef work, and teaching cooking classes both privately and at

Sur La Table

.
Cut to meeting the handsome guy at the bottom of this page . . .
A few years later I was a mom to two boys and I wanted to be with them as much as possible, so I began recipe developing and writing about food at home.
In 2011, Cooking On The Weekends was born.
Some Things to Know about Valentina and Food
My recipe ideas come from anywhere and everywhere: my fruit bowl, food images in magazines, walking down an aisle in the market, talking with people, colors, the weather, my mood, my kids, a book, a TV show, the seasons, and the list goes on.
I have too many favorite foods to list.
Foods are rarely too rich for me. I don't really get it when someone says they can only have one bite because a dessert is too rich (particularly chocolate).
I believe most foods are okay in moderation. (Yes, that includes sugar.)
I eat just about everything -- with the exception of sea urchin, okra, and anything presented with eyeballs.
I always try to cook with local, fresh, healthy ingredients.
I love exploring other cultures through their foods.
I have an aversion to "fake" foods -- Tofurky, for example. I would rather skip an ingredient than use a "fake" substitute. (P.S. I do love tofu -- just not when it's pretending to be something else.)
One of my sons has Celiac Disease and therefore is gluten-free (forever). So while this is not a gluten-free site, I offer dozens of gluten-free recipes. (Gluten-free desserts are here, and gluten-free savory recipes are here.)
I'm in love with comfort foods and you'll find dozens upon dozens of recipes for them here.
And I tend to use a lot of exclamation points. I can't help myself. I am just so excited about what I'm cooking!
I want to inspire you to cook!
I will always be happy to receive your comments, questions and thoughts. Contact me here.
Copyright Information
SaI'm so happy that you love Cooking On The Weekends. You're welcome to link to recipes and posts on this blog -- however, please note that all the content and photography is wholly owned by me. One cannot reprint any writing, recipes or photographs found on this site without express written consent. Thank you!