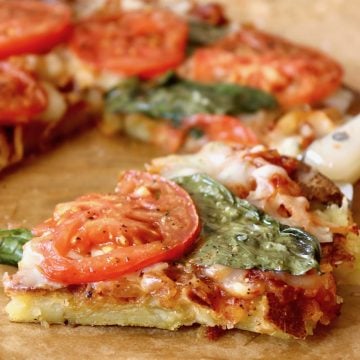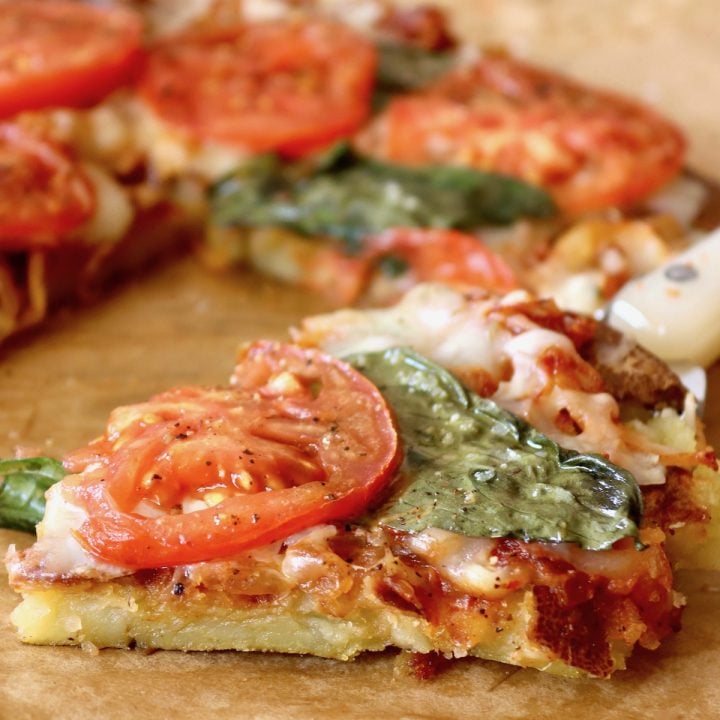 Onion Pizza with Tomato Recipe
This Onion Pizza recipe is unique and utterly scrumptious. Caramelized onions are essentially the sauce, it's beautiful and delicious and makes for an excellent main course. With a gluten-free crust made out of potato, or your own favorite crust, you'll keep coming back for more!
about 1

tablespoon

olive oil for the pan

1½

cups

thinly sliced yellow onion

1

teaspoon

minced garlic

1

tablespoon

tomato paste

¾

cup

grated mozzarella

about 6 large basil leaves

1

Roma tomato,

washed, dried, thinly sliced

extra virgin olive oil for drizzling

salt and freshly ground black pepper
Set oven. Preheat the oven to 400°F, and adjust a rack to the center.

Make onion mixture. Coat the bottom of a medium-sized skillet with olive oil and place it over medium-high heat. Sauté the onion, stirring often, until the edges are golden, about 10 minutes. (You can also cook the onions longer and at a lower temperature for a deeper and darker caramelization.) Add garlic and tomato paste and cook for another minute or so, until it's very aromatic. Season to taste with salt and pepper. (Here's how.)

Assemble. Evenly spread the onion-tomato mixture on the potato crust, followed by the grated mozzarella, basil leaves and tomato slices. Drizzle with pizza with olive oil and then sprinkle it with salt and pepper.

Bake. Place in the preheated 400°F oven and bake until the cheese is melted and it's sizzling, about 15 minutes.

Serve. Let the pizza sit for about 10 minutes, slice and serve.