A gluten-free pizza like no other!  Beautiful and delicious Mediterranean flavors sit atop a "crust" made entirely out of potato.
It's been raining in LA, snowing in surrounding mountain towns, and below freezing in other parts of the country. We're cold, lighting fires and bundling up beneath soft blankets.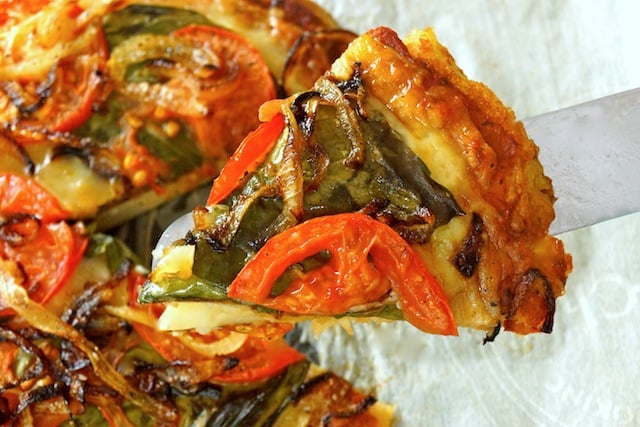 So — call me crazy — but why on this 1st day of 2015, in the middle of winter, would we move away from hearty, warm, cozy comfort foods!?
Okay, obviously I know it's a new year and many of us are resolving to eat healthier, lighter and watch our weight.   My friends, you can do that without restricting yourselves to super light salads.  It's simply not the season for them!  (I love a delicious refreshing salad, but for now, I want it alongside something warm and filling.)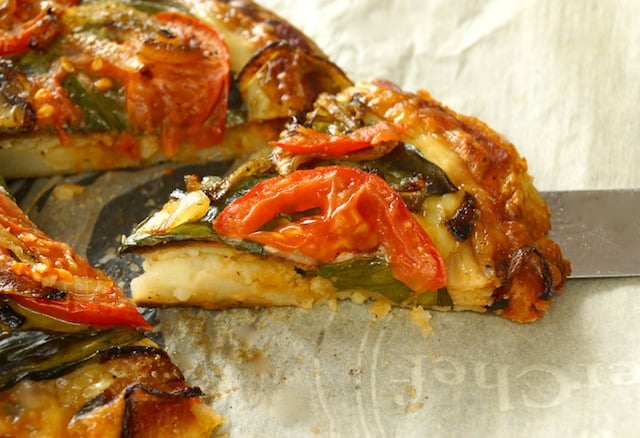 I really wanted to create more recipes for the super cool Smashed Potato Pizza Crust!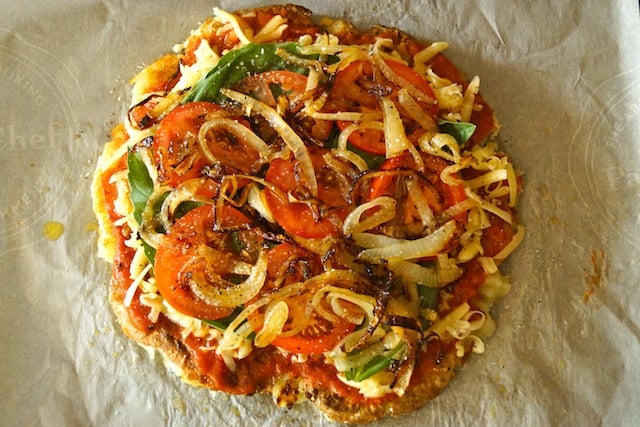 So let's enjoy this divine pizza!  Stay healthy and share it with a friend.  😉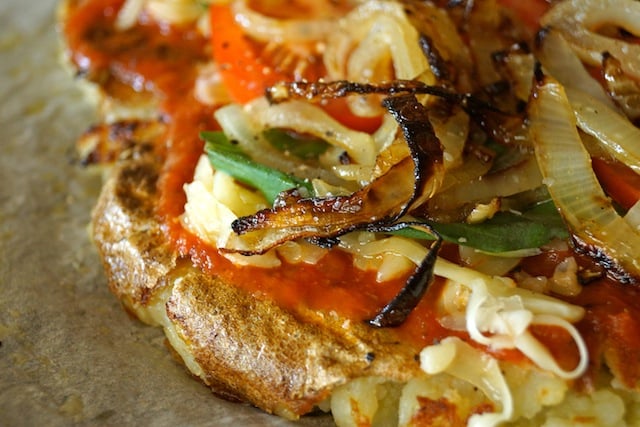 Enjoy!
This is not a sponsored post — I simply love Kerrygold cheese.
Caramelized Onion-Tomato Smashed Potato Pizza
Ingredients
1

10-inch Smashed Potato Pizza Crust (Here's the recipe.)

1½

cups

thinly sliced onion

1

teaspoon

minced garlic

about ¾ cup tomato purée

1

cup

grated Kerrygold Skellig

Sweet Cheddar Cheese

about 6 large basil leaves

1

thinly sliced Roma tomato

extra virgin olive oil

sea salt and freshly ground black pepper
Instructions
Preheat the oven to 400 degrees F, and adjust a rack to the center.

Coat the bottom of a medium-sized sauté pan with olive oil, add the onion and place it over medium-high heat. Stirring every so often, cook until the onions are soft and nicely browned, about 15 minutes. Set aside.

While the onions are browning, add the garlic and tomato purée to a small sauce pan and place it over medium heat. Bring to a simmer and let it thicken and reduce a bit, about 10 minutes. Then season to taste with salt and pepper. (

Here's how to season to taste

.)

Using the back of a large spoon, spread the tomato sauce over the prepared

Smashed Potato Pizza Crust

. (The crust should already be on a baking sheet.)

Sprinkle the grated cheese evenly over the sauce and then add a layer of the basil leaves -- they should cover the cheese almost completely.

Top with an even layer of the onions and tomato slices.

Drizzle with olive oil and sprinkle with a bit more salt and pepper.

Place in the preheated 400 degree F oven and bake until the cheese is melted and it's sizzling, 15 to 20 minutes.

Let the pizza sit for about five minutes, slice and serve.
Save
Save
Save