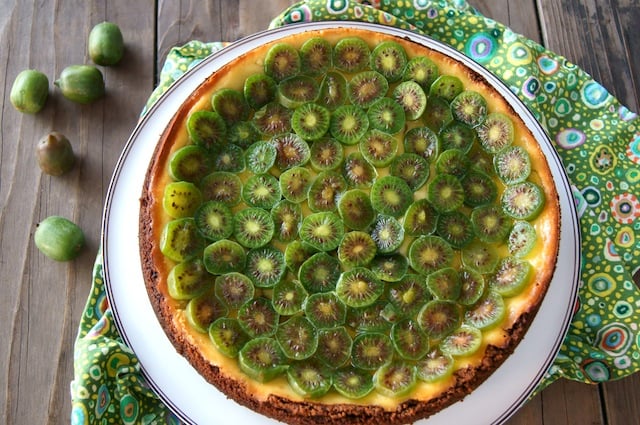 Would you agree that good things come in small packages?  I do.  After all, the average height in my family is 5'3." 😉
Seriously though, we typically associate "little" with "cute."  Think about it . . . babies, puppies, kittens, doll house furniture, New Zealand Kiwiberries — wait, what!?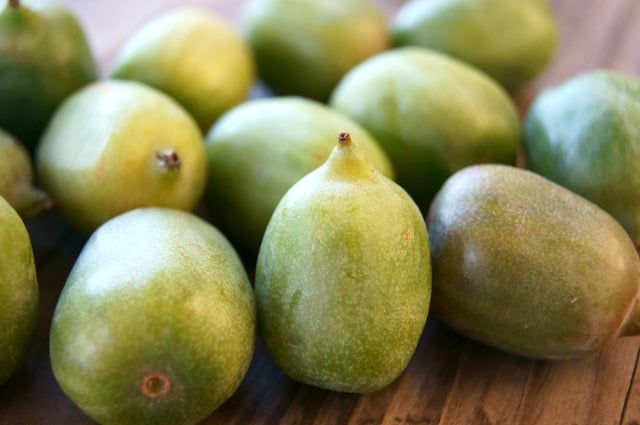 Yup, you read right — New Zealand Kiwiberries, AKA Baby Kiwi, are without question a good thing in a small package!
Cousin to the larger Kiwi Fruit, and about the size of a grape, their fuzz-less, edible, green skin is as tender as its interior.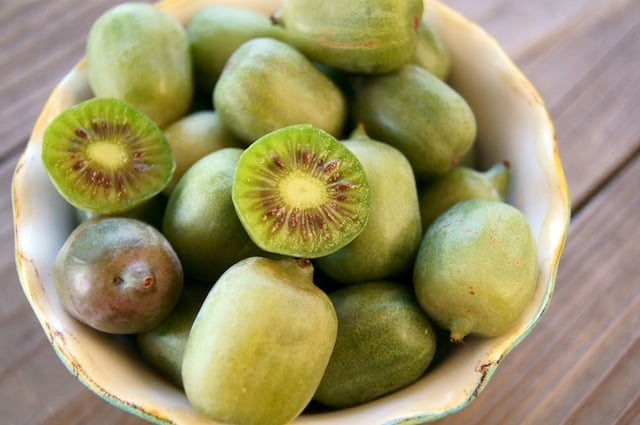 Baby Kiwi are a delicate burst of melt-in-your-mouth, delicious, sweet flavor.
Aren't they just so sweet!?
Sourced from New Zealand, Baby Kiwi are in season February through March — and they're domestically sourced September through November.
Baby Kiwi can be found in upscale markets and of course from my friends at Melissa's Produce, right here.
Baby Kiwi are fabulous on their own and are absolutely gorgeous to "decorate" a cake with!
Enjoy this work or art!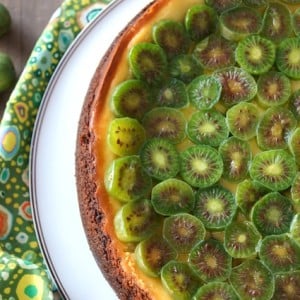 Honey Glazed-Baby Kiwi Mascarpone Cheesecake Recipe
Please note that almost all of the prep time is refrigeration time
Ingredients
For the crust:
1

cup

2 sticks melted butter, plus 2 teaspoons for the pan

3-1/2

cups

graham cracker crumbs

1/2

cup

granulated sugar
For the filling:
2

8-ounce packages cream cheese, softened

2

cups

mascarpone

softened

1

cup

sour cream

1

cup

sugar

1

tablespoon

plus 1/3 cup honey

1

tablespoon

vanilla

1

teaspoon

ground cardamom

4

eggs

1-1/4

cup

kiwi

peeled and cut into a small dice (about 4 large kiwi)

6-

ounces

Baby Kiwi
Instructions
Adjust a rack to the center of the oven and preheat it to 350 degrees F.
For the crust:
Use the 2 teaspoons of butter to grease a 10-inch X 2-1/2-inch springform pan. Set aside.

Add the graham cracker crumbs to a large mixing bowl and fold in the 1 cup melted butter and the sugar. Add this mixture to the greased pan, and using your hands, gently press it evenly to coat the inside bottom and sides, to form the crust. Set aside.
For the filling:
Add the softened cream cheese, softened mascarpone, sour cream, sugar, 1 tablespoon honey, vanilla and cardamom to a large mixing bowl. Mix until it's very smooth. (An electric mixer is great for this.)

Gradually beat or mix in the eggs -- blend until smooth.

Very gently fold in the diced kiwi, and then pour the mixture into the prepared crust.

Place on a baking sheet with edges (in case some of the butter melts out of the pan).

Bake the cake in the 350 degree F preheated oven until all but a few inches in the center of the surface is solidified -- meaning it will still jiggle a bit in the center. This will likely take about 2 hours -- you should check on it about every 30 minutes.

Let it cool at least to room temperature and then refrigerate for at least 4 hours and ideally overnight.

Spread a thin layer of honey (about 1 tablespoon from the remaining 1/3 cup) on top of the cake.

Then slice the Baby Kiwi into thirds and "decorate" the top of the cheesecake with them.

Drizzle the remaining honey over the Baby Kiwi slices and serve.
Recipe Notes
This is a rich, large cheesecake -- so it should be sliced into relatively thinly.
I love a lot of crust because it's like having a cookie with each creamy bite -- however if you prefer, you can make half the amount of crust and only add it to the bottom of the pan.
For a gluten-free version of this cheesecake, you can use gluten-free S'morables from Kinninick. They're delicious!
Melissa's Produce sent me Baby Kiwi for recipe testing. (Thank you!)  This is not a sponsored post.  All opinions are my own. 🙂
Save