Using no oil, these Pumpkin Spice Glazed Air Fryer Donut Holes are crispy on the outside with a soft texture on the inside. These donuts are made without yeast, and have lovely warming flavors that are perfect for the fall and winter months.
This is a sponsored post brought to you by GoWISE USA. All opinions are my own, based on my experience with the product. Thank you for supporting my sponsors, who help make Cooking On The Weekends possible.
When I was given my first GoWise Air Fryer, I was skeptical since I'm someone who loves traditional cooking equipment and methods.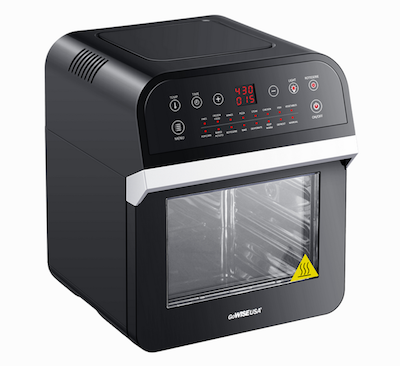 Quickly though, I found I was using it often — mostly for my family's favorite air fried chicken on busy weeknights, and for bacon on the weekends.                                         above photo credit: GoWise USA
Well now I'm excited to introduce you to a new GoWISE Air Fryer Oven — the newest evolution of Rapid-Air Technology. You can not only "fry" in it, you can also bake, roast, dehydrate, and rotisserie — all in a fraction of the time it would take in a regular oven.
The air fryer is all about a faster, healthier way to cook.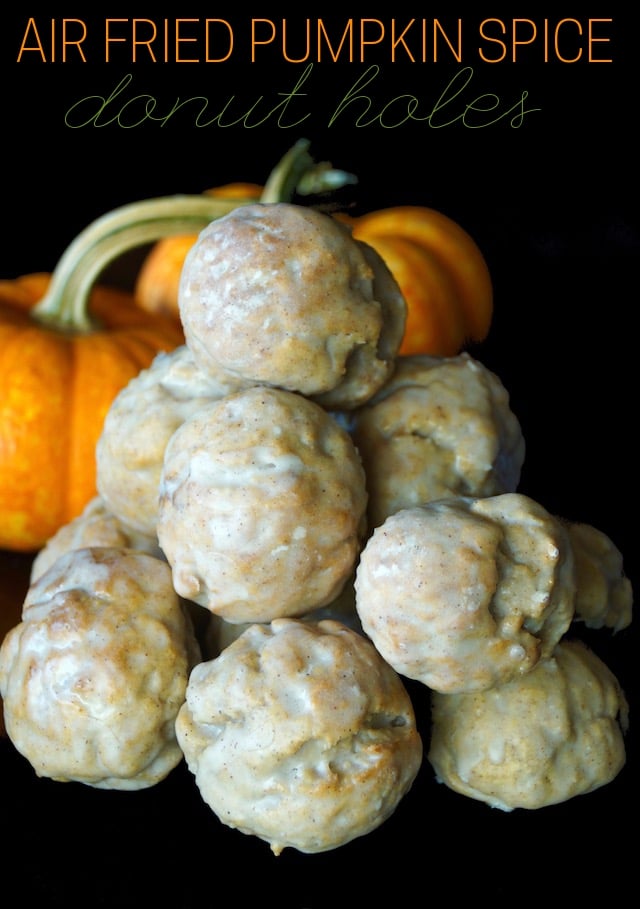 While you can essentially cook anything in the GoWISE Air Fryer Oven, I wanted to share a recipe that's typically made by deep frying in a lot of oil, so I could exemplify how air frying donuts, using NO oil at all, can still be super delicious, while being healthier!
You will still achieve what you want in a perfect donut, a slightly crispy exterior and soft interior.
These Pumpkin Spice Glazed Air Fryer Donut Holes pack a ton of seasonal warm flavors into one small donut hole. And they are a no yeast donut, making the prep time super quick.
What is an air fryer and how does it work?
Air fryers are like ovens, though with a much smaller area where food is held. They have a fan that circulates air at a very high speed — higher even than in a convection oven.
Foods cook more quickly and efficiently in an air fryer because of the combination of the rapid air, and targeted heat.
There is no preheating required!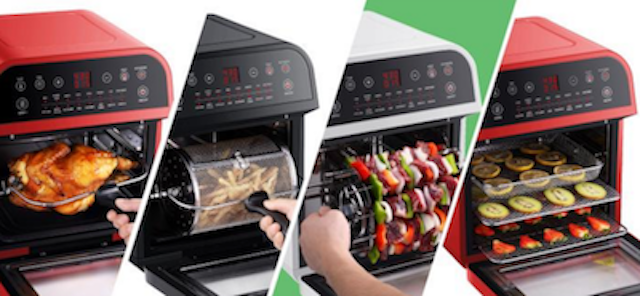 above photo credit: GoWise USA
The GoWise USA Air Fryer Oven
This air fryer oven has enough space to prepare family-sized meals, and is one of the largest on the market. That said, it's still compact enough to fit easily on a countertop.
With 9 accessories, you can make everything from a rotisserie chicken and kebabs, to cookies and cakes, to French fries and dehydrated fruit.
With 15 presets, the GoWISE Air Fryer Oven is incredibly easy to use.
With a non-stick drip pan that's inserted into the bottom of the oven, clean up is super easy, whether it's crumbs or grease.
And after you make these delicious Pumpkin Spice Glazed Air Fryer Donut Holes, it comes with an awesome book of 50 recipes that will enable you to work with all of the accessories and make a variety of super tasty dishes.
It comes in different colors, too. White, black and red. Fun!
How to Make Air Fryer Donut Holes
Pumpkin Spice Glazed Air Fryer Donut Holes can be made is just just a few simple steps . . .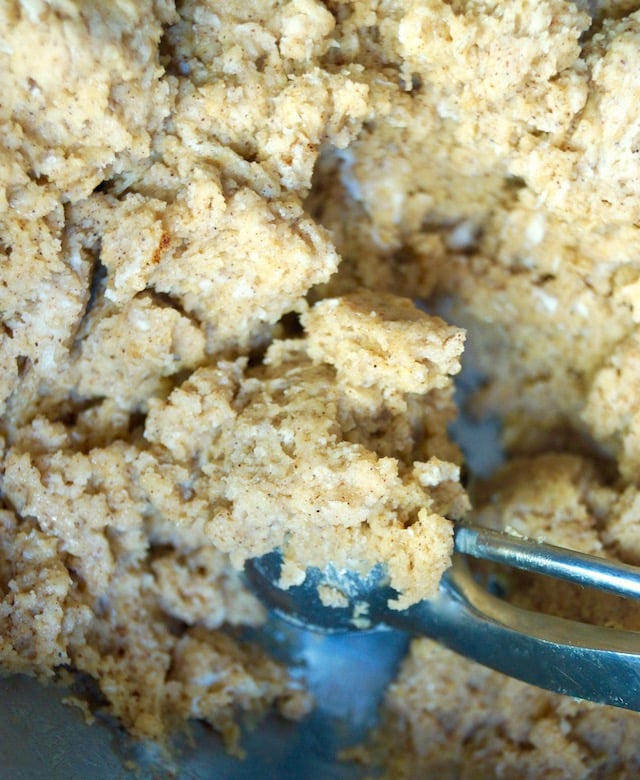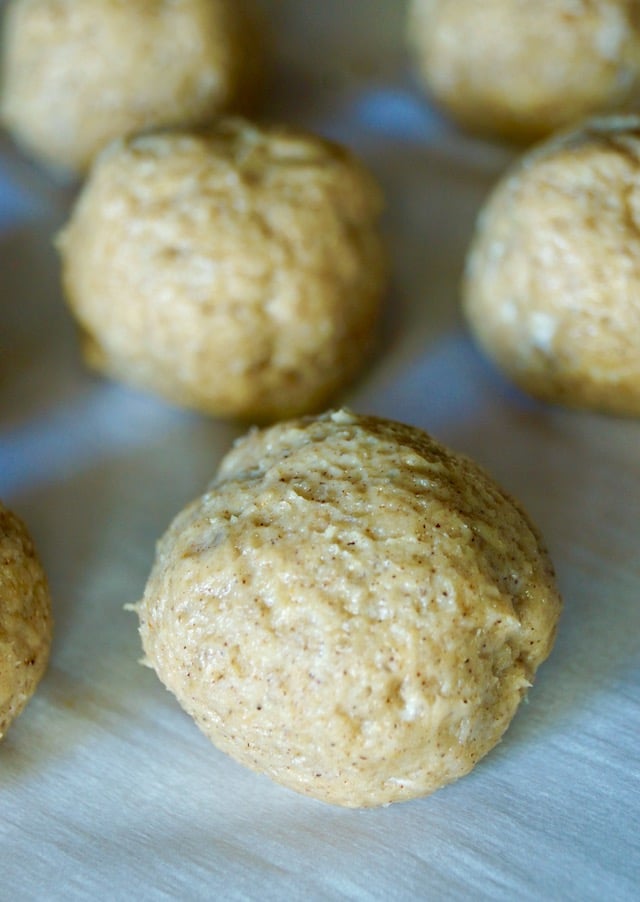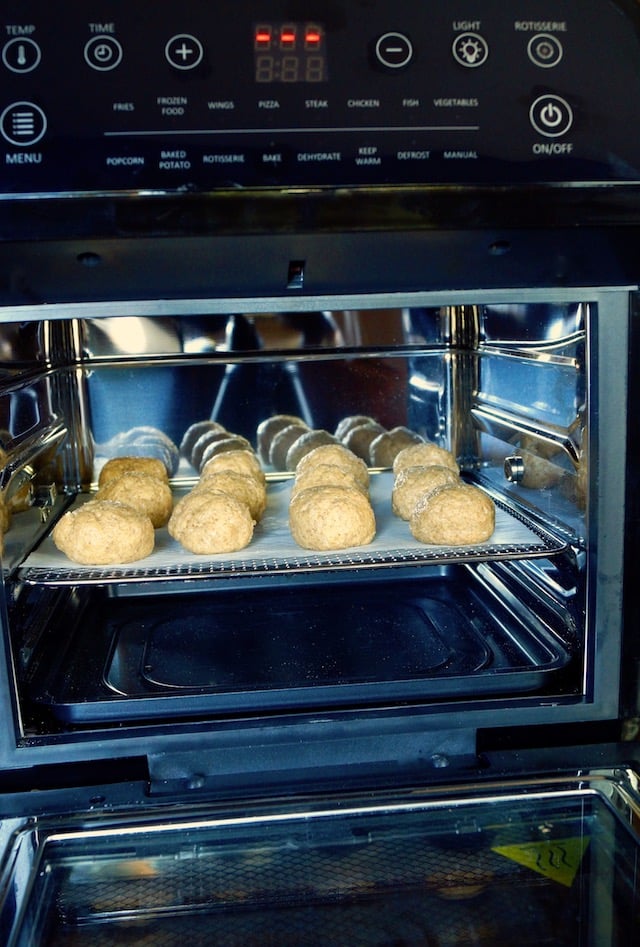 Make the dough. (There are no rising times since these donuts are made without yeast.)Shape the dough.Place the shaped dough in the air fryer.Air fry on "Bake" for 10 minutesWhile the the donuts are in the air fryer, make the glaze.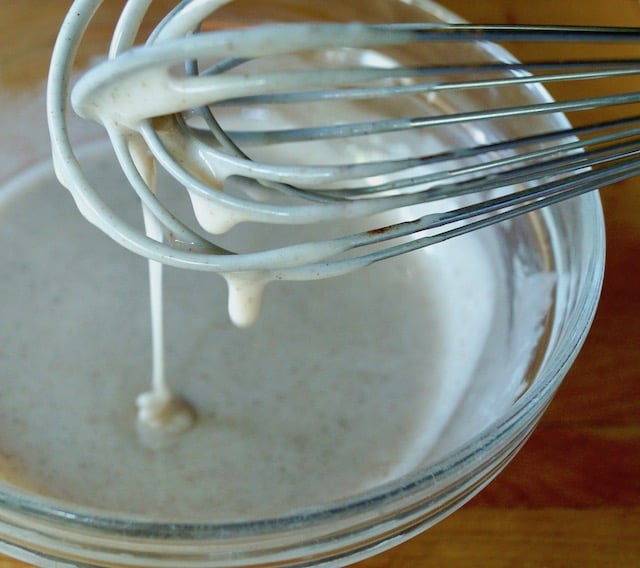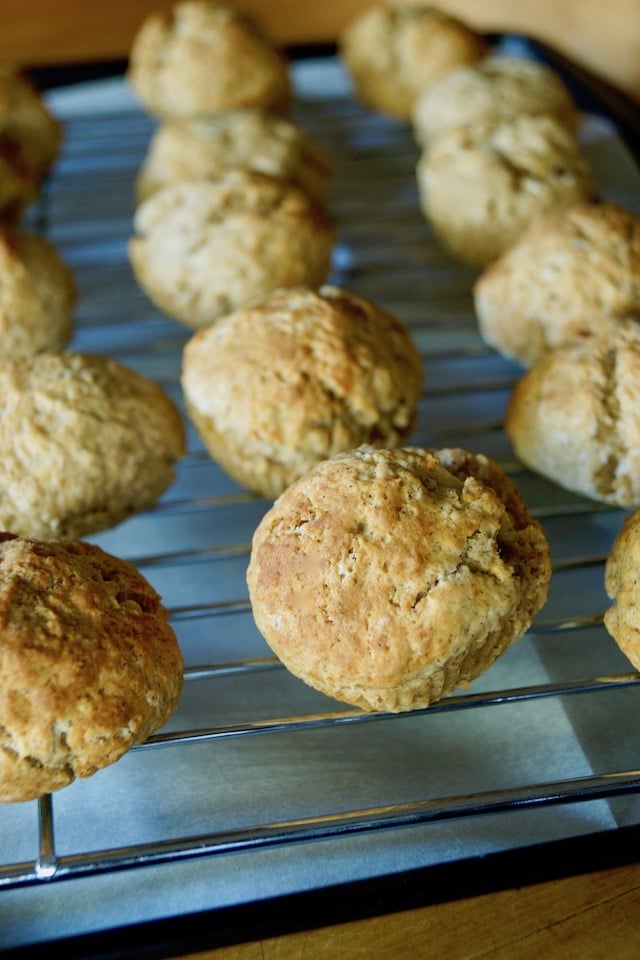 Let the donuts cool on a cooling rack.Glaze the donuts.
Tips for Pumpkin Spice Glazed Air Fryer Donut Holes
If you'd like a rounder shape, that most donut holes have, place each ball of dough into a mini, paper muffin/truffle cup instead of on parchment paper.
Be sure that the parchment paper doesn't have room to be blown around — remember air is circulating at a high speed in the air fryer. Be sure to have a donut in each corner. (I suggest this for cookies too.)
If you use both mesh racks (which you should), sometimes the bottom rack will need an additional 2 minutes.
Use a pot holder! Just because this is a tiny oven, that doesn't mean it doesn't get hot.
Then enjoy every last donut.
I love air fried donuts, and I think you will too.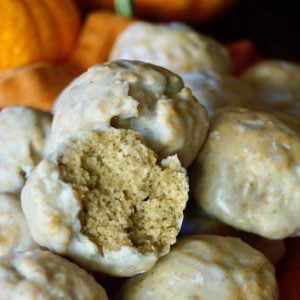 Pumpkin Spice Glazed Air Fryer Donut Holes
Using no oil, these Pumpkin Spice Glazed Air Fryer Donut Holes are crispy on the outside with a soft texture on the inside. Their lovely warming flavors are perfect for the fall and winter months.Makes about 20 donuts / serving size: 2 donuts

Ingredients
For the donuts
2

cups

all-purpose flour

⅓

cup

granulated sugar

2

tablespoons

golden brown sugar

1½

tablespoons

baking powder

2

teaspoons

cinnamon

½

teaspoon

salt

¼

teaspoon

cloves

¼

teaspoon

nutmeg

6

tablespoons

cold, unsalted butter,

cut into tiny pieces

½

cup

low-fat milk

1

large

egg

¼

cup

pumpkin purée

2

teaspoons

pure vanilla extract
Instructions
Add the flour, both sugars, baking powder, cinnamon, salt, cloves and nutmeg to a large mixing bowl. Use a whisk to evenly blend the everything together.

Add the cold pieces of butter and use your hands to mix it into the dry ingredients until it resembles coarse crumbs.

In a separate bowl, combine the milk, egg, pumpkin and vanilla. Whisk until smooth and slightly bubbly, about 1 minute.

Make a well in the center of the dry ingredients and pour the wet ingredients into it and mix everything together with a large spoon. Only mix until it's combined. (Over mixing could result in a more tougher donut.)

Use a tablespoon or small cookie scoop to gather about 2 tablespoons of dough at a time, roll it into a ball between your hands, and place it on one of the parchment-lined mesh trays. Continue this until all of the dough is formed. You should have about 20 donuts, 10 on each tray, with at least an inch or so between them.

Place the two trays into the GoWISe Air Fryer Oven, sliding them into two of the three rack levels, so the donuts on the bottom have a couple of inches between them and the tray above them.

Set to air fryer to "Bake" at 350°F, for 10 minutes. Press the "on/off" button to start. The donuts should have a nice golden color on their surface when they're done.


Remove the trays from the air fryer and place the donuts on a cooling rack for at least 10 minutes.
For the glaze
The best time to make the glaze is while the donuts are in the air fryer. In a small bowl, combine the powdered sugar, milk, spices and vanilla and whisk until smooth.
To glaze the donuts
Cover a sheet pan with parchment and place a cooling rack on top. Once the donuts have cooled to room temperature, dip them, one by one, into the glaze, flipping them over so the entire donut is covered. Let them drip a bit into the bowl and then place them on the cooling rack. Any excess glaze will drip onto the parchment below. They are ready once the glaze has hardened, about 20 minutes.

Serve!

NOTES
Calorie count is only an estimate.
NUTRITION
Have you tried this recipe?
I'd love to see it on Instagram! Tag me at @cookingontheweekends or leave a comment & rating below.
Cooking On The Weekends is a participant in the Amazon Services LLC Associates Program, an affiliate advertising program designed to provide a means for sites to earn advertising fees by advertising and linking to Amazon.com.