Baby Kiwi Parfait Recipe is delicious, healthy, and a lovely way to show off the beautiful fruit. It's a great breakfast, lunch or snack.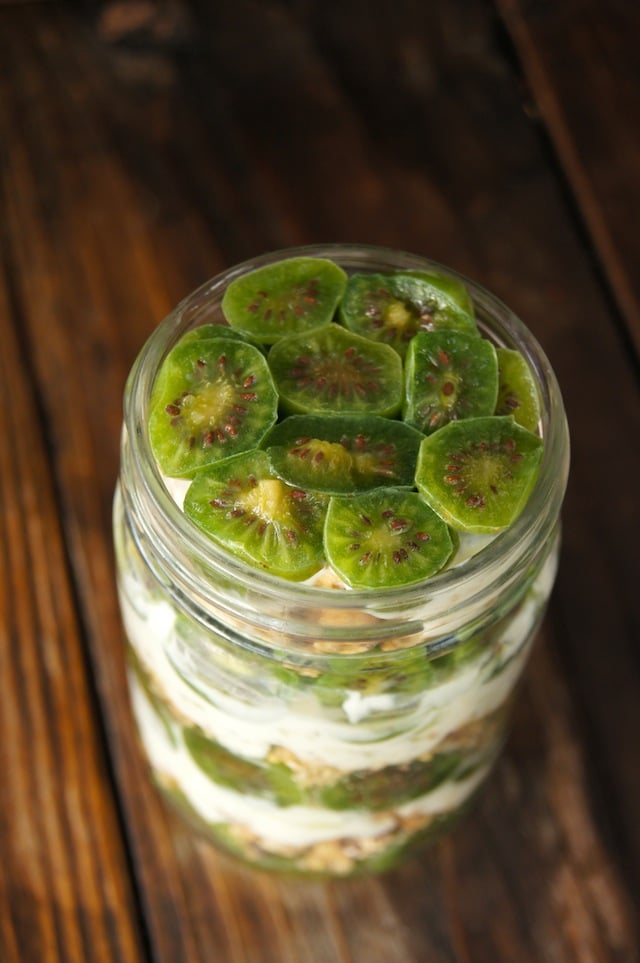 How cute are these little, tiny kiwis?  I know, they're adorable!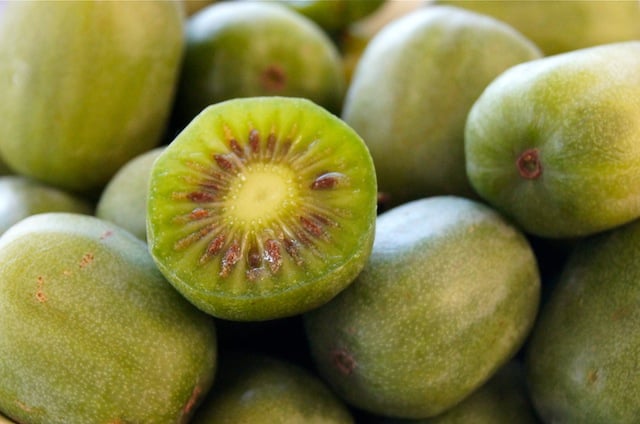 Baby kiwi are actually a berry and are bit smaller than the size of an average grape.
They have smooth, fuzz-less, eatable, thin skin, and are absolutely delicious.  (And did I mention cute?)
Though more delicate, the sweet and tart flavor is like that of it's cousin, the larger, brown-skinned kiwi.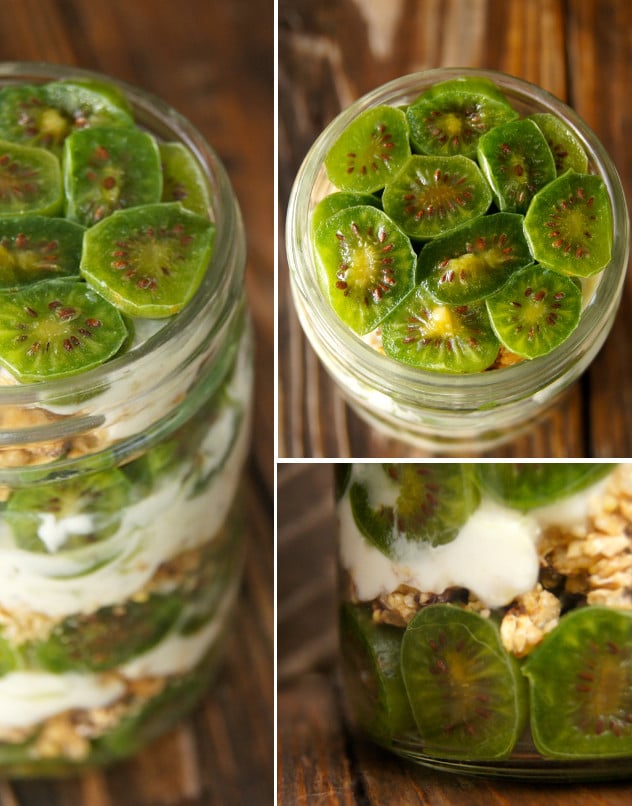 While I love popping these cuties right in my mouth for a yummy, energizing snack, it's a must must to slice them first — to see their inner beauty, of course.  They make for a great snack on their own and they're divine in salads.
I especially love them with yogurt and granola, so I put the three together for a super tasty breakfast or brunch.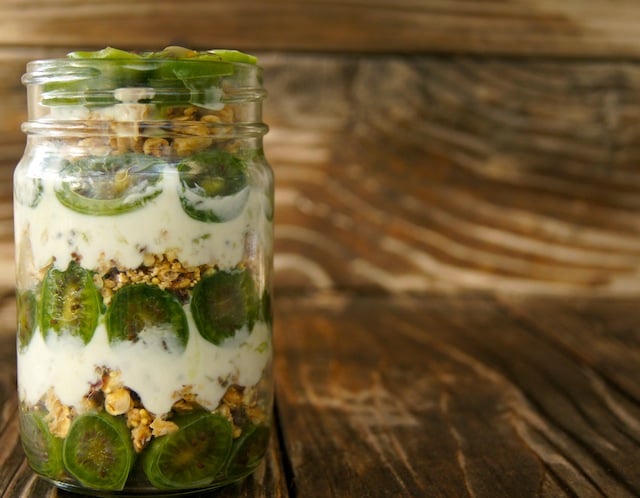 Melissa's Produce sends me samples of baby kiwi when their season begins — thank you!
Last year when I received them, I made this cheesecake with them.
You can find out more about this gem of a fruit here.
Enjoy!
Baby Kiwi Parfait Recipe
Baby Kiwi Parfait Recipe is delicious, healthy, and a lovely way to show off the beautiful fruit. It's a great breakfast, lunch or snack.
Keyword:
desserts for breakfast
Ingredients
1 1/2

cups

plain yogurt,

(I use low-fat Greek-style)

1/4

cup plus 2 tablespoons

kiwi pulp from about 2 larger, brown-skinned kiwi

1

tablespoon

honey

2

teaspoons

pure vanilla extract

about 2

dozen

baby kiwi,

cut in half, horizontally

3/4

cup

granola

(your favorite one)
Instructions
In a small mixing bowl, combine the yogurt with the kiwi pulp, honey, and vanilla. (To make the kiwi pulp -- peel each kiwi and then on a clean cutting surface, finely chop them until you have super tiny pieces. Press them with the bottom of a fork to "purée" them further and to extract more juice.)

Use about 12 baby kiwi halves to make the bottom layer in each glass or jar. (See bottom notes!)

Then add 2 tablespoons of the granola on top of the baby kiwi, in each one.

Follow the granola with about 2 tablespoons of the yogurt mixture, in each one.

Repeat this twice more, and then finish the baby kiwi.
Recipe Notes
This recipe is for pretty generous portions -- you could certainly make smaller portions by using smaller glasses or jars, and dividing the ingredients accordingly.
Use any granola you'd like to -- one with honey is lovely with the kiwi.
*This is important! Part of my job is making food look beautiful. I took the time to place each baby kiwi half with its interior facing out, lined up as perfectly as possible. ONLY DO THIS IF YOU FEEL LIKE IT! I happen to love spending my time doing this sort of thing (especially for guests), but I realize I'm not the norm. You can make your layers any which way you want to -- you can even just throw it all together in a bowl. It will still be delicious! Promise!
Cooking On The Weekends is a participant in the Amazon Services LLC Associates Program, an affiliate advertising program designed to provide a means for sites to earn advertising fees by advertising and linking to Amazon.com. Amazon affiliate links are for your convenience. As an Amazon Associate I earn from qualifying purchases at no additional cost to you.