These Spicy Roasted Daikon Radish French Fries are a sure fire way to get everyone to love daikon radishes. Full of delicious Asian flavors and caramelized to perfection, it's one of the most unique daikon recipes.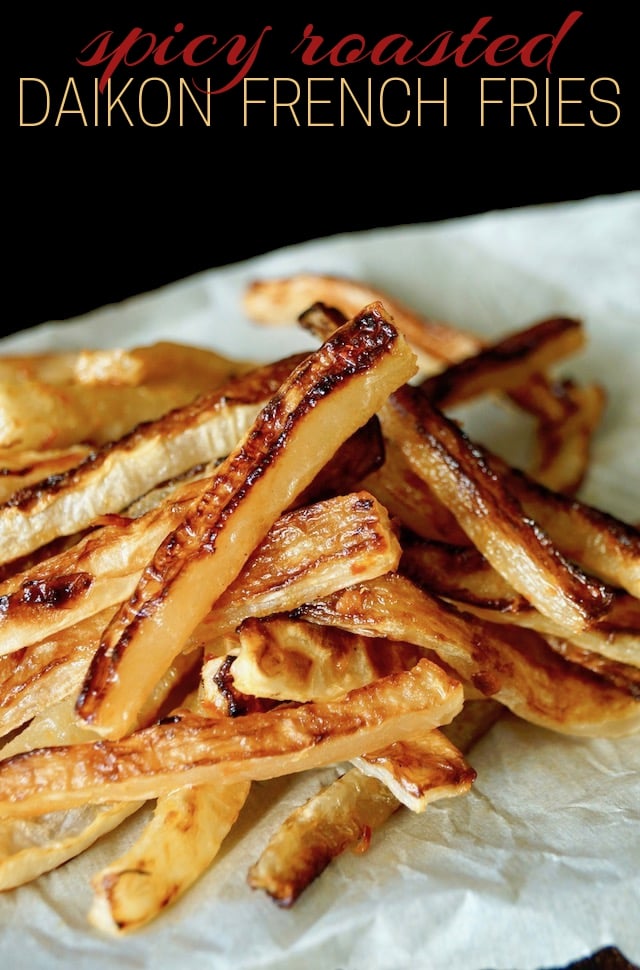 Look, I'm just going to be totally honest with you. While they may look like potato fries, they're not — nor are they trying to be potato fries. They're Daikon Fries, and proud of it.
What is a Daikon Radish?
Daikon

is a long white Asian radish that looks like a parsnip, though it's usually much larger.
Slightly less pungent than the small round radishes, they're quite good raw or pickled for an excellent crunch in a salad.
I love them the most roasted and doused in sweet and spicy Asian flavors, turned into Daikon Radish French Fries.
Of all the daikon recipes I've tasted, this is my favorite.
Don't expect the same texture that you'd find in a potato French fry.
The roasting process leaves these Daikon Radish Fries with a wonderful caramelized "crust," but they will be considerably more soft than they crisp.
Oh, and I wouldn't even think about dipping them in any sort of a sauce. There's simply no need.
Each one is a mouthful of scrumptious flavors — fresh ginger, chile and soy sauce, to name a few.
What to Serve with Daikon Radish French Fries
They would be great added to an Asian-style menu, along with my Crispy Garlic Ginger Bok Choy Chips and Miso Gai Lan Egg Soup.

All of these flavors and textures will compliment each other beautifully.
The other night I served them with Garlic-Ginger Flank Steak and a mixed green salad. It's was fantastic.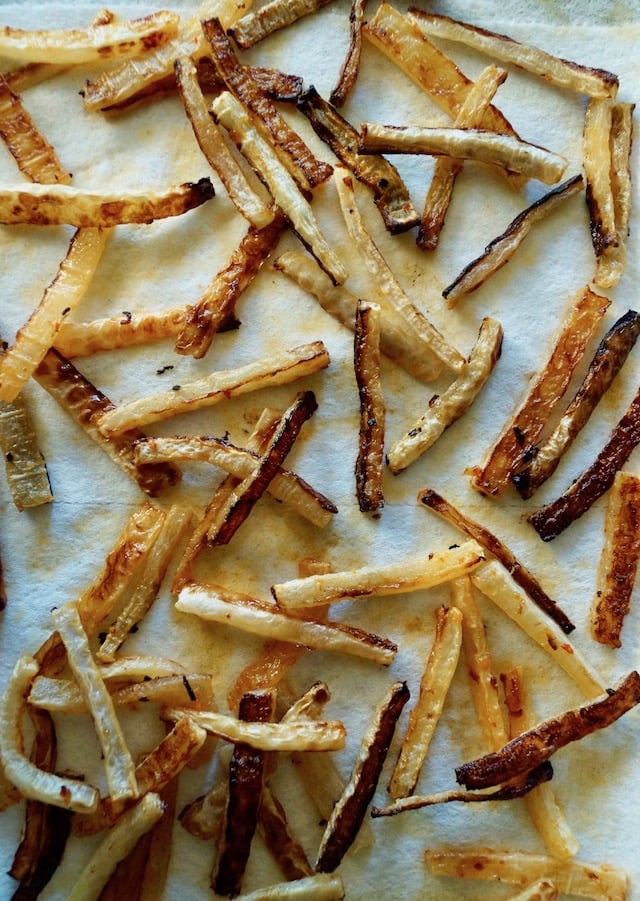 And here are a few more of my favorite French fry recipes:
And a few more daikon recipes:
In the meantime, please enjoy the Daikon French Fries. You simply won't be able to stop snacking on them!
Thank you Melissa's Produce for sending me Asian produce which inspired this recipe, and others.
If you try these fries, or any of my other recipes, I'd love to hear what you think in the comments. You can also follow me on Instagram, Pinterest and Facebook to keep up with my mouth-watering recipes!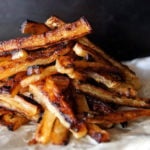 Spicy Roasted Daikon "French Fry" Recipe
These fries are a sure fire way to get everyone to love daikon radishes! Great for a side dish or snack, and full of delicious Asian flavors, you simply won't be able to stop snaking on them!
Keyword:
non-potato French fries
Ingredients
5

cups (about 1 3/4-pounds)

Daikon radish,

peeled & sliced - see instruction no. 2. for instructions

3 1/2

tablespoons

grapeseed oil

1 1/2

teaspoons

chile paste

(I like Sambal Oelek)

1

teaspoon

low sodium Tamari or soy sauce

1/2

teaspoon

ginger pulp,

freshly grated

1/2

teaspoon

granulated sugar

1/2

teaspoon

sea salt
Instructions
Preheat the oven to 475°F, and adjust a rack to the center.

Cut the Daikon into sections approximately 3-inches long, then cut about 1/4-inch slices off the side of each one, to make a base. Stand the sections on their bases, and cut them, vertically into slices about 1/4-inch thick. Stand these slices on top of each other, and then cut them into sticks about 1/4-inch thick. Add all of the Daikon slices to a baking sheet and set aside.

In a small bowl, combine the oil, chile paste, Tamari or soy sauce, ginger, sugar and salt.

Drizzle this over the Daikon slices and then use your hands to toss them until they're all evenly coated and in a single layer.

Place the baking sheet in the preheated 475°F oven and roast until they are golden brown on all sides, about 30 minutes. (You should gently toss/filp them about halfway through the cooking time.)

Add a double layer of paper towels to another baking sheet, and when the fries are done, add them on top of the towels to drain and cool.

Serve!
Cooking On The Weekends is a participant in the Amazon Services LLC Associates Program, an affiliate advertising program designed to provide a means for sites to earn advertising fees by advertising and linking to Amazon.com.