This Pickled Beets Recipe is both easy and delicious. Pickled beets can enhance any salad or sandwich and are a fabulous and healthy snack!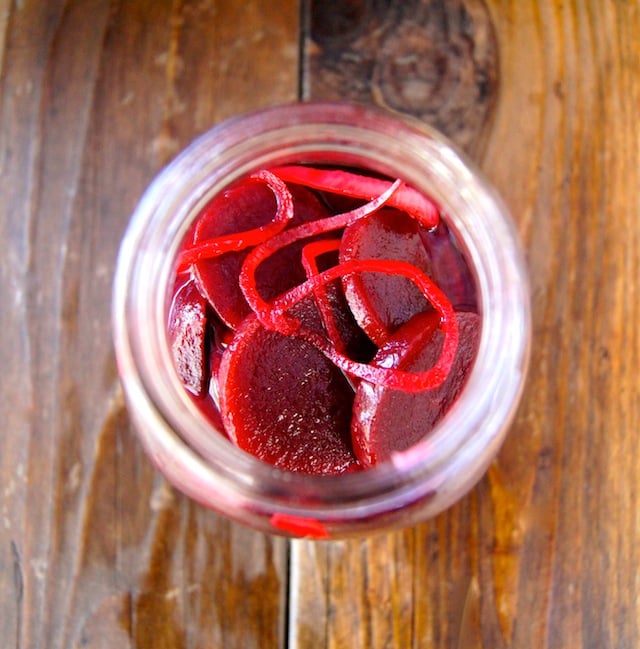 For years I've wondered how it's possible that my husband doesn't care for beets.
I support the way he (or anyone for that matter), chooses to eat, but this I just don't get. I mean, what's not to love about a beet? They're a hearty, warming, deliciously sweet, beautiful root vegetable.
How to Make the Pickled Beets Recipe
There are 3 easy steps . . .
Vinegar, water, salt and sugar are brought to a boil together.
Sliced, cooked beets and sliced, raw shallots are added to the warm vinegar mixture, and then cooled, uncovered in a jar.
Then jar is then covered, and placed in the refrigerator for the beets to marinate for about 2 days.
How to Use Pickled Beets
They are wonderful in all sorts of salads! Here's one that features them . . .
Roasted Kale Sprout Salad with Pickled Beets, Madarin Oranges and Spicy Pecans.
I also love reserving the brine (the vinegar mixture) to make the oh-so-delicious Beet Pickled Eggs!
Please don't judge, but I've definitely tried to get my husband to eat beets on many occasions. Not in a sneaky way, just in a "just try them, I'm sure you will change your mind," kind of a way.
It wasn't until I pickled the beets that he turned!
Pickling Beets is the Secret!
Yep, he LOVES this Pickled Beets recipe. I added these Pickled Beets to a salad the other night and he loved it. While they certainly weren't hidden, I didn't mention them.
Okay, maybe that's a tad bit sneaky.
Even after eating everything on his plate, he was still unaware.
Okay, so maybe he's a tad bit oblivious!
When I asked how he liked it he said, "incredibly delicious!"
I hope you enjoy this Pickled Beets recipe as much as me (and my husband)!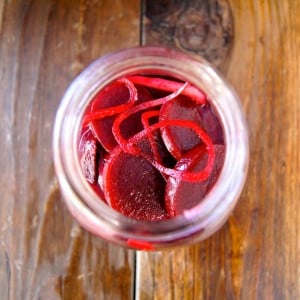 Pickled Beets Recipe
This Pickled Beets Recipe is both easy and delicious. Pickled beets can enhance any salad or sandwich and are a fabulous and healthy snack!
Makes 2 1/2 cups / serving size: 1/4 cup

Course:
Ingredient, Snacks
Keyword:
great for salads, pickling fruits and vegetables
Ingredients
2

cups

cooked beets,

peeled, sliced about 1/4-inch thick into rounds (see notes)

1/2

cup

shallots,

peeled, thinly sliced

3/4

cup

white vinegar

1/4

cup

red wine vinegar

1/4

cup

water

1 1/2

teaspoons

Kosher salt

1/4

cup

granulated sugar
Instructions
Add both vinegars, water, salt and sugar to a small saucepan. Bring to a boil and remove from the heat. Stir to be sure the salt and sugar are completely dissolved.

Place the prepared beets and shallots in a large jar or glass bowl, and pour the vinegar mixture over them. Do not cover and let this cool to room temperature.

Then cover with the lid or seal tightly with plastic wrap. Place in the refrigerator for at least two days before trying them. (They should keep for up to a month in the refrigerator.)
Recipe Notes
Please note that the prep time does not include cooking the beets. Here's how to roast them. And while I love roasting my own beets, if you're pressed for time, you buy them already roasted, here.
Cooking On The Weekends is a participant in the Amazon Services LLC Associates Program, an affiliate advertising program designed to provide a means for sites to earn advertising fees by advertising and linking to Amazon.com.