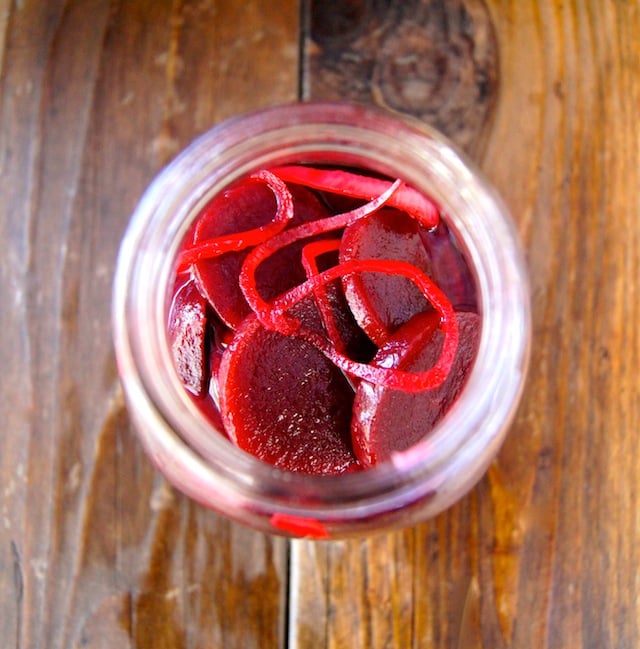 For years I've wondered how it's possible that my sweet vegetarian husband, doesn't care for beets.
I support the way he (or anyone for that matter), chooses to eat, but this I just don't get.   I mean, what's not to love about a beet?  They're a hearty, warming, deliciously sweet, beautiful root vegetable.
Please don't judge me, but there have been occasions I've tried to lure my husband into having a bite of a braised short rib, or a taste of my Braised Brisket Stew.  I can't help it — I want him to join me in the deliciousness!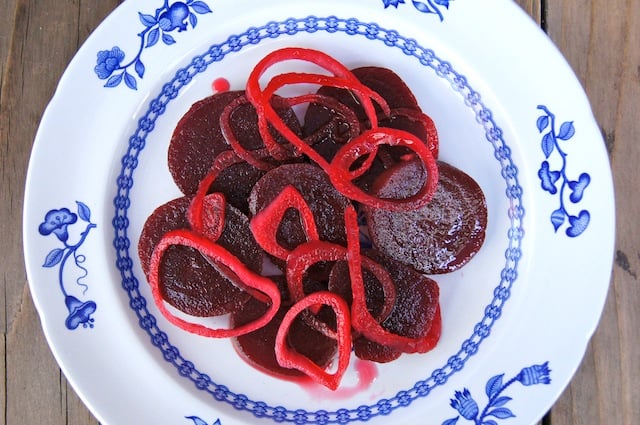 No, he's never caved.  Not with the beets either. . . . not until I pickled them, anyway!
I added these Pickled Beets to his salad the other night and he loved it.  While they certainly weren't hidden, I didn't mention them.  Even after eating everything on his plate, he was still unaware, and when I asked how he liked it he said, "incredibly delicious!"
The salad I featured them in is pictured below — Roasted Kale Sprout Salad with Pickled Beets, Madarin Oranges and Spicy Pecans.
I was thrilled to tell him about the not-so-secret-ingredient. Success!
Enjoy!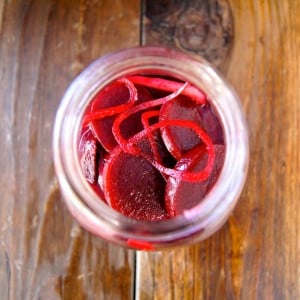 Pickled Beets
Makes 2 1/2 cups. Please note that just about all of the prep time is marinating time.
Ingredients
2

cups

roasted

peeled beets, sliced about 1/4-inch thick into rounds (Here's how to roast beets.)

1/2

cup

shallots

sliced thinly

3/4

cup

white vinegar

1/4

cup

red wine vinegar

1/4

cup

water

1-1/2

teaspoons

Kosher salt

1/4

cup

granulated sugar
Instructions
Add both vinegars, water, salt and sugar to a small saucepan.

Bring to a boil and remove from the heat.

Stir to be sure the salt and sugar are completely dissolved.

Place the prepared beets and shallots in a large jar or glass bowl, and pour the vinegar mixture over them. Do not cover and let this cool to room temperature.

Then cover with the lid or seal tightly with plastic wrap.

Place in the refrigerator for at least two days before trying them. (They should keep for up to a month in the refrigerator.)
Recipe Notes
Please note that the 5 minutes "active work time" does not include roasting the beets. (
Here's how to roast them
.) While I love roasting my own beets, if you're pressed for time, you can often find very good peeled, roasted beets in the produce section of the market. My favorite are from Melissa's Produce,
here
.
I love the shallots with the beets -- however, if you want the beets on their own, simply leave them out.
Save