This Roasted Hatch Chile Peach Salsa Recipe is sweet, spicy, delicious and refreshing all at once. And it's an ideal beautiful summer appetizer. Just add chips!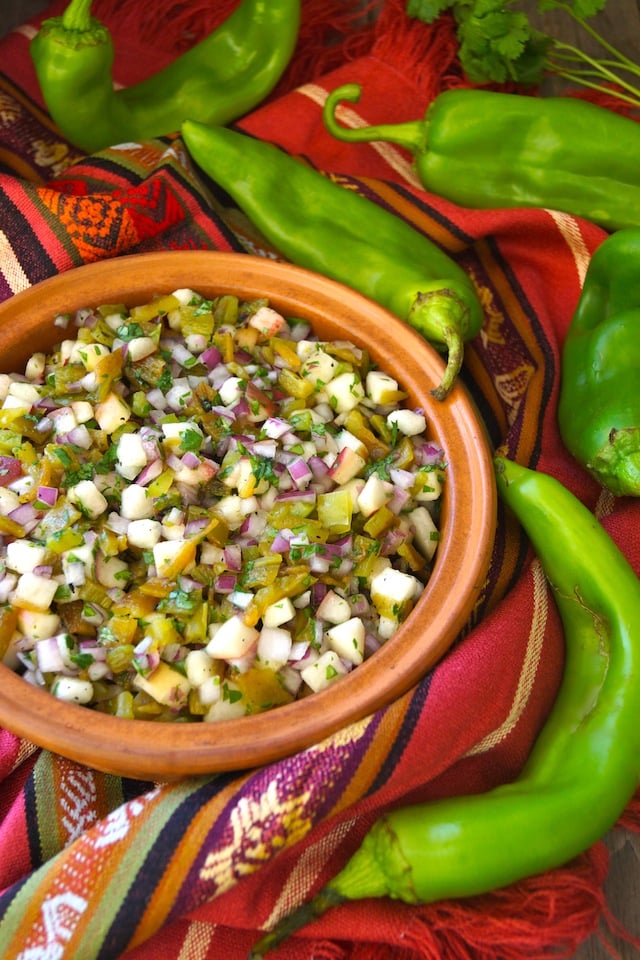 Winter, spring, summer, hatch, and fall.
Inspiration
Some consider Hatch Chile season as important as any other season — and they fit it in so snugly between summer and fall. Don't you think? Well, it happens to be one of my favorite food seasons — I look forward to it every summer.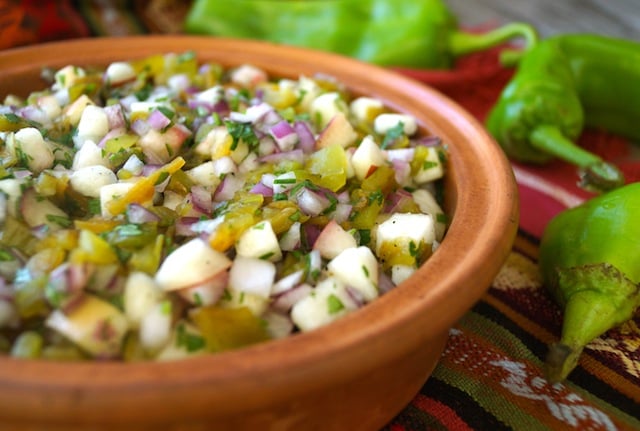 What are Hatch Chiles?
Hatch chiles are a prized New Mexican chile.
These Southwestern chiles are grown in the Mesilla Valley, where the sunlight is intense and and the nights are cool. It's this climate combination that creates wonderful earthy flavored, subtly sweet, delicious mild or hot Hatch chiles.
Hatch chiles are one of the few chiles where hot and mild an be determined, even though they all look the same. They should be labeled as such in stores — if they're not, I'd ask the produce department if they know, and if they don't, ask them to cut into one for you. They can be very, very hot — or not at all.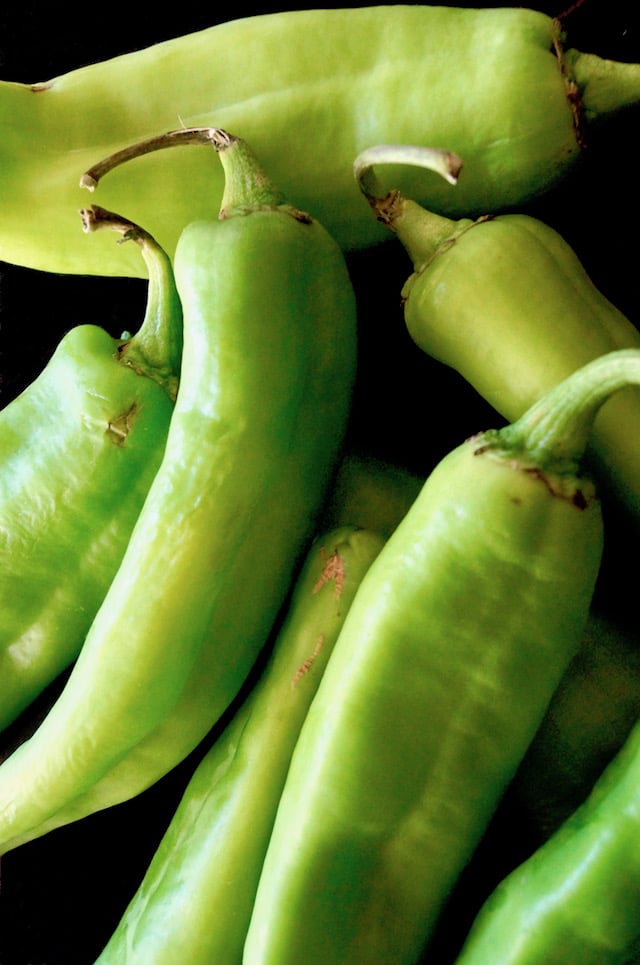 When is Hatch Chile Season?
This very special season only lasts about six weeks, during August and September. So don't waste a moment before you get them.
Melissa's Produce has even created a Hatch Chile Cookbook dedicated to this one beautiful chile, celebrating its glorious season with over 150 recipes.
Oh, and check out the Hatch Chile powder! It comes in mild and hot — I use them both all the time!
All sorts of dishes can be spiced up with the Hatch Chile powder.
Omelets, breads, chili, stews, and so on.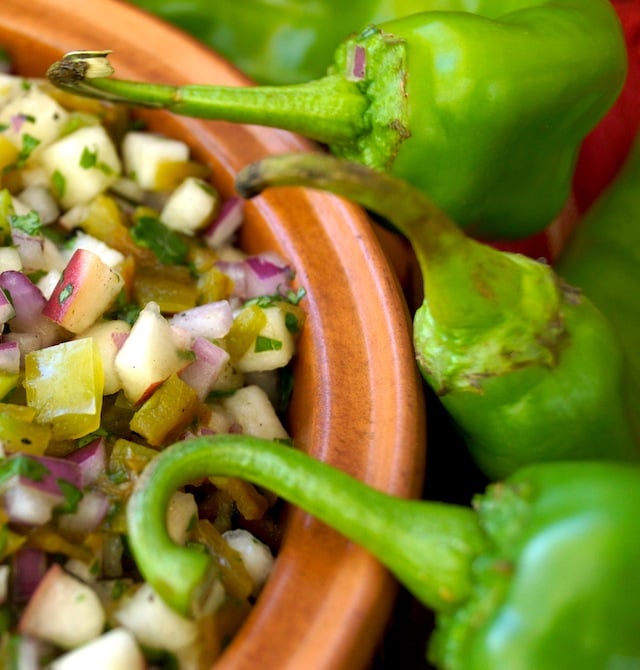 I make this Roasted Hatch Chile Peach Salsa Recipe as many times as possible during Hatch Chile season. I love using white peaches, but yes, any peach variety will be delicious!
You can find more of my Best Hatch Chile Recipes here, and my friend Dorothy at Shockingly Delicious has a fantastic collection here.
Enjoy!
This is not a sponsored post. Melissa's Produce sent me Hatch Chiles for recipe testing. As always, all opinions are my own.
Roasted Hatch Chile Peach Salsa Recipe
Course:
Appetizer, Condiments
Cuisine:
Mexican, American
Keyword:
Hatch Chile recipes, summer party food, summer dinner party
Instructions
Combine the chiles, onion, peaches, cilantro and lime juice in a medium-sized mixing bowl. Stir gently to evenly distribute all of the ingredients.

Enjoy!
Recipe Notes
I love this with the white peaches, but any peach variety would be lovely.
Cooking On The Weekends is a participant in the Amazon Services LLC Associates Program, an affiliate advertising program designed to provide a means for sites to earn advertising fees by advertising and linking to Amazon.com.