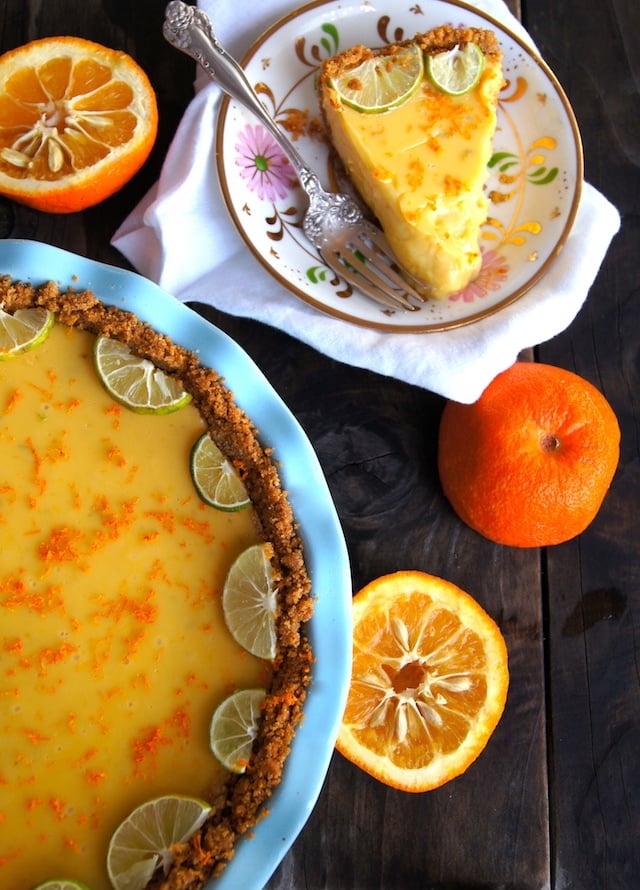 I know it's likely we're all thinking about Valentine's Day chocolates, however I couldn't wait another moment before sharing this recipe because Seville Oranges are in season right now.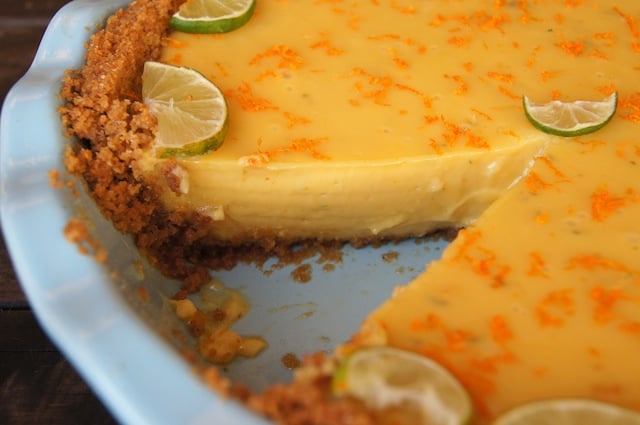 Never having tried one, I was so happy Melissa's Produce sent me Seville Oranges for recipe testing — they are not like any orange I've tasted before.
These oranges are tangy, sour and bitter.  Not an orange you'd necessarily want to eat on its own.  These super juicy oranges have a deeper, darker orange skin (gorgeous!), the inside fruit is a lighter color, and they have many more seeds than a typical orange.
And through all of this, is an incredibly delicious orange flavor!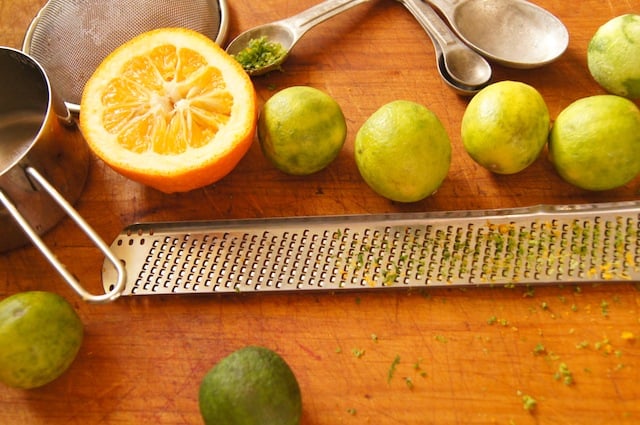 When I learned that Seville Oranges are most prized for making orange marmalade, I realized they might work perfectly in a pie — a wonderful orange flavor, not too sweet, and a little bit tart.
I thought they would work similarly to a Key Limes when added to creamy, rich ingredients.  So I decided to blend these two citruses.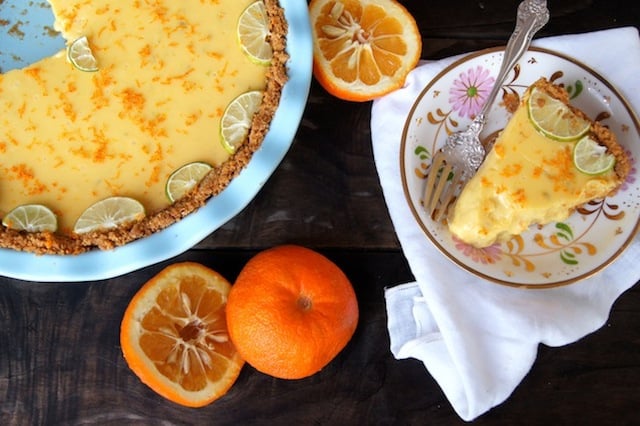 And guess what?  I was totally right!  This pie is absolutely divine!  (If I do say so myself. ;-))
Enjoy!
This is not a sponsored post.  All opinions are my own.
Seville Orange-Key Lime Pie with Cardamom Graham Cracker Crust
Total Time
1
hour
10
minutes
Ingredients
For the crust:
14

whole graham crackers

1/2

cup

melted butter

1/3

cup

granulated sugar

1-1/2

teaspoons

ground cardamom
For the filling:
10

egg yolks

2

14-ounce cans of sweetened condensed milk

1

tablespoon

Seville Orange zest

divided

1/2

cup

freshly squeezed Seville Orange juice

from about 4 oranges

1

teaspoon

Key Lime zest

1/3

cup

freshly squeezed Key Lime juice

from about 10 limes

2

extra Key Limes for garnish
Instructions
Adjust an oven rack so that it's in the center of your oven. Then preheat the oven to 350 degrees F.
For the crust:
Add the graham crackers to a food processor fitted with the blade attachment and blend until they are finely ground.

Add the melted butter, sugar and cardamom -- blend just to combine.

Pour the graham cracker mixture into a 10-inch pie plate. Use your fingers to gently press it down evenly on the bottom and edges, to form the crust. Set aside.
For the filling:
In a large mixing bowl, whisk the egg yolks with the condensed milk -- mix only until it's a smooth consistency.

Add about 2 teaspoons of the orange zest, orange juice, lime zest and lime juice.  Mix just to blend.

Place the pie plate with the prepared crust on a baking sheet. Then pour the filling into the crust.

Bake in the preheated 350 degree F oven until the pie filling is set, 35 to 40 minutes. (If the edges of the crust are becoming too brown before the pie is set, place a large piece of foil over it for the remaining baking time -- don't wrap it, simply lay it on top gently.)

While the pie is baking, cut the remaining 2 limes into thin slices, and then cut those in half. Set aside.

When the pie is done, let it cool to room temperature and then garnish with the remaining orange zest and the lime slices.
Recipe Notes
This pie is best served at room temperature or slightly chilled.
You can order Seville Oranges
here
.
Save your egg whites for an omelette or soufflé!
And a final note -- yes, this pie should still be yummy with other orange and lime varieties.
Save