Gluten-Free Banana Chocolate Chip Cake is one of the best cakes I've ever had. And it's THE best gluten-free cake, for sure. Lovely for any occasion, it's rich, unbelievably moist, and subtly spiced.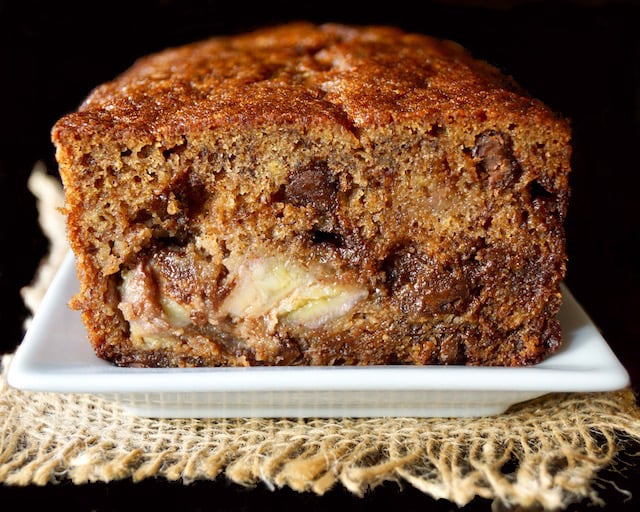 You're not the only one who thinks of baking banana bread when you have too many overripe bananas in the house. However, have you ever thought about baking banana cake!?
I think most people who try this Gluten-Free Banana Chocolate Chip Cake would put it right up there with their favorite cakes. Not necessarily in the gluten-free category either. In other words, it's right up there with all cakes.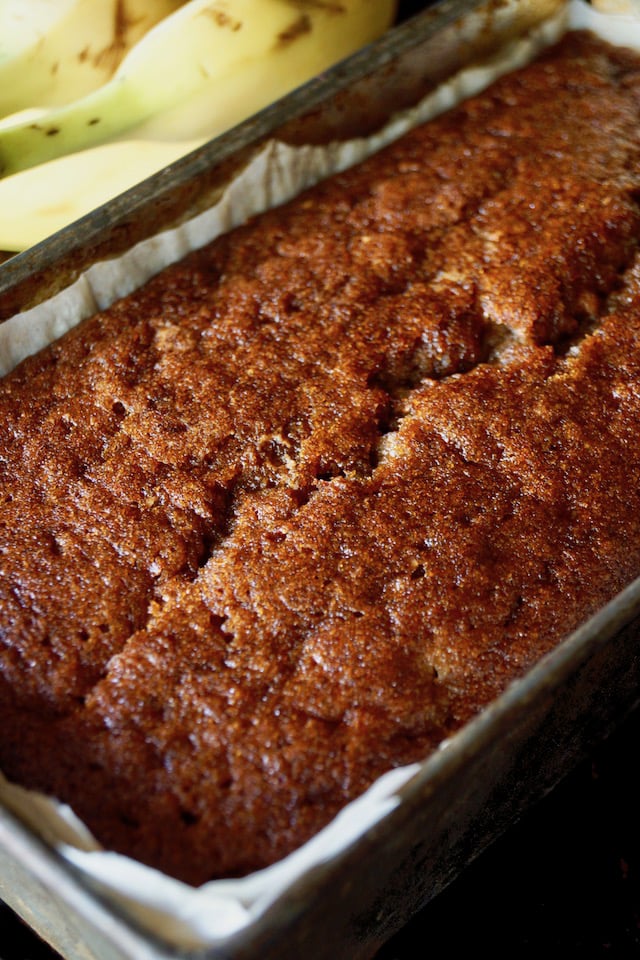 Why is this the best?
There are mashed overripe bananas in the batter, and there are also small bites of very ripe banana throughout the cake. The mashed bananas add sweetness, flavor and moisture, and the bites add another dimension to the texture.
Both oil and butter are used in this recipe. Cakes are typically more moist when oil is used, but I also wanted the flavor of the butter. It's the best of both worlds!
The final texture is absolutely dreamy! I think it's what makes this cake stand out from others — the super moist and soft inside with creamy bites of banana and melting chocolate chips — all surrounded by a perfectly golden, caramelized exterior.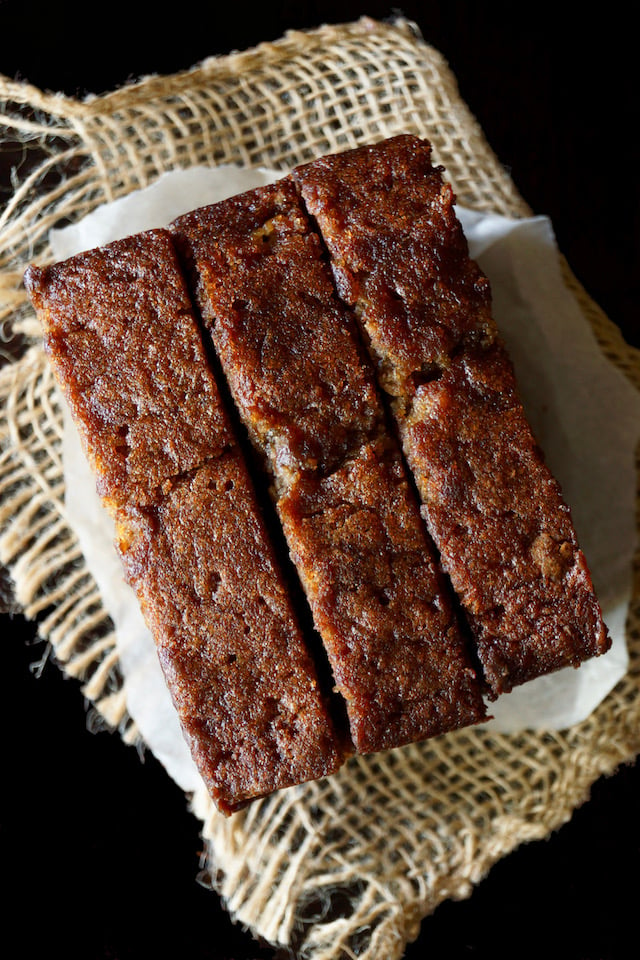 This may look more like banana bread than banana cake, but that's simply because it's a loaf cake.
One bite in, and you'll know there's a whole lot more going on here.
I love the way it bakes in the loaf pan, but you can also use a round pan.
A bundt pan would also be an excellent choice.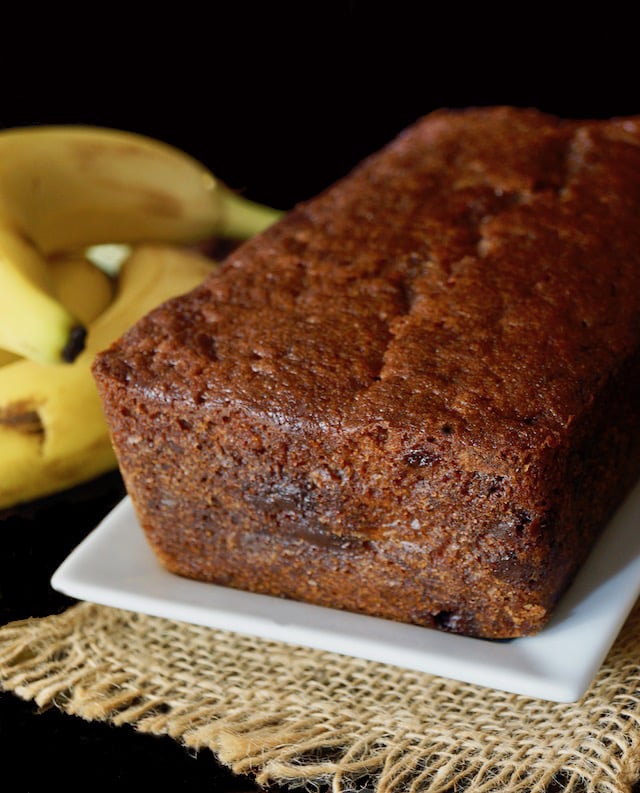 Don't be deterred by the lengthy ingredient list — this cake is very easy to make! And it's this specific combination of ingredients that make it so good.
Why isn't there frosting on this cake?
Gluten-Free Banana Chocolate Chip cake does not require frosting. In fact, it would take away from it. And that's saying a lot because I typically prefer frosting to cake.
Yep, I'm one those people. 🙂
With this cake though, you won't want anything getting in the way of the perfectly caramelized exterior, and it would take it from perfectly sweetened to too sweet.
This cake will likely forever be my go-to recipe for an easy and over-the-top dessert. Really, it's that good.
And I'm telling you, if you ever need to make a gluten-free dessert for someone, they'll love you forever if it's this!
More gluten-free banana treats: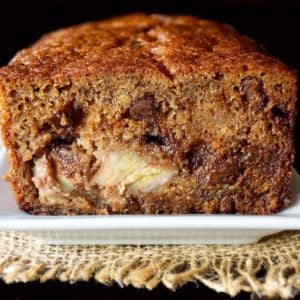 Gluten-Free Banana Chocolate Chip Cake
Lovely for any occasion, this cake is rich, unbelievably moist, and subtly spiced. Makes 2 (8½-inch) loaf cakes
Instructions
In a large mixing bowl, combine both sugars with the oil and butter. Then mix in the mashed banana, sour cream, vanilla, cinnamon, allspice and salt. Use an electric mixer to blend until it's as smooth as possible. Add the eggs, and continue to mix until they're fully incorporated.


Now mix in 1½ cups of the gluten-free flour and baking soda, just until you no longer see dry spots.

In another bowl, gently toss the diced banana and chocolate chips with the remaining ¼ cup gluten-free flour. Then fold this into the batter. (This can help prevent them from falling to the bottom.)

Evenly divide the batter between the two parchment-lined pans, and place them both on a baking sheet.

Bake in the 350°F preheated oven until the cakes are golden brown along the edges, and are beginning to crack -- about 50 minutes.

Let the cakes cool for at least 1 hour in the pans before removing and slicing.

Notes
The cakes can be made up to 2 days ahead of time -- and you can keep them out at room temperature, in a tightly sealed container. (After 2 days, they can be refrigerated or frozen, again wrapped tightly.)
Have you tried this recipe?
I'd love to see it on Instagram! Tag me at @cookingontheweekends or leave a comment & rating below.
Cooking On The Weekends is a participant in the Amazon Services LLC Associates Program, an affiliate advertising program designed to provide a means for sites to earn advertising fees by advertising and linking to Amazon.com.